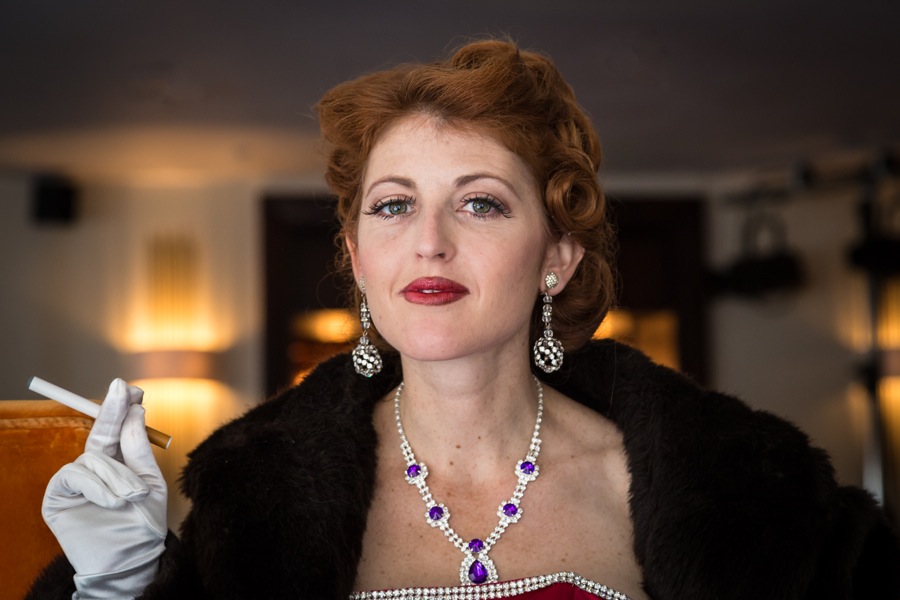 Jessica Sherr performs her loving tribute to the iconic Bette Davis. Sherr, also the creator, has previously performed her one woman show in the Edinburgh Fringe Festival, The St. James in London and even Chicago's Athenaeum Theatre last year. Following her 4-week run, the Athenaeum commissioned her to expand her show. Sherr is back… and bad-ass debuting her fierce extended homage.
Under the skillful direction of Robert Perillo, The amazing Sherr makes it look effortless. She simultaneously addresses the audience, a caller or an invisible visitor with fast-talking moxie. The set-up is the night of the 1939 Oscars. The LA Times leaked the winners. In retaliation for being passed over for the award in favor of Vivian Leigh, Bette Davis stormed out of the festivities. We meet her back at her place where she shares the intimate details of her life. Sherr has done extensive research into Davis' life.  She weaves the diva's tumultuous personal and professional life into a celebrity-driven-tell-all. Sherr seamlessly changes tone, emotion and clothes with bold vulnerability. At one point, Sherr is venting to her mother on the phone about the award snub. Next, she is coyly kicking up her legs to describe her sexual arrangement with Howard Hughes. And then, she is brazenly talking about standing up for herself to studio executives. The stories are captivating as Sherr rattles off exchanges with Hollywood legends. As if making fun of herself and the industry, Sherr does a series of poses punctuated with an affected utterance of 'picture.' I'm equally impressed with Bette Davis and Jessica Sherr.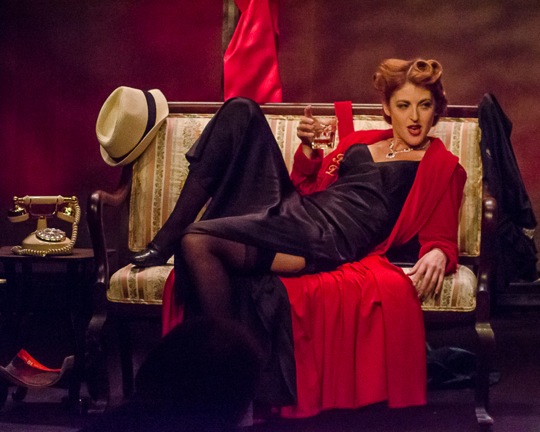 I would highly recommend this one woman tour de force for fans of the Golden Age of Hollywood. Sherr is the perfect tour guide to a trip to the past.  At my performance, she even allowed for a talk back where she answered questions and shared that the gloves and her scarf were Bette Davis', a gift from Davis' assistant to Sherr.
Running Time: Ninety Minutes with no intermission
At the Athenaeum Theatre, 2936 N. Southport Ave.
Written and performed by Jessica Sherr
Directed by Robert Perillo
Performances are Thursdays – Saturdays at 7:30 p.m.
Saturdays and Sundays at 2 p.m.
Thru June 17
Tickets are $26 – $36 and available at AthenaeumTheatre.org.
For more information on the production go to BetteDavisAintForSissies.com.
For more information and reviews on Chicago theatre, visit Theater in Chicago.