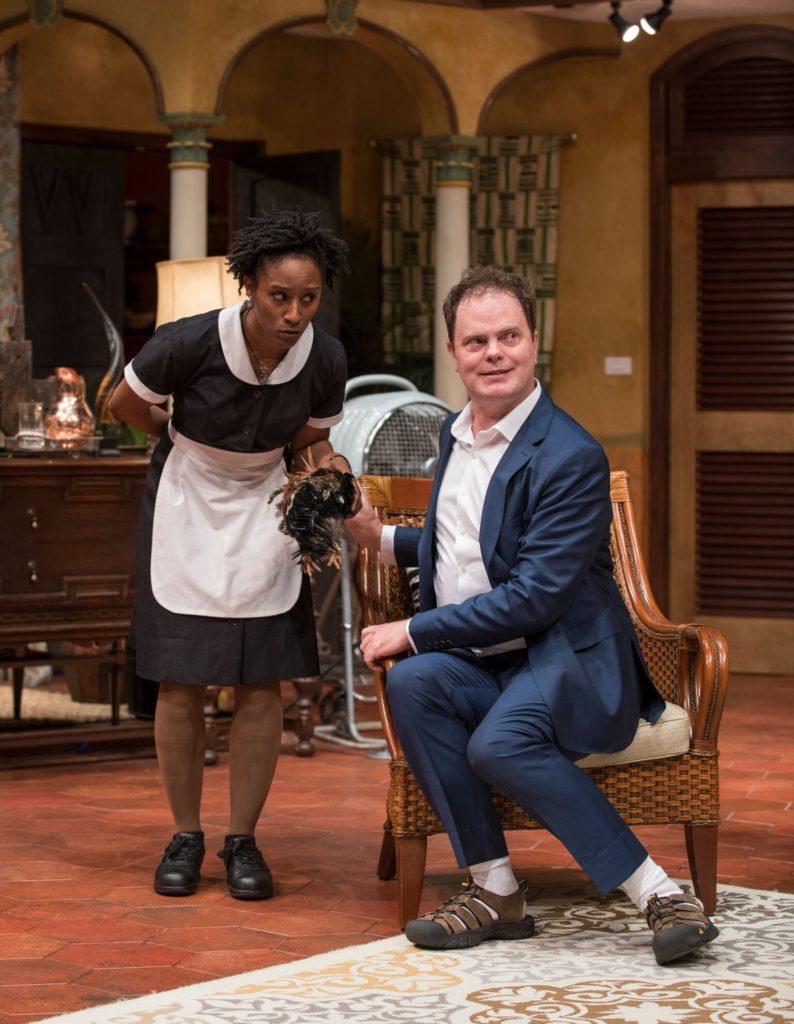 Steppenwolf Presents the World Premiere Production of "The Doppelgänger (an international farce)".
Fans of the TV comedy "The Office" get their Dwight Shrute fix in Steppenwolf's latest show. Rainn Wilson plays a wealthy British businessman, an American doofus and then the doofus pretending to be the Brit business guy. The Doppelgänger sounds like an ideal sitcom plot and Wilson, a strong physical comedian, the perfect lead. The talented ensemble support Wilson's buffoonery. In particular, standout hilarity is produced by the spunky Celeste M. Cooper, the affected Audrey Francis and the razor-sharp zings of Ora Jones. There is even a madcap bedroom hopping scene. All the ingredients are present for comedy gold. So, why doesn't it work?
Although the guys behind me were audibly enjoying the show, I found myself amused but mostly confused by Playwright Matthew-Lee Erlbach's intention. Dark smart farce or wild zany romp? The Doppelgänger has an identity crisis. It is not sophisticated enough to be witty and not wacky enough to be a true lampoon. With elements of both, The Doppelgänger is stuck in the in-between.
Erlbach layers in the intellectual stimuli of rich folks using their greed for personal and not global gain. The wealthy make ruthless plans without regard for Africa and its people. Instead of focusing on exploiting the intellectual farce of this exploitation, Erlbach goes for the cheap laughs. He adds in slapstick by hiding a body in the closet and dangling it from the ceiling.  Although Erlbach leans more into screwball comedy for the duration, his intermittent serious tone, especially toward the end, throws the lighter rhythm off. The show quickly goes from playful to clamping down hard on the laughter.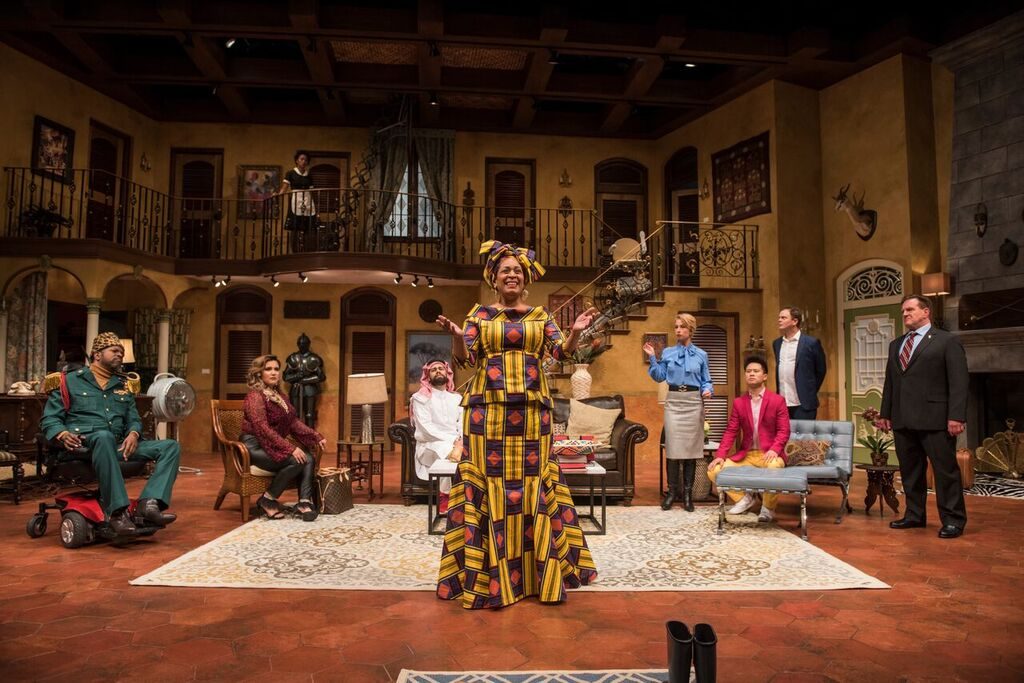 I enjoy both clever wit and silly spoofs. This show tries to be both. The Doppelgänger is an international presence dressed in goofy attire trying to be a political satirist. The humor can't sustain the personality conflict. Ultimately, fans of Wilson will appreciate his presence on a Chicago stage. At my performance, they even rewarded it with a standing ovation.
Running Time: Two hours and thirty minutes includes an intermission
At Steppenwolf's Downstairs Theatre, 1650 N Halsted St.
By Matthew-Lee Erlbach
Directed by Ensemble Member Tina Landau

Tuesdays, Wednesdays, Thursdays, Fridays at 7:30pm
Saturdays at 3pm and 8pm
Sundays at 3pm
EXTENDED Thru June 2nd
Tickets through Audience Services at 312-335-1650 or steppenwolf.org
Production photos by Michael Brosilow
For more information and reviews on Chicago theatre, visit Theater in Chicago.