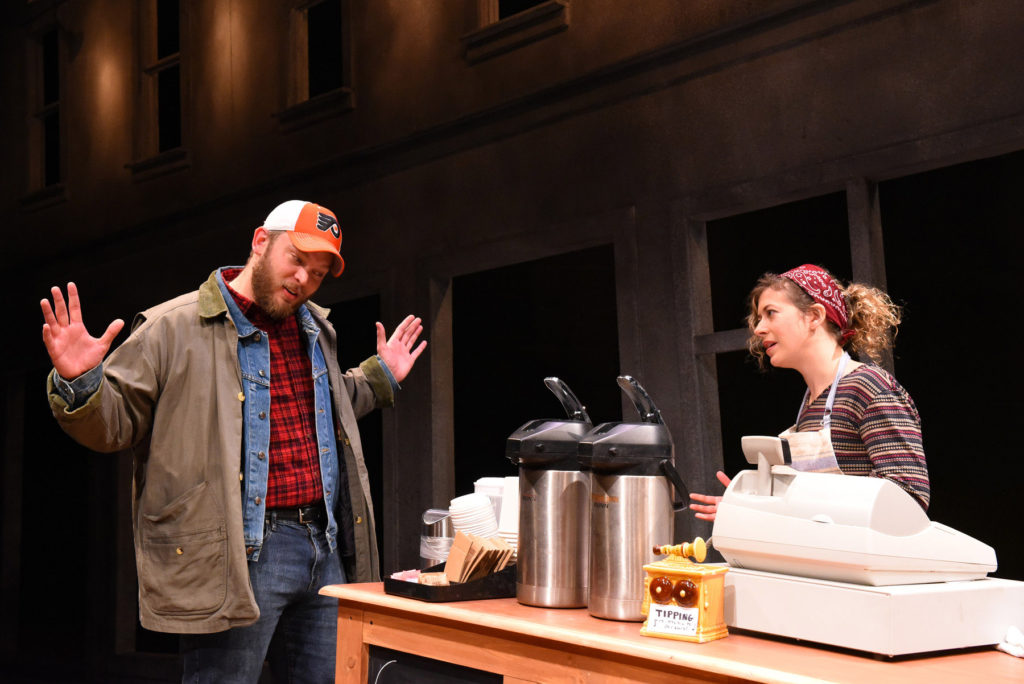 Shattered Globe presents FIVE MILE LAKE.
Playwright Rachel Bonds puts her own spin on the familiar question 'Can you go home again?' Drew Schad (Danny) and Joseph Wiens(Rufus) have returned to their hometown. Each is retreating from complications of the real world. Their siblings, Daniela Colucci (Mary) and Steve Peebles (Jamie), never left home. They provide their siblings with the familiar comforts and ordinariness of small town living. Within the safety of the familial haven, all of them are feeling unable to take the step forward for a job, in a relationship, from the routine, to the next step. Each of the four is stuck in fear of the unknown.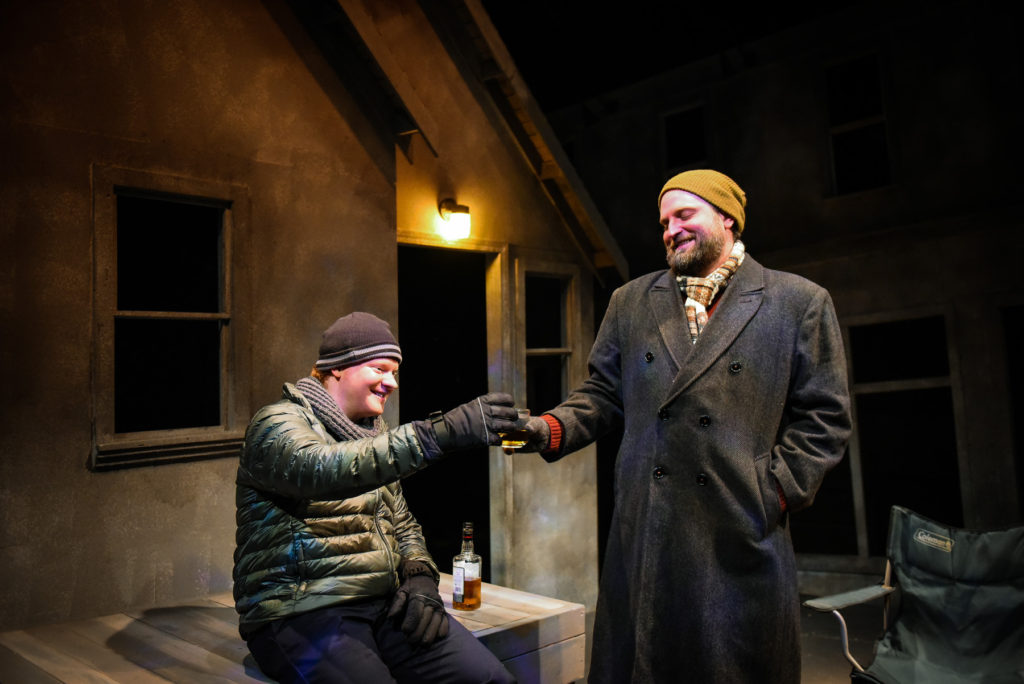 Under the steady direction of Cody Estle, we feel the tedium of daily life in a small town. At the cafe, Colucci and Peebles methodically wipe down chairs, talk hockey verses ice skating and line up muffins. Although the cheerful Peebles seems to find purpose in their rhythm and banter, Colucci shows a growing irritation toward him and each muffin requiring her attention. When the suave Weins shows up unexpectedly, the routine is interrupted.
Peebles is forced to deal with his brother's criticism and detachment to the family. During high-energy whiskey drinking, Weins not only offends his brother, he aggravates his girlfriend Peta (played by Aila Peck). The following day, Weins goes to the cafe to apologize to his brother and ends up reminiscing with Shad and later Colluci. A visit back to the simplicity of high school days allows each to put present day angst on the shelf. After Shad leaves, Weins lingers in the past and Colluci's presence.  Their casual flirtation reminds Colluci of her dreams of life outside Scranton. Weins encourages her to pursue her dreams. He even offers his support and a ride home. Meanwhile, Peck unburdens herself to her overwhelmed host.
Bonds' story has simplicity. It rolls out like a young adult novel. There is a familiarity to the hopes and regrets of these siblings growing up. Yet, the characters are fairly one dimensional. Most of their drama feels contrived. The angst isn't particularly new or interesting.  Although FIVE MILE LAKE may lack some depth, Estle assembles a very likable ensemble. Spending time with them feels like hanging out with friends that dream big and live wistfully.
Running Time: Ninety minutes with no intermission
At Theater Wit, 1229 W. Belmont Ave, Chicago
Written by Rachel Bonds
Directed by Cody Estle
Thursdays, Fridays, Saturdays at 8pm
Sundays at 3pm
Thru February 24th
Tickets at www.theaterwit.org, in person at the Theater Wit Box Office or by calling (773) 975-8150.
Photos by Evan Hanover
For more information and reviews on Chicago theatre, visit Theater in Chicago.