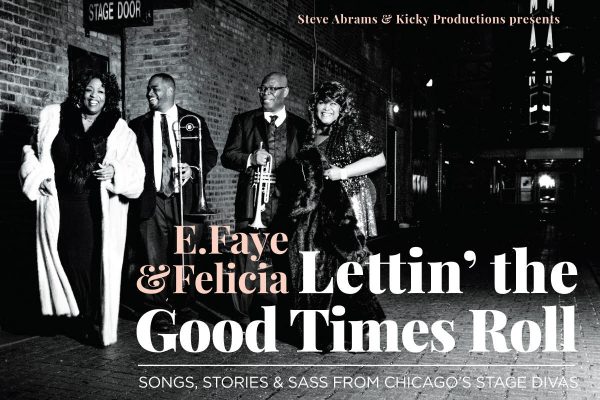 Steve Abrams & Kicky Productions presents E. Faye Butler & Felicia P. Fields in LETTIN' THE GOOD TIMES ROLL.
This show was thirty-one years in the making. Butler and Fields met at The Wiz auditions over three decades ago. Their friendship started in mutual admiration and grew into sisterhood. In the LETTIN' THE GOOD TIMES ROLL, these Chicago legendary musical divas share their personal origin stories.
Act 1 focuses on Chicago theatre. Fields describes her boom box audition and not knowing what a 'side' was. Butler reveals a startling response to her Hello Dolly debut. In an early song, they tease past fans about not being able to tell the duo apart. The that-was-Faye-not-Fe-that-was-Fe-not-Faye song is laced with Chicago theatre specifics. It delightfully confirms these two have separate and equally impressive careers. Later in the Act 1 finale, they grab hands in a playful rendition of Bosom Buddies to show us they are one dynamic twosome and tight as sisters.
Act 2 is anchored in their religious roots. They reminiscence over pastors and going to church on the south side of Chicago. Fields shares how her father went from swindler to minister. Her intimate story leads into belting out a musical tribute. The song delivery leaves her and the audience momentarily transfixed. Fields turns away to catch her breath as Butler rubs her back.
There are many of these powerful moments of song combined with life. Both ladies open their pasts to show us their battle wounds in establishing successful careers and lives. They discuss uniting in the fight for diversity onstage. The evening is an intimate peek at the road to the success and how much moxie is required for the journey. Both ladies have the pipes and the personality to blow the roof off Victory Gardens. Individually and collectively, they command the stage with song. Their singing causes spontaneous clapping, swaying and audible excitement from the audience. And throughout the show, they remind us they are women to be reckoned with. They unabashedly flirt with the handsome 7-man orchestra (musical direction by Frank Menzies) and put a steamy, sultry spin on ordinary household tasks.
LETTIN' THE GOOD TIMES ROLL is a one-of-a-kind showcase of E. Faye Butler and Felicia P. Fields. It's not to be missed! It's Faye, Felicia, Fabulous!
Running Time: Two hours and fifteen minutes includes an intermission
Directed by Kenneth L. Roberson
Music Direction by Frank Menzies
At Victory Garden's Začek McVay Theater
Sunday, 12/31/17
$150 VIP seat with Post-show reception
$80 Regular – Performance only
January 5th and 6th at 8pm
January 7th at 3:30pm