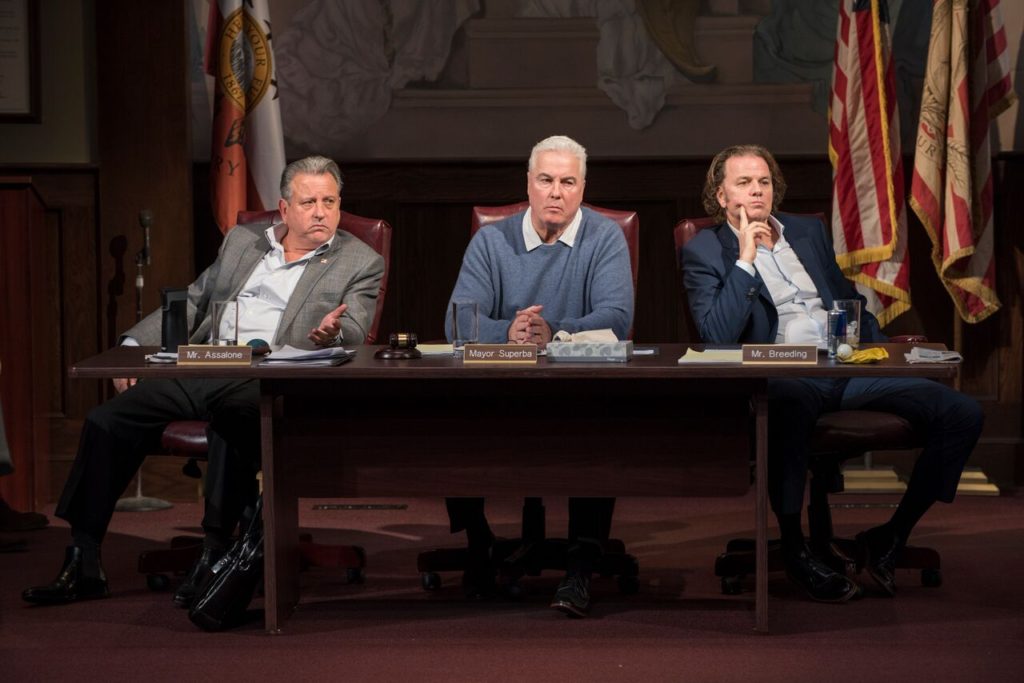 Steppenwolf Theatre presents the World Premiere of THE MINUTES.
My world turned upside-down with last year's election. Every day since then has introduced political buffoonery that has me in a constant state of duress. I walk around dazed to the ongoing daily attacks on truth and decency. Award-winning Playwright Tracy Letts illustrates my 2017 nightmare. He masterfully captures this new surreal USA. Letts transports us to the small town of Big Cherry. He puts us in the room of the city council.  Scenic Designer David Zinn perfectly establishes the locale. His set is pure civic podunk from formal nameplates to flags to the wall portraits in the outer corridor. And the characters match the stuffy all-Americana interior! They are each stuck in an perpetual state of pedestrian superiority.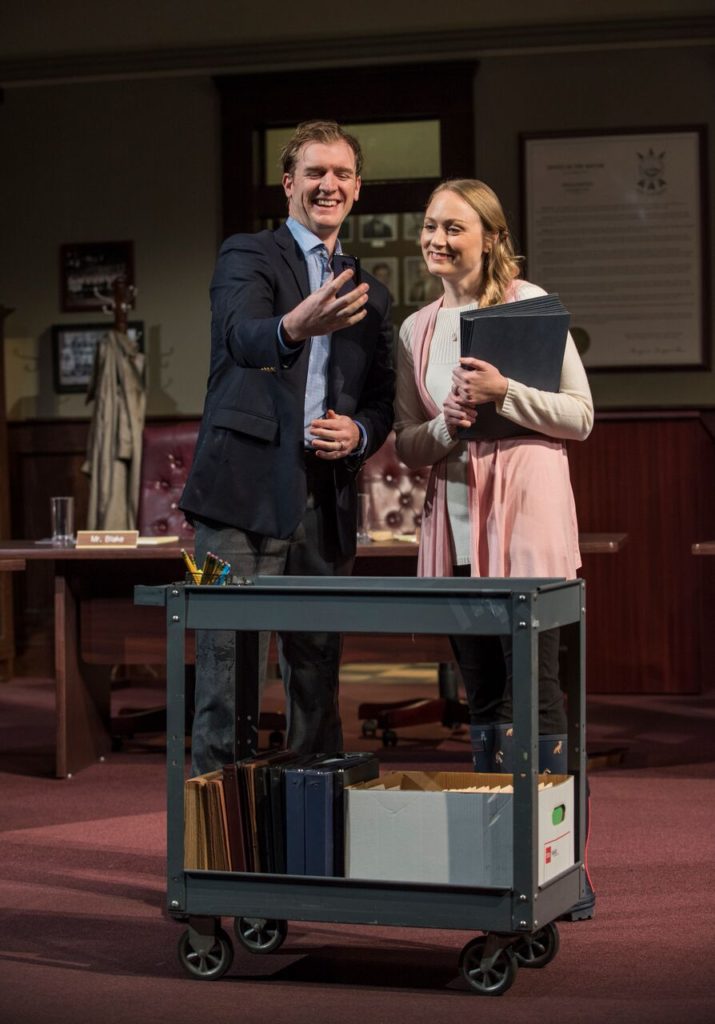 Letts drops us into the weekly gathering.  Cliff Chamberlain (Mr. Peel) missed the last meeting.  As a newer councilman, he is overly-eager to bond. He shows pictures of his new baby while earnestly requesting someone fill him in on the last meeting.  The meeting starts pretty typical.  Francis Guinan (Mr. Oldfield) squabbles over a parking space. Danny McCarthy (Mr. Hanratty) pushes disability access at the local fountain for his niece. It sounds like an authentic meeting of the small town minds. Letts' dialogue is both formal and organic. The banter has an agenda rehearsed rhythm with ongoing off-the-cuff barbs. This conclave is legit.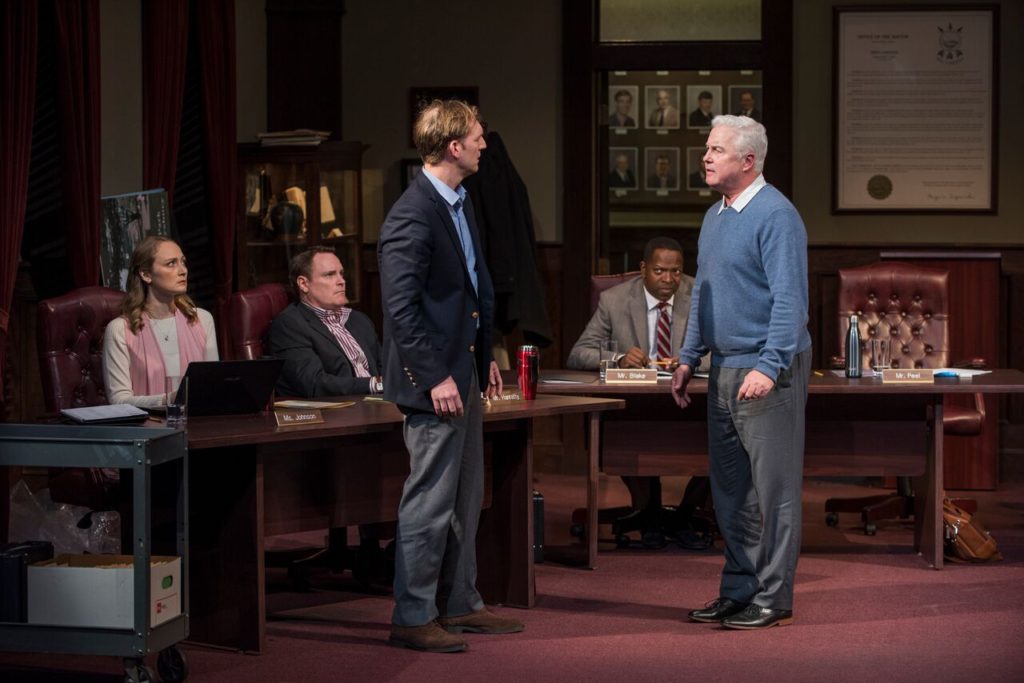 Under the stellar direction of Anna D. Shapiro, the group dynamics are established quickly. When the robotic Brittany Burch (Ms. Johnson) continually and hilariously mispronounces 'Mr. Assalone' (played by Jeff Still), we feel her disdain and his prickly annoyance. William Petersen (Mayor Superba) governs with folksy informality. He's that sweater-wearing-laid-back-I'm-just-like-you politician. When Ian Barford (Mr. Carp) uncovers a major discrepancy in the town's history, a forceful and sinister Petersen leads the tribal response.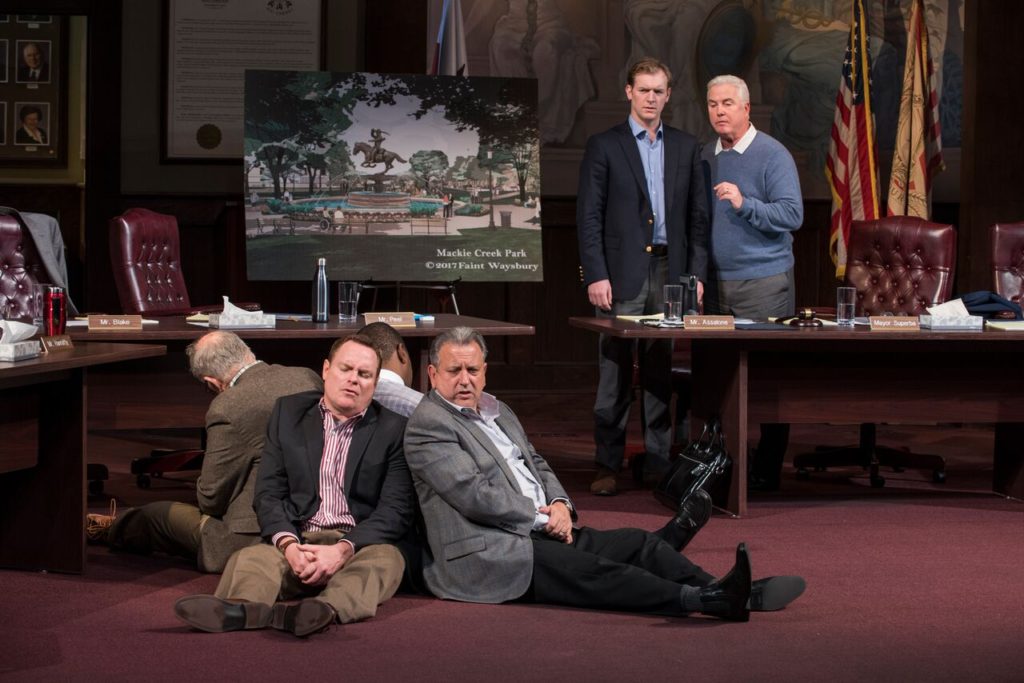 The talented ensemble, also including Kevin Anderson (Mr. Breeding), James Vincent Meredith (Mr. Blake), Sally Murphy (Ms. Matz) and Penny Slusher (Ms. Innes), are familiar as people we see on the streets, stand behind at Starbucks, and choose to elect. They playful get on the floor to proudly reenact the town's history. This misfit crew is likable. They could be our neighbors! The connection to the normalcy of this meeting makes it even more disturbing to where THE MINUTES lead us. Letts goes dark and twisted as these Big Cherry locals mirror the Trump led GOP.
THE MINUTES is our worst political nightmare consumed as an entertaining digestible nugget.
Running Time: One hour and forty minutes with no intermission
At Steppenwolf Theatre, 1650 N. Halsted
Written by Tracy Letts
Directed by Anna D. Shapiro
Tuesdays, Wednesdays, Thursdays, Fridays, Saturdays at 7:30pm
Saturdays and Sundays at 3pm
EXTENDED Thru January 7th
Buy Tickets at steppenwolf.org/
Production photos by Michael Brosilow
For more information and reviews on Chicago theatre, visit Theater in Chicago.