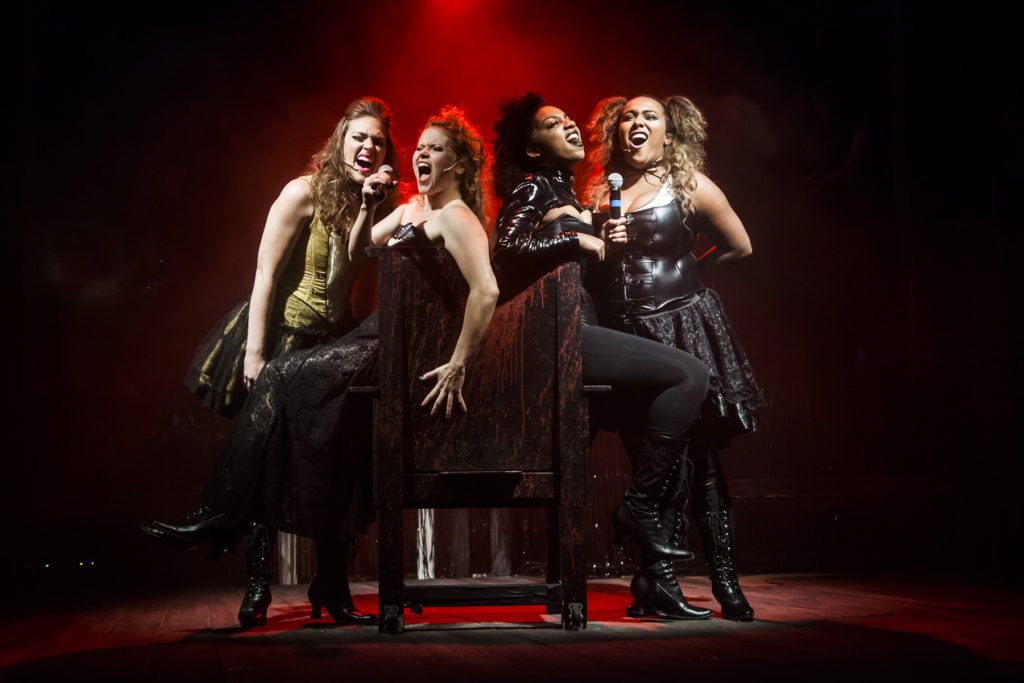 Firebrand Theatre presents its inaugural production, the Chicago Premiere of LIZZIE.
Artistic Director and Founder Harmony France debuts her new theatre company with a killer rock opera. The creative team of Steven Cheslik-deMeyer (concept, music, lyrics), Alan Stevens Hewitt (music, additional lyrics) and Tim Maner (concept, book, additional music) tell the story of the brutal Borden murders from four perspectives. Although the historical homicides were never solved, Cheslik-deMeyer and Maner provide a provocative reenactment centered around the legendary Lizzie Borden as the murderess. As the music heats up, the story chills. Passions implode onstage! Incest, torture, manipulation, revenge, greed, lust and even love meld together in this electrifying account of bloody butchery.
Under the direction of Victoria Bussert, the outstanding singing storytellers are Liz Chidester (Lizzie), Leah Davis (Bridget), Jacquelyne Jones (Alice) and Camille Robinson (Emma). The fierce Chidester delivers a moving portrait of the infamous Lizzie. She transforms throughout the play and even sometimes within a song to give us a glimpse of the complex nature of Lizzie. She goes from shattered victim to emotionless persecutor to calculating defendant while belting out song after song. Her tireless performance is rock-and-roll sensational while maintaining this underlying raw humanity. Her damaged inner child and burning sensuality is pulsating beneath her tightly bound bodice. This Liz is that Lizzie! Seeing her ax her way to fame is highly disturbing for the vivid illustration and the comedic value.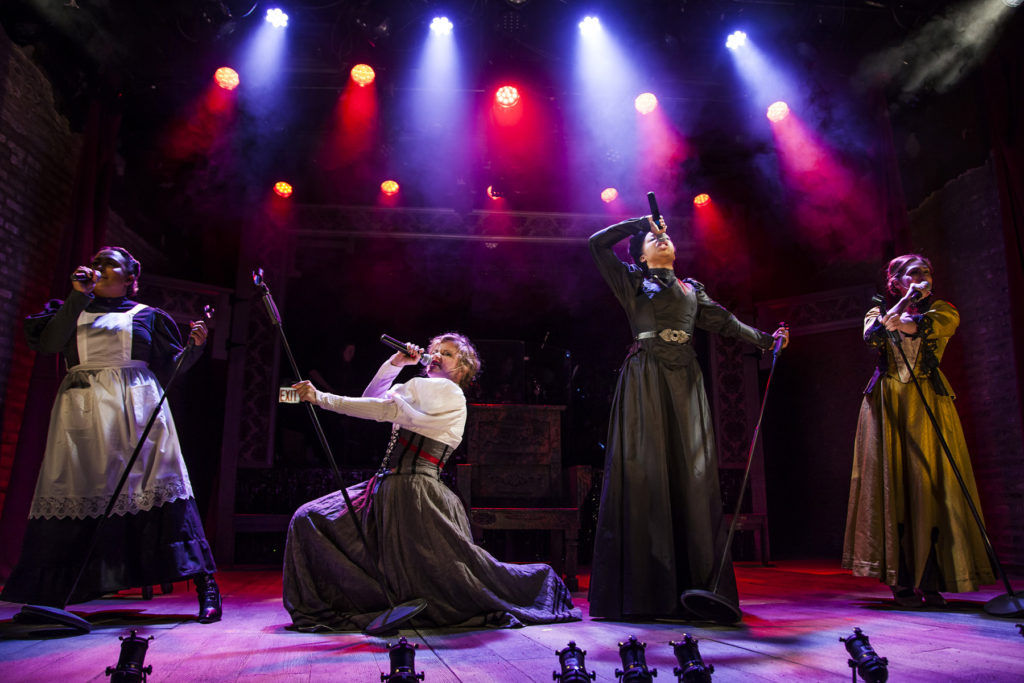 Bussert orchestrates plenty of humor into this blood bath. The rock concert poses in head-to-toe Victorian frocks. The dominatrix-style garb following the killings.  Costume Designer Charlotte M. Yetman dresses the ladies in style with a side of sexy fun. The looks add a sense of playfulness to the gothic horror.  The situational set-ups even have a layer of deadly wit. There is the seduction of Chidester by Jones and later Jones by Chidester. The role changing adds to the amusement. A stern Robinson perfectly deadpans her involvement in the massacre.  And Davis delivers ongoing moxie and lingering zingers. Her facial expressions responding to how the sisters treat her as the maid are a hoot. Later, Davis and Chidester hilariously discuss around the murder plot by establishing alibis.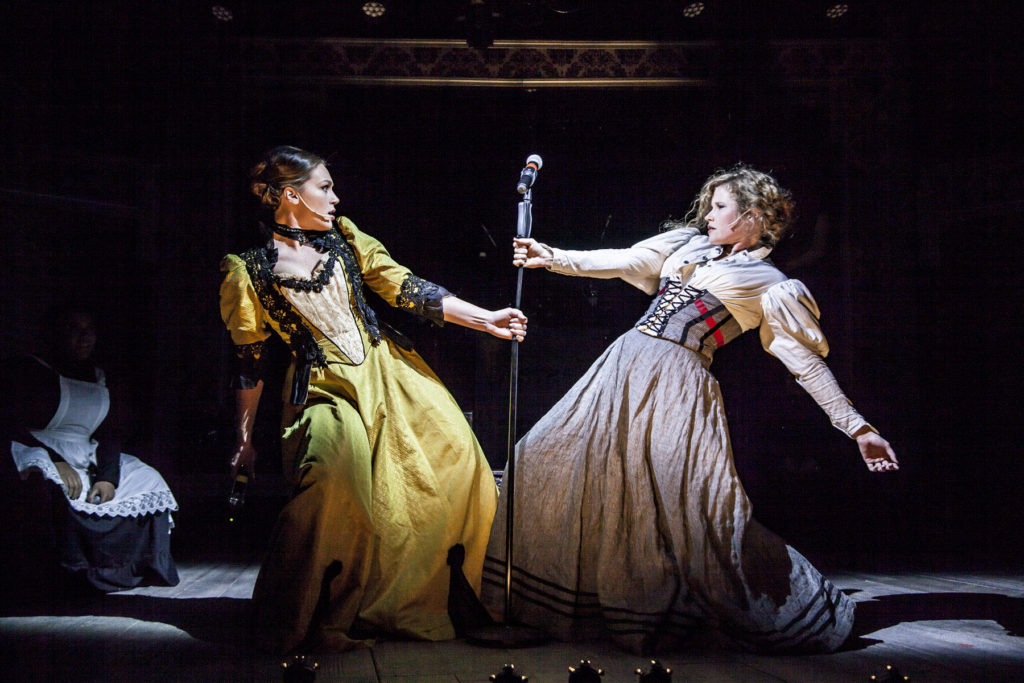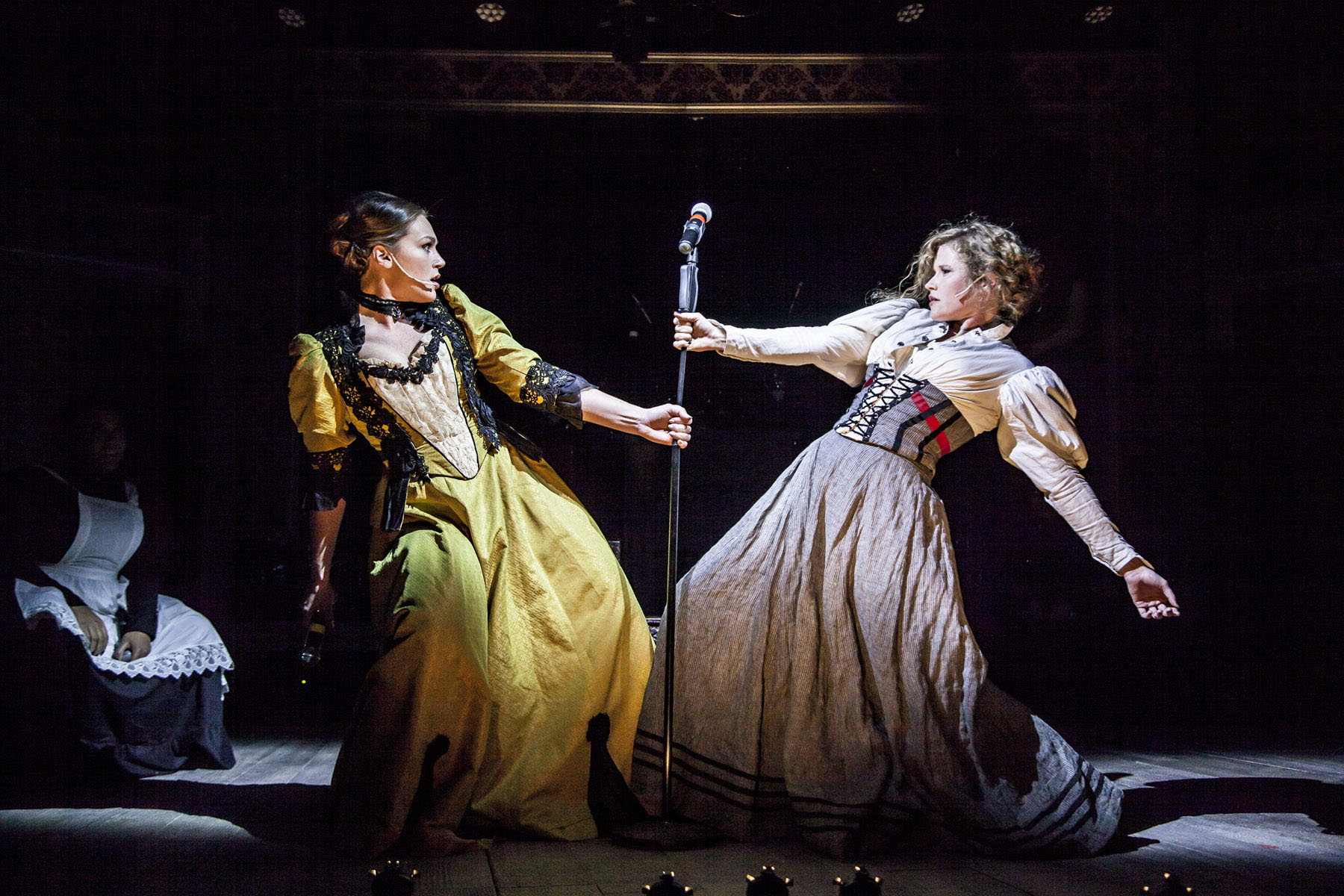 The show is first and foremost a rock opera. All these ladies have the pipes to shake the rafters and they do just that with Andra Velis Simon's (music direction, conductor) four piece band. This show has a lot to love including plastic ponchos for the brave front rows. Firebrand has thrown down the flaming gauntlet as a powerhouse musical theatre company. Their debut is Chicago's hot ticket this season!   
Running Time: One hour and fifty minutes includes an intermission
At The Den Theatre's Bookspan Theatre, 1333 N. Milwaukee
Music by Steven Cheslik-deMeyer and Alan Stevens Hewitt
Lyrics by Steven Cheslik-deMeyer and Tim Maner
Book by Tim Maner
Additional Music by Tim Maner
Additional Lyrics by Alan Stevens Hewitt
Based on an original concept by Steven Cheslik-deMeyer and Tim Maner
Orchestrations by Alan Stevens Hewitt
Directed by Victoria Bussert
Music Direction by Andra Velis Simon
Thursdays, Fridays & Saturdays at 8 pm
Sundays at 3 pm
Late Night Performances (featuring understudies): Friday, December 1 at 11 pm, Saturday, December 2 at 11 pm, Friday, December 8 at 11 pm and Saturday, December 9 at 11 pm.
Thru December 17th
Tickets for LIZZIE and season subscriptions (including 9 TO 5 THE MUSICAL) are currently available at firebrandtheatre.org
Production Photos by Marisa KM
For more information and reviews on Chicago theatre, visit Theater in Chicago.