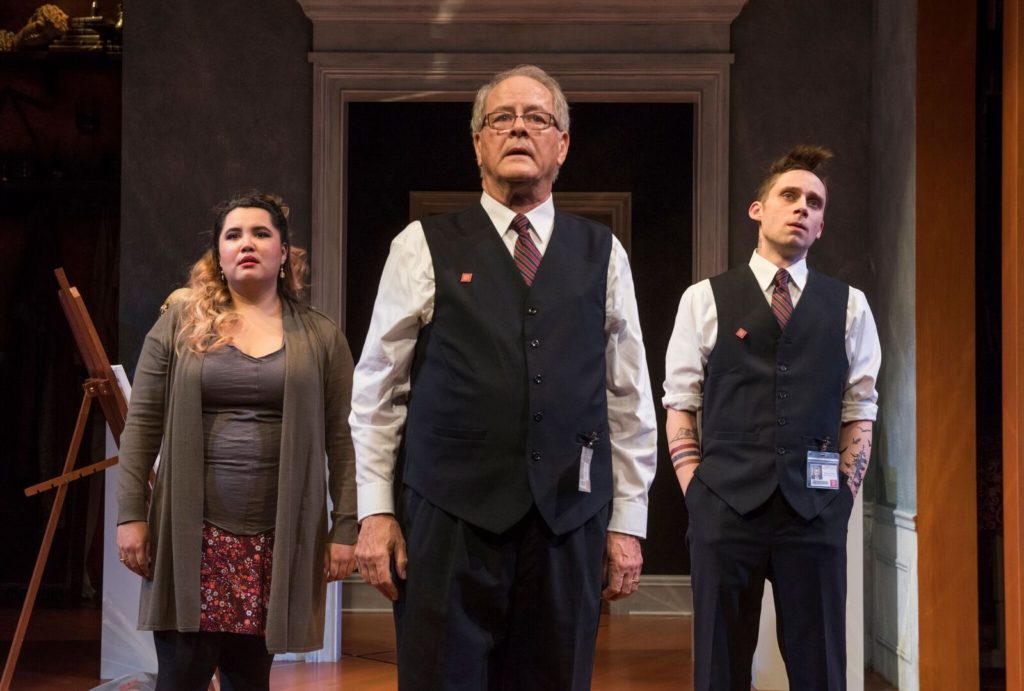 Steppenwolf Theatre presents the Chicago premiere of THE REMBRANDT.
A Rembrandt painting is the focal point of Playwright Jessica Dickey's tale. It's the portrait of Aristotle with his hand on a bust of Homer's head. Dickey attempts to connect life to art and art to life over centuries. She draws parallels between the admirers of the painting, the creator of the painting and the subject of the painting. Her art appreciation illustration is an ode to a painting within a play about the painting. Rembrandt created his masterpiece using only four colors. Dickey weaves her storytelling using only four actors. Rembrandt was contracted for a portrait of a philosopher but weaves a poet into the art. Dickey's key relationship in the present is between a painter and a poet. Dickey cleverly connects the audience to an unseen painting through the eyes of her characters. Although her concept has broad romantic serendipitous strokes, Dickey's creation isn't quite a seamless work of art.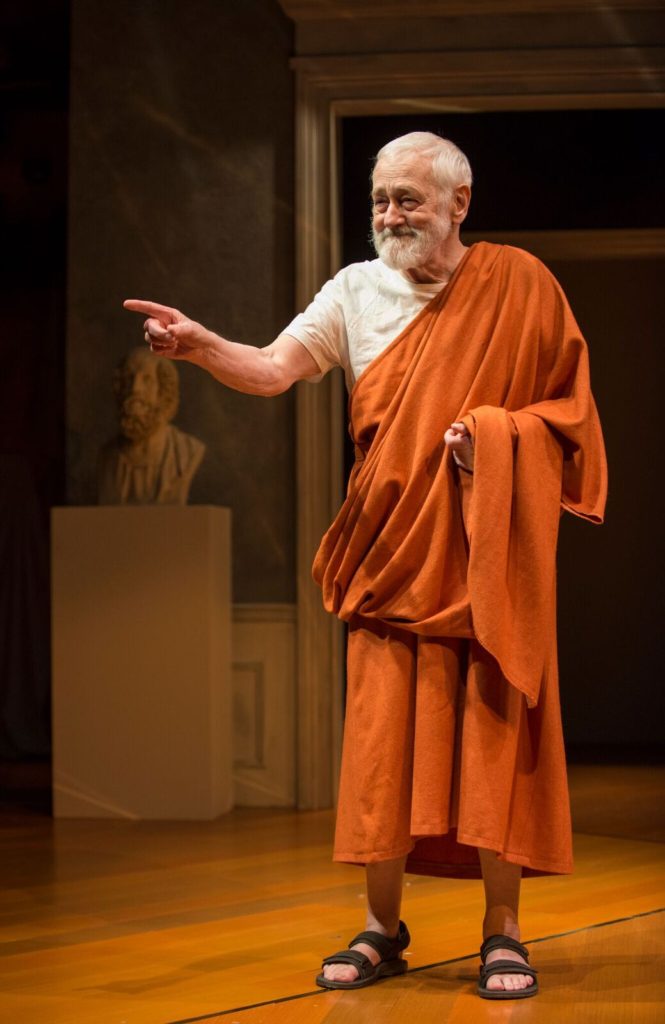 Dickey begins her story in an art museum in modern times. She uses three random people's interest in the painting to transport us back to its origin story. In present, the art lovers are a museum guard (played by Francis Guinan), a novice student (played by Karen Rodriguez) and a street artist (Ty Olwin). They are all meeting for the first time. An earnest Guinan conducts a mini art lesson to help the audience understand and visualize Rembrandt's painting. Dickey even gives Guinan funny lines about art patrons that amusingly describes theatre patrons. That all works in peaking the audience's art interest and appreciation. It puts the art centerstage. The secondary set-ups regarding relationships are less captivating. Their interactions feel stilted and contrived. At one point, Rodriguez faints and Olwin holds her hand. It's meant to be steamy but comes off cheesy. The first act has the art but not the life.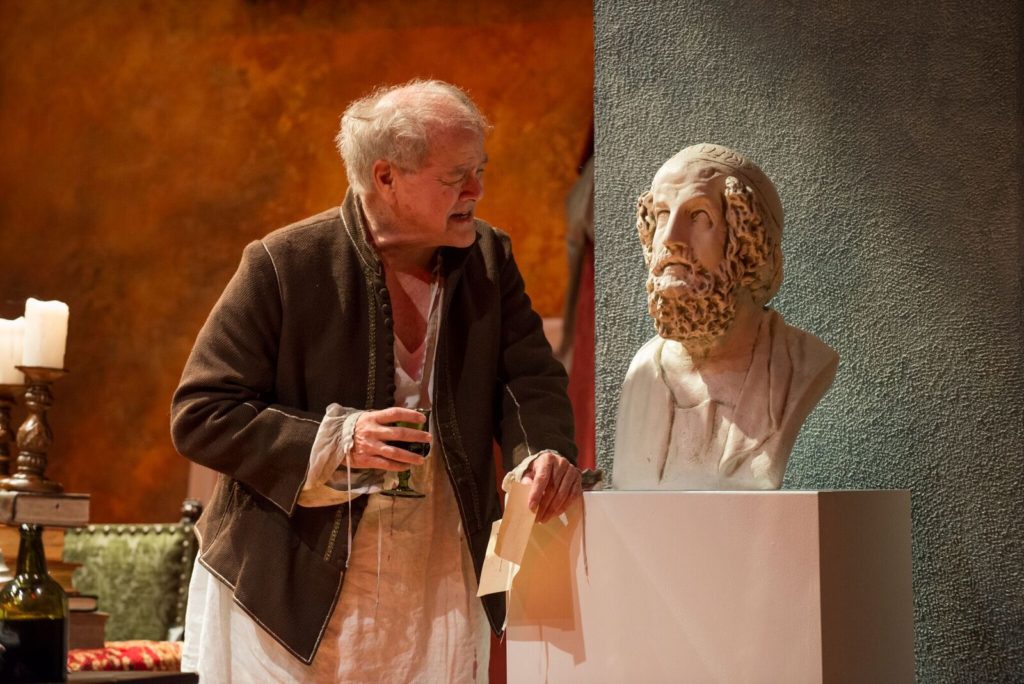 In the next act, the actors switch characters. Rembrandt (played by Guinan) is grumbling about painting a philosopher. His wife (played by Rodriguez) is soothing him. His son (played by Olwin) is forcing him to be realistic. The interactions are more authentic. Dickey has dropped us into life in progress. This day-in-the-life-of Rembrandt gives us insight into his muses for the portrait. His financial and relational woes are at war with his artistic integrity. After Guinan contemplates the bust of Homer in his home, Homer (played by John Mahoney) appears to chronicle his own trials in his life verses his art. Dickey imagines the humanity of two men who will become legends. Although the transition from Rembrandt to Homer is clunky, the always entertaining Mahoney delivers his monologue with zest.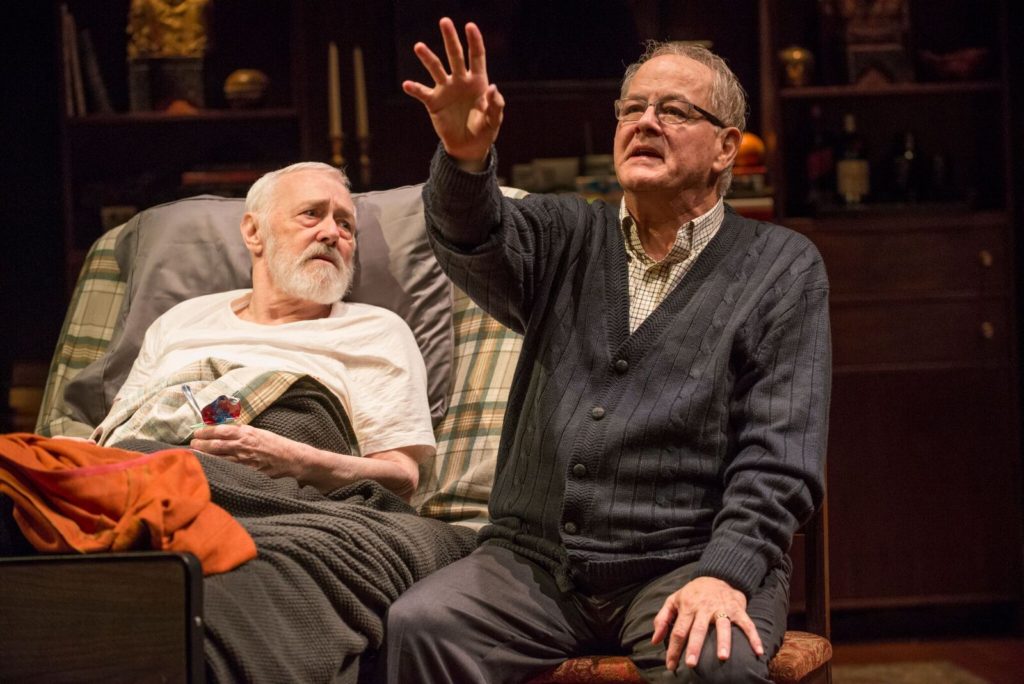 The final act is my favorite. It's Guinan and Mahoney keeping it real. The husbands are dealing with fatal cancer. As Guinan sentimentally remembers, a crusty Mahoney continually zings the one liners. Their relationship feels legit. Dickey's dialogue is at its most authentic between the twosome. Unfortunately, the story hasn't built up the emotional intensity for this to be a grand and gripping finale. Despite the wonderful work of Guinan and Mahoney, the sluggish museum start and the trip to the past puts too much distance between art and the life of these two men.
THE REMBRANDT is about a work of art but isn't necessarily a work of art. It tells about lives but isn't necessarily about real life. It's more an imitation of both art and life.
Running Time: Ninety minutes with no intermission
At Steppenwolf Theatre, 1650 N. Halsted
Written by Jessica Dickey
Directed by Hallie Gordon
Tuesdays, Wednesdays, Thursdays, Fridays, Saturdays at 7:30pm
Saturdays and Sundays at 3pm
At 2pm on October 4, 11, 18
Thru October 5th
Buy Tickets at steppenwolf.org 
For more information and reviews on Chicago theatre, visit Theater in Chicago.