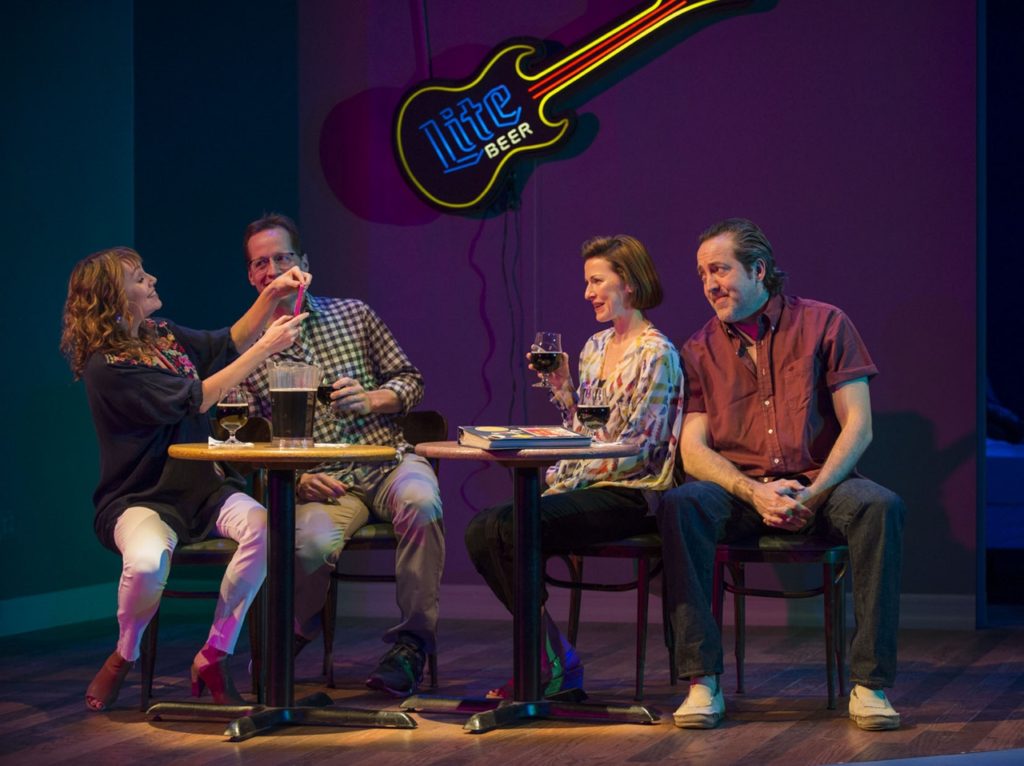 Steppenwolf Theatre Company presents the world premiere production of LINDA VISTA.
Scheduling conflicts postponed me from seeing the newest Tracy Letts' play until last night. I entered the theatre with heightened excitement. I'm a huge fan of Letts. Plus, this show has gotten terrific buzz! I was ready to enjoy Letts latest sardonic Americana dissection. The first act kept me amused with a self-deprecating Ian Barford, a hapless Tim Hopper, a pleasure seeking Cora Vander Broek, two hilarious break-out karaoke numbers and a revolving stage (Scenic Designer Todd Rosenthal). Letts' story of a middle age man (Barford) confronting his almost-divorced, under-employed, overly-bitter life had my interest. A fairly graphic sex scene with climax complications added to the intrigue. How will Letts navigate this relationship between an angry man and happiness-focused life coach?
The answer is he doesn't. Act 2 starts with the couple one month into the relationship. He's met her father. She's professed her love. The sexual tension from the initial sexual mishap has disappeared. In its place is a pregnant roommate (played by Kahyun Kim). What started out as a fascinating unlikely pairing slowly turns into a middle-age man's fantasy.  A grumpy, old camera repair guy is holding the interest of not one but THREE hot ladies. It seems implausible for anyone without George Clooney's looks and bank account. Letts handles this on the surface.  He introduces multiple concepts of an undone life but doesn't add depth to tether the audience to the story. In one scene, Barford desperately starts to reveal why he's no longer a photographer.  An annoyed Vander Broek dismisses his too-little-too-late personal disclosure. I'm right there with her but my annoyance is targeted at Letts. I trusted him to give me biting, thought-provoking content. Instead, his Act 2 rambles on and on and on without purpose.  Excessive scene changes and pointless scenes add to the length without bringing substance.  The show goes nearly three hours. When Barford utters, 'can I take your picture?' It's not this poignant transformational moment.  It's weird and kind of creepy. There hasn't been enough heavy-lifting on the part of the storyteller to warrant his character's epiphany.
LINDA VISTA is sure no MARY PAGE MARLOWE.
Running Time:  Two hours and fifty minutes includes an intermission
At Steppenwolf Theatre, 1650 N. Halsted
Written by Tracy Letts
Directed by Dexter Bullard
Tuesdays, Wednesdays, Thursdays, Fridays at 7:30pm
Saturdays at 3pm and 7:30pm
Sundays at 3pm
EXTENDED Thru May 28th
Buy Tickets at 312-335-1650 or steppenwolf.org.
Photos by Michael Brosilow
 For more information and reviews on Chicago theatre, visit Theater in Chicago.