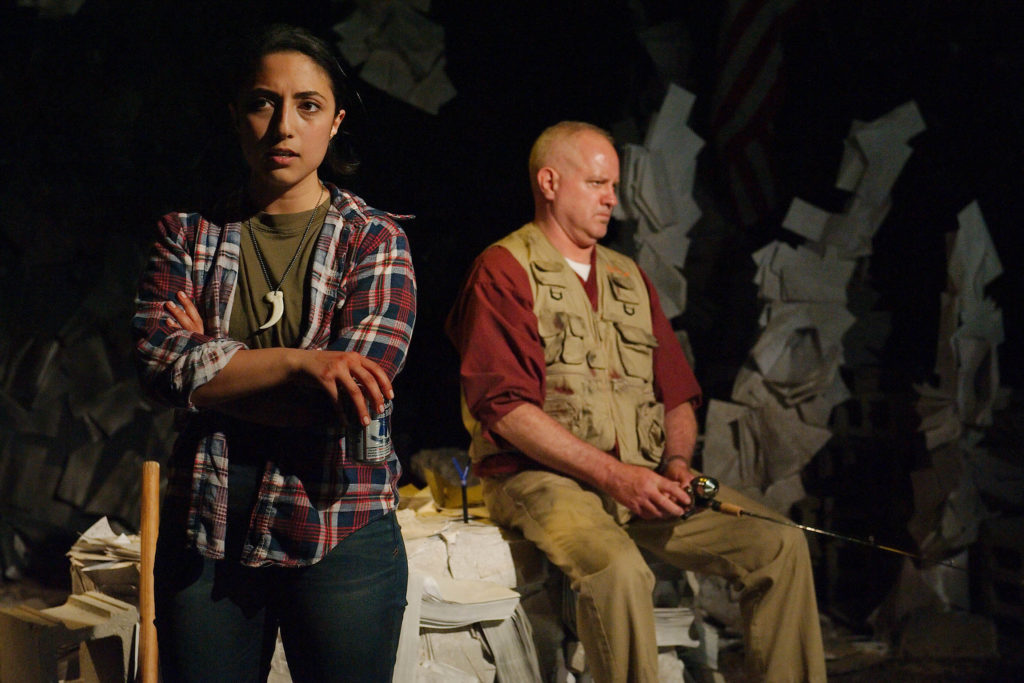 Something Marvelous and Randy Steinmeyer, in association with Chicago Dramatists' Grafting Project, present JOHNNY 10 BEERS' DAUGHTER.
Playwright Dana Lynn Formby gives us an intimate peek into two casualties of war. Formby tells the tale of a father and daughter struggling to overcome the geographic and emotional distance of military service. Her story revolves around post-traumatic stress disorder, first the father's then the daughter's. The heartbreaking cycle of violence is perfectly illustrated. A daughter, desperate for her father's love, joins the marines. Although the move establishes camaraderie, the shared experience creates collateral damage. Formby impressively layers the military and relational conflict. We see the horrors of war in the riveting stories the father and daughter tell. And we feel the growing void created by ongoing personal tragedies separating the two.
Under Director Emmi Hilger's orchestration, the story unfolds with authenticity. The play opens with dad (played by Randy Steinmeyer) fishing. The daughter Leila (played by Arti Ishak) arrives. Through their stilted conversation, we realize dad has missed Leila's high school graduation. We learn a lot about their relationship in this first encounter. Steinmeyer's pain is palpable. He is a shell of a man. Steinmeyer is present and vacant simultaneously. His attempts at fathering are fleeting moments of connectivity. He offers his daughter a key, a ride, a hope. Ishak perks up in anticipation only to be rejected again. Steinmeyer continually retreats back into his hermit existence.
Ishak's transformation from teen to marine is powerful. She starts off trying so hard to get her father's attention. She wants them to have a relationship. She is willing to sacrifice her own identity for the two to have a tighter bond. Although entering the marines provides this platform for reunification, Ishak discovers the horrors of living in her father's world. As she writes letters home, we watch her shed her youthful innocence and harden.
This story is tight. Formby opens our eyes to the overlooked victims of war. Their pain is real. And their stories are the kind no one wants to believe happen. The drama is intense yet Formby peppers the dialogue with humor. She also digs deeper for a stunning reveal that is unforgettable. JOHNNY's 10 BEER DAUGHTER is the trifecta of writing, directing and acting. A must see!
Running Time: Ninety minutes with no intermission
At Chicago Dramatists, 1105 W. Chicago Ave
Written by Dana Lynn Formby
Directed by Emmi Hilger
Regular performance times are Thursdays – Saturdays at 8 p.m. and Sundays at 3 p.m.
Thru June 18
Tickets may be purchased online at http://www.somethingmarvelous.org/johnny-ten-beers-daughter/.
For more information and reviews on Chicago theatre, visit Theater in Chicago.