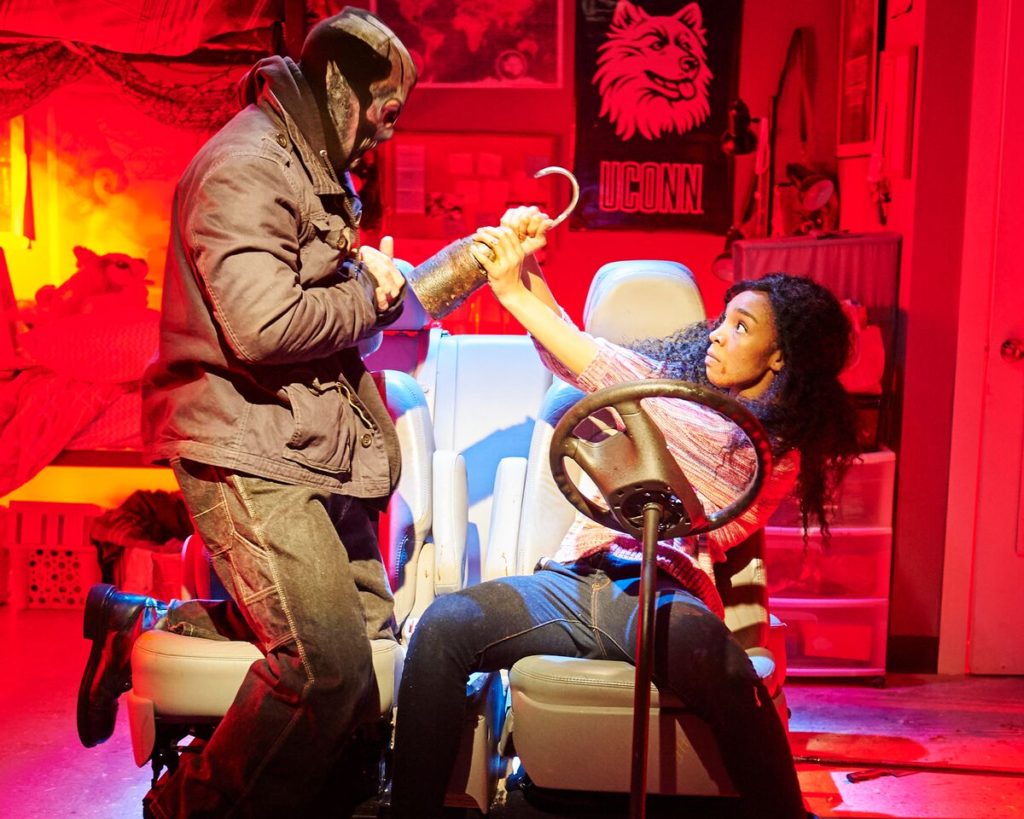 Steep Theatre presents HOOKMAN.
Steep steps away from its traditional British angst for some pure campy Americana. Playwright Lauren Yee pens a gory thriller. Yee anchors her story with the urban legend of a homicidal manic with a hook for a hand.  A young gal named Lexi (played by Kiayla Ryann) has suffered personal trauma. Her coping with loss is tangled up in her mother's ongoing childhood warning of a hookman. All the horrible things Lexi is unable to confront is embodied in this deranged stalker looming on the fringes and sometimes in her car.  Yee blurs past and present, fantasy and reality, live and film. Yee has Lexi time travel as she continually returns to a recent incident to relive it.  She also grapples with both the real insensitivity of peers and her own imagined pulp fiction. Director Vanessa Stalling adds to the suspense and the lampoon by having the action takes place on the stage and on two monitors (Mark Comiskey, Projection Design).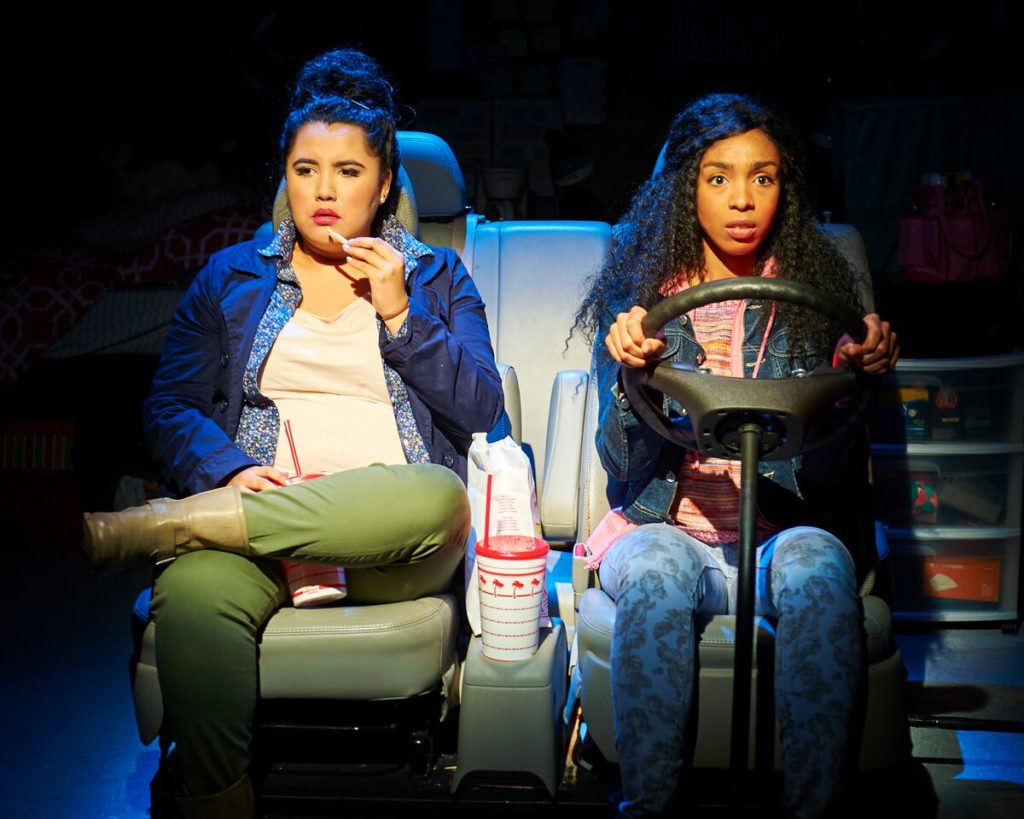 The show starts live with Ryann and Karen Isabel Rodriguez (Jess) chatting in a car. Something happens and the monitors light up with a slick movie like intro.  The stage/monitor pairing works effectively because of the teen slasher premise.  It also sets a farcical tone for the killing to commence. Yee weaves in plenty of humor into her teen-fright-night-misfit-crew. And an impressive Stalling squeezes out the comedy from the blood-soaked rag.  Despite the over-the-top fear factor, the talented ensemble interact with a natural authenticity. Ryann and Rodriguez's conversation organically zig-zags from milkshakes to periods to otter-hand holding to childhood friends growing apart. Their familial banter is equally playful and resigned.  It contrasts dramatically with Ryann and her roommate Yoonji (played by Aja Wiltshire).  Ryann is immediately awkward around the self-absorbed and aloof Wiltshire. Whether she is drinking or talking about the Olive Garden, the unapologetic Wiltshire is all about chasing the next good time. Sasha Smith (Chloe) plays another dorm mate. Whereas Wiltshire doesn't hide her disdain, the upbeat Smith talks in circles. Ryann is desperate for companionship and Smith brushes her off with polite fakeness.  Later, a smug Mary Tilden (Kayleigh) denies Ryann admission and empathy.  All the meet-ups are caricatures and cruelty twisted together into dark comedy.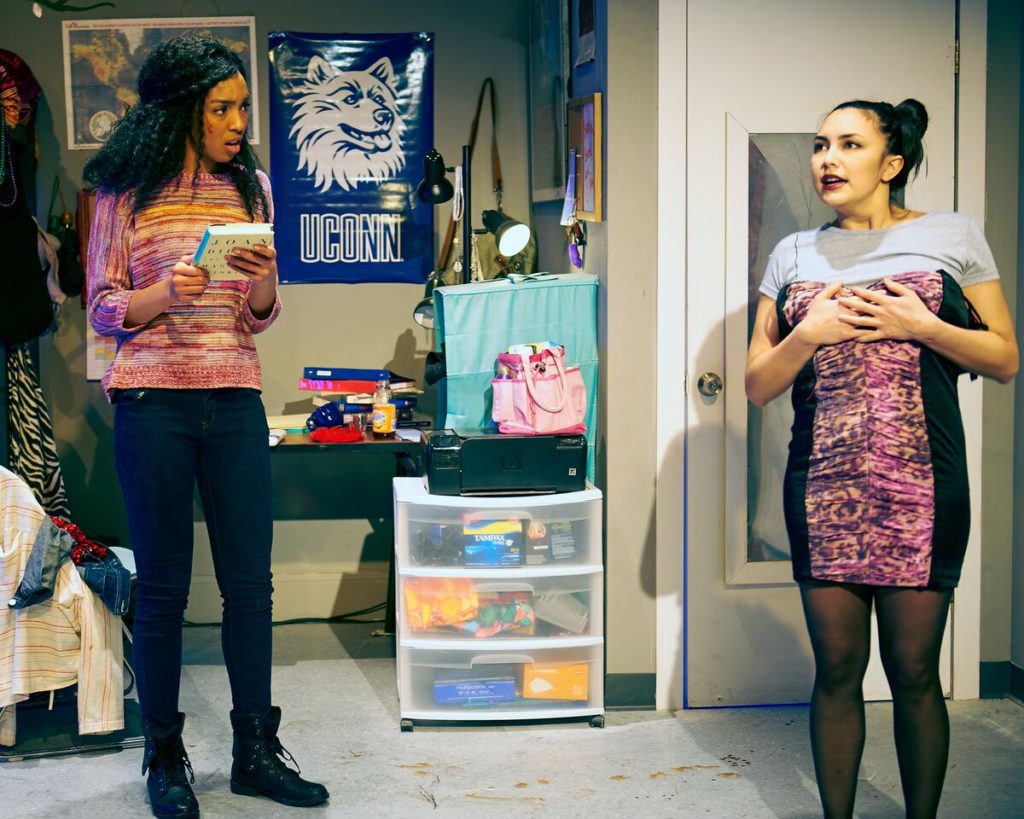 Yee sets out to terrorize the audience with a murderer.  She does that to some extent.  My ride home in an empty 146 that stalled on Marine Drive was extra spooky. Still, my bigger takeaway is being haunted by the carefree and uncaring nature of humanity. Although a departure from traditional Steep , I can see HOOKMAN attracting a younger, cult-following as a late night show.
Running Time: 75 minutes with no intermission
At Steep Theatre, 1115 W. Berwyn
Written by Lauren Yee
Directed by Vanessa Stalling
Thursdays, Fridays, Saturdays at 8pm
Sundays at 3pm
EXTENDED Thru June 3rd
Buy Tickets at www.steeptheatre.com
Photos by Lee Miller
For more information and reviews on Chicago theatre, visit Theater in Chicago.