Shattered Globe Theatre presents the Chicago premiere of FOR PETER PAN ON HER 70th BIRTHDAY.
Live theatre provides its own unexpected moments of magic.  In last night's show, I sat in front of Playwright Sarah Ruhl as she watched her mom (Kathleen Ruhl) perform.  Sarah had penned this play based on an actual event in her mother's life.  Kathleen had performed in the title role of "Peter Pan" in her early acting career.  Sarah bookends her play with pieces based on that significant experience of Kathleen's.  The show starts with Kathleen describing her flying performance in Davenport, Iowa.  It ends with Kathleen and her siblings (Eileen Niccolai, Patrick Thornton, HB Ward, Ben Werling) having one last Neverland experience.  The in-between, and bulk of the story, is sons and daughters grappling with a father's (played by Doug McDade) death and their own aging process.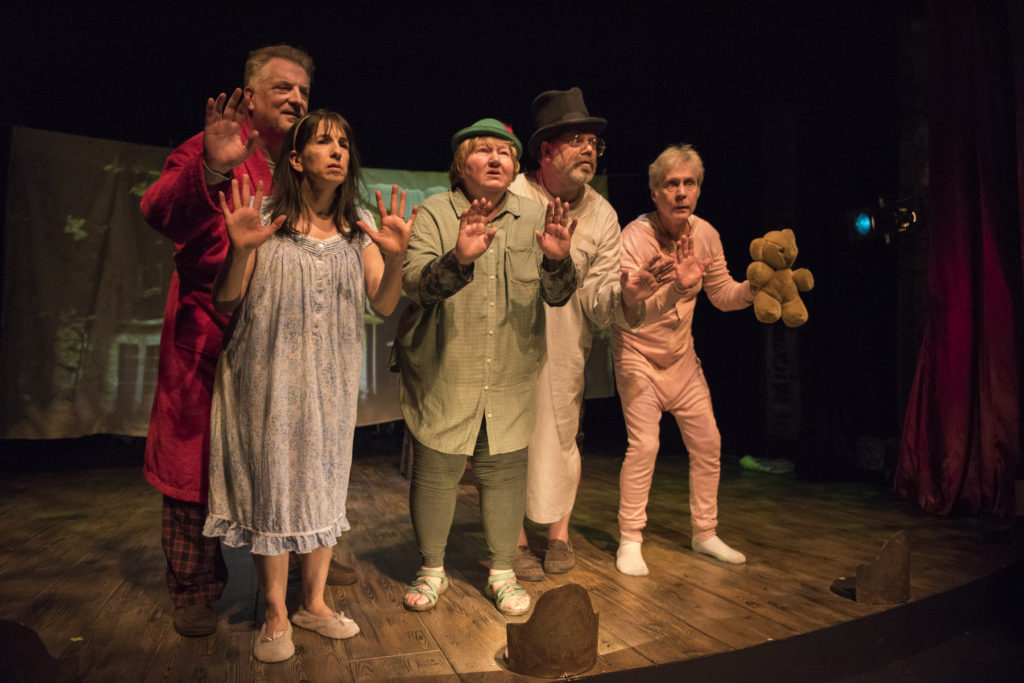 Sarah's tribute to her mother is sweet.  Her premise of adult children wanting to return to childhood make-believe is charming.  Unfortunately, the execution is clunky.  The flow from reality to fantasy is abrupt and missing some whimsy.  The nursery scene that springboards them into a "Peter Pan" journey comes late in the show.  Although the ensemble looks cute as their aged counterparts, the fairy tale sequence feels out of place and forced.  It seems an odd departure from the hour spent getting to know this family.
The best parts of the play is the interactions between the siblings. They cover a variety of topics in their forced family time. It feels like brothers vs sisters, conservatives vs liberals, recovering Catholics vs Catholics.  The banter is riddled with one liners, sibling rivalry and old grudges.  At one point, Niccolai leaves the room saying she can't take the yelling.  For a gathering of adult siblings that are drinking, there is actually a lack of arguing.  Director Jessica Thebus rolls this out without a lot of tension.  The conversations have a relaxed cadence that at times hold my interest as if I'm watching someone else's family movies. It's real enough.  It's just not a lot of drama.
The title, FOR PETER PAN ON HER 70th BIRTHDAY, might also be misleading. It's not really for children.  There isn't anything shocking that young ears shouldn't hear.  It's just lacking real excitement. The reality side is ordinary people dealing with passage of time.  And the fantasy side doesn't have enough pixie dust to get it to fly right at the star and straight on til morning.
Running Time: Eighty minutes with no intermission
At Theater Wit, 1229 W. Belmont Ave, Chicago
Written by Sarah Ruhl
Directed by Jessica Thebus
Thursdays, Fridays and Saturdays at 8 pm
Sundays at 3 pm
Thru May 20th
Tickets are currently available at www.theaterwit.org, in person at the Theater Wit Box Office or by calling (773) 975-8150. Group discounts are available by contacting groupsales@shatteredglobe.org or by calling (773) 770-0333.
Photos by Michael Brosilow
For more information and reviews on Chicago theatre, visit Theater in Chicago.