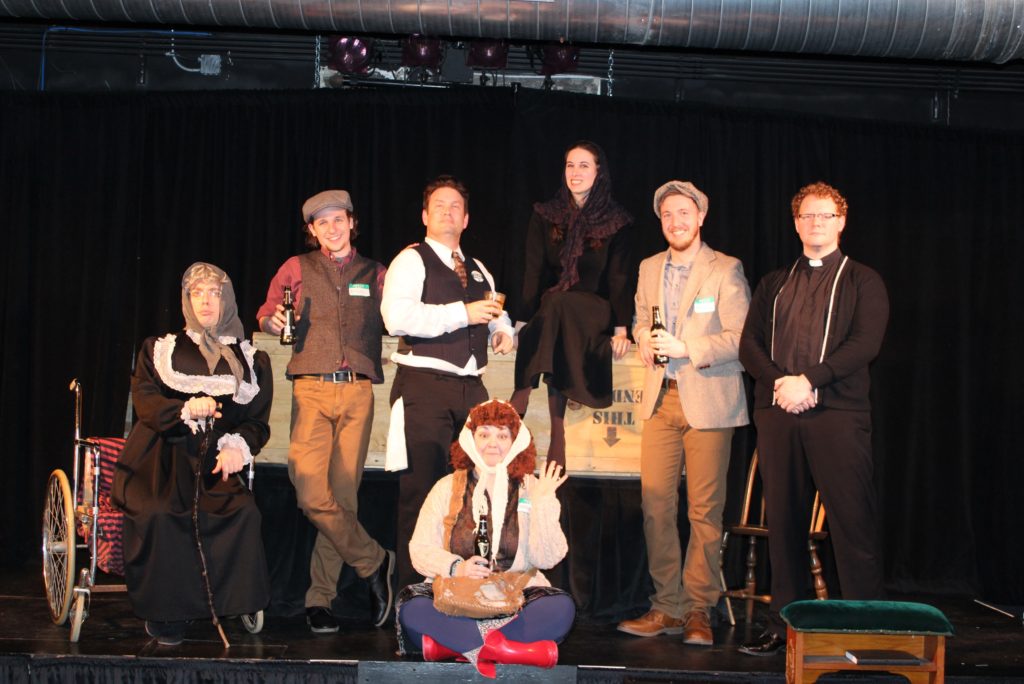 Reviewed by Abby Simon
Chicago Theater Works presents FLANAGAN'S WAKE. 
Upon entering the theater for Flanagan's Wake, it seems that there is a very lively party already going on. But upon further investigation, there is a very centralized casket made of old pallets up on the stage. Thus, the scene of an Irish wake, plenty of booze, Irish music, and stories of the one who has passed. Before the show even begins, the audience is greeted by the actors roaming and discussing their relation to Flannigan as they crack jokes and recount their own stories of his life. 
Throughout the show, the crowd is taken through a jovial (and improvised) account of the deceased Flannigan, chock full of songs, wisecracks, and plenty of audience participation. We're introduced to Flanagan's finance, mother, friends, mayor, and priest – each with their own tale, which was occasionally improvised by the audience members' ideas. Unfortunately, my boyfriend and I shared a table with a surly guest. He didn't want to interact with us or the actors. His mere presence dampened the wake merriment for us. It only takes one bad mourner to ruin someone's (funeral) party.  
With a full bar (tended by the mayor), this is a great show to see with a group to share some laughs and a few pints.
Running time: 90 minutes with a 15minute intermission
At Chicago Theater Works, 1113 W. Belmont
Runs until: April 29
(Times Vary)
Tickets at http://www.chicagotheaterworks.com/flanagan-s-wake or 312-391-0404
For more information and reviews on Chicago theatre, visit Theater in Chicago.