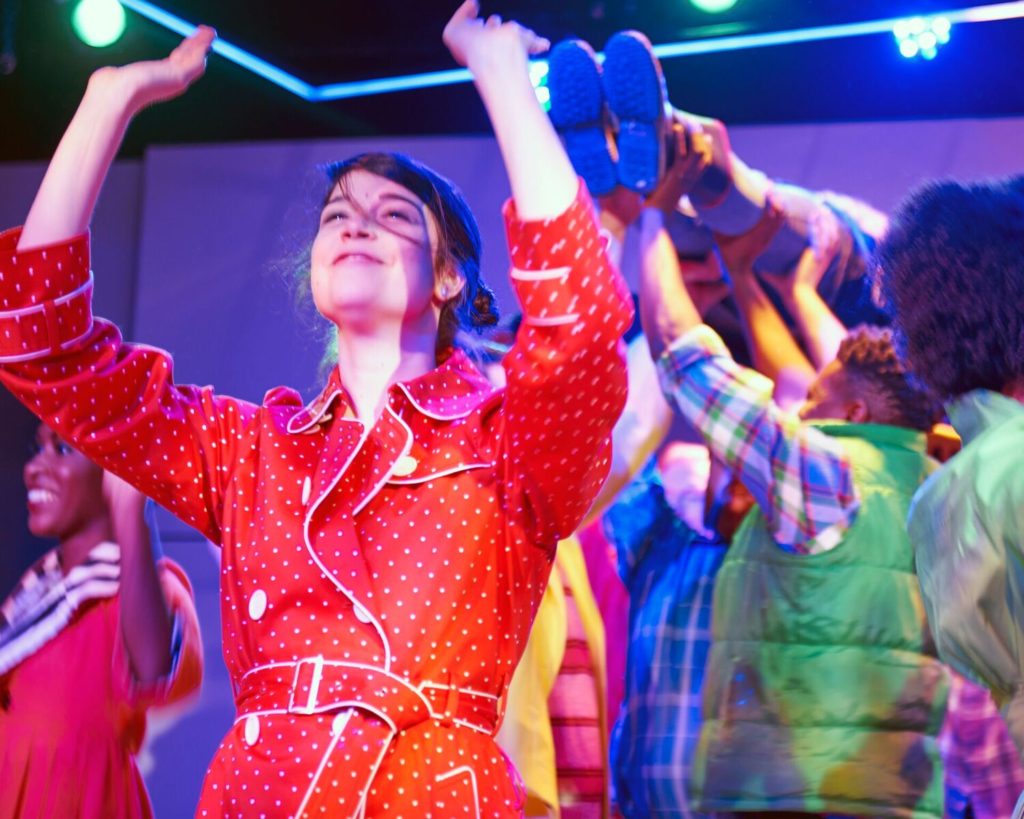 Steep Theatre presents EARTHQUAKES IN LONDON.
This show is a lot. Huge cast. Multiple storylines. Long running time. And a choreographed musical number?!  It's true!  In Steep's modest space, the 15-member ensemble dance.  Steep's signature British angst is momentarily halted as the cast frolic on stage to "I'm not a Robot." And guess what, a robot even joins in the shenanigans. The fantasy interlude is colorful yet overwhelming. It is one piece of this over-sized puzzle.  Steep ambitiously tackles Mike Bartlett's chaotic and sometimes rambling drama.  It's like Director Jonathan Berry opens Bartlett's overstuffed trunk in Steep's intimate home and clothing spews all over the place.  It becomes the audience's ongoing task to pick up pieces to try to put together an outfit that works.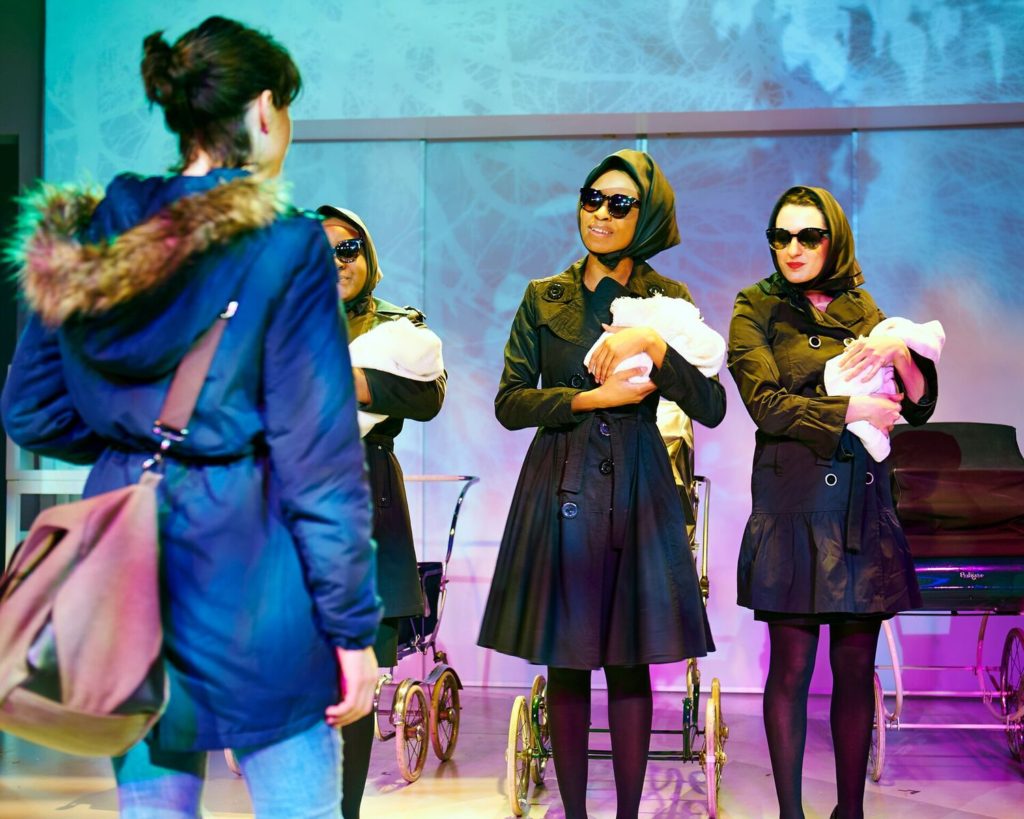 At the core of this show is a climate change scientist's (Jim Poole) estranged relationships with his three adult daughters (Cindy Marker, Lucy Carapetyan, Sara Price). The show moves back and forth in time.  We meet the daughters in the present. Marker is a government official. Carapetyan is a mother-to-be. And Price is a hell-raising teenager.  Their father is a famous scientist. Although he is obsessed with the future of the world, he seems unconcerned with his daughters' futures.  It's a challenge to keep the family's dramas straight as we not only travel between time periods but also in and out of reality. Carapetyan plays the sister who regularly slips into a fantasy existence. The musical number is one of her many alternative realities.  One of her more poignant interactions is visits with a mysterious teenager played by Amber Sallis.  Carapetyan's palpable unhappiness is balanced out by Sallis' gregarious delivery. There is comedy in this drama often brought out by the sweet Sallis or the cheeky Price.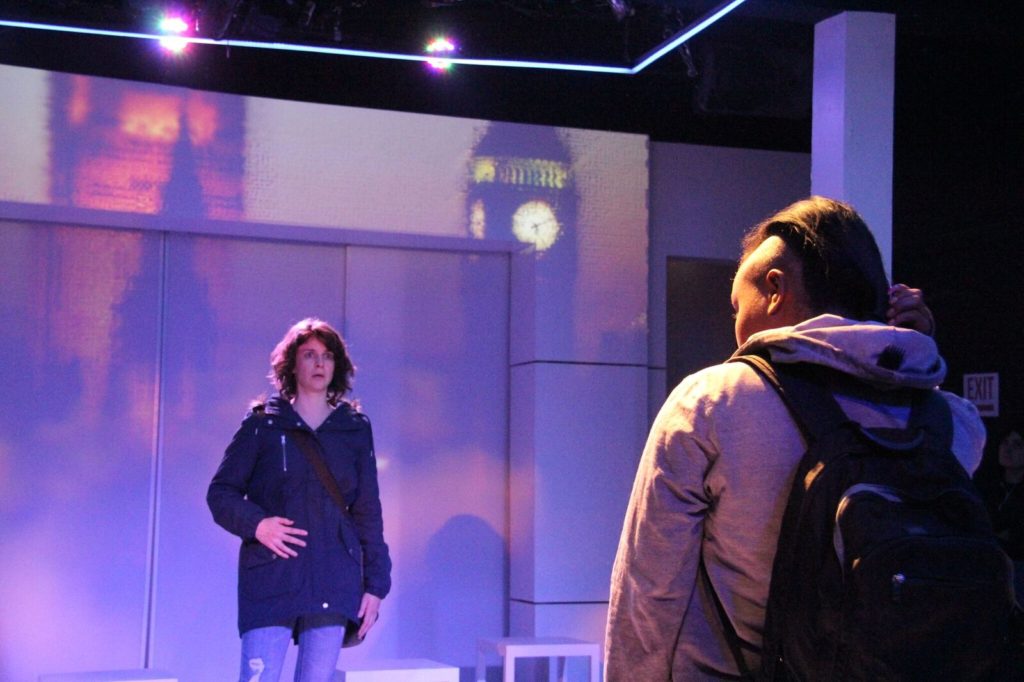 I wanted to sink my heels into EARTHQUAKES IN LONDON.  The premise of a dysfunctional family paralleled within the urgency of climate change urgency is clever.  Although the layers of relational woe are there for the sorting, the pile is too deep and the terrain too shaky for contemplation.  The ensemble has trouble sustaining the drama with all the moving parts. At times, characters deliver preachy soliloquies that add length and confusion but no real substance. The tension withers in the swirling chaos. It's not a complete disaster but this EARTHQUAKE measures about a four on the Richter Scale.
Running Time: Three hours and ten minutes includes an intermission
At Steep Theatre, 1115 W. Berwyn
Written by Mike Bartlett
Directed by Jonathan Berry
Thursdays, Fridays, Saturdays at 8pm
Feb 5th, 12th, 19th, 26th at 3pm
Thru March 4th
Buy Tickets at www.steeptheatre.com
Production photos by Lee Miller and Gregg Gilman
For more information and reviews on Chicago theatre, visit Theater in Chicago.