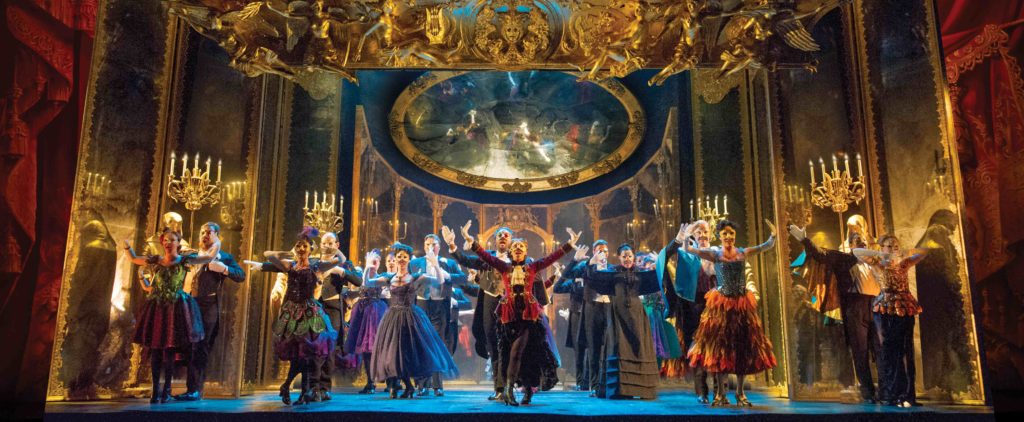 Reviewed by Tom Lawler
Who should this see this: Anyone who hasn't yet seen the standard all Broadway musicals are measured against. Anyone who wants to again experience Andrew Lloyd Webber's (Evita, Cats) superbly-crafted opus in a gleaming new production that hasn't lost its ability to astonish since making its debut 30 years ago.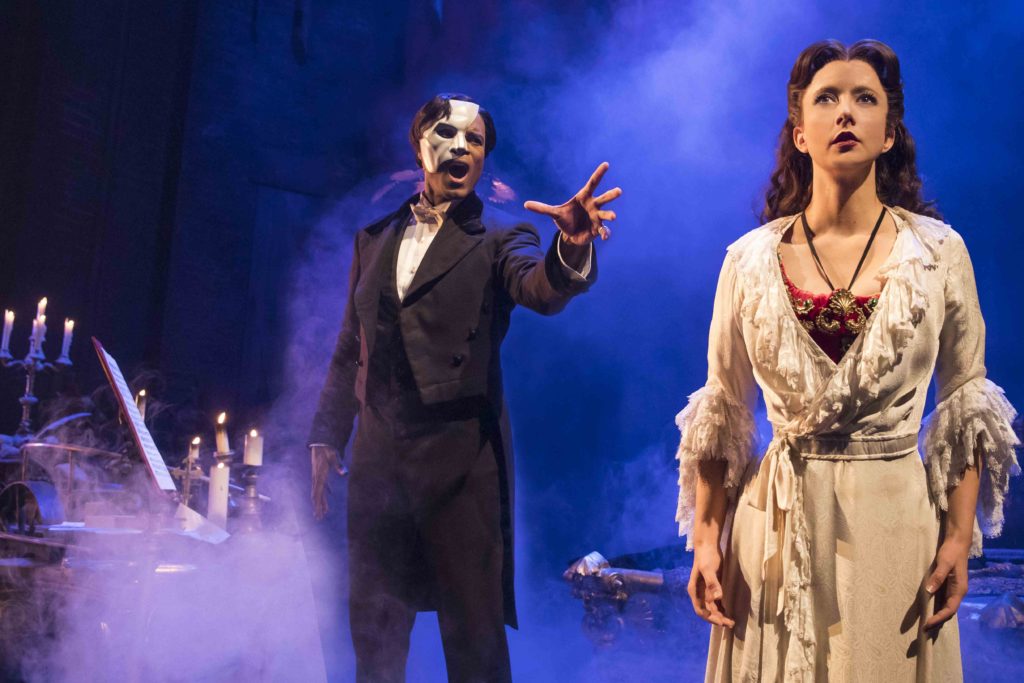 What's it all about: Based on the 1910 French Gothic novel of the same name that was partly inspired by some suspicious real-life happenings at the Paris Opera, The Phantom of the Opera enthralls as both a doomed love triangle and an evocative metaphor of the creative process. Set almost entirely within the Opera Populaire (a fictional stand-in for the Paris Opera), young ballet dancer Christine (a radiant Katie Travis) gets her chance as the new featured soprano when a piece of falling scenery chases away the company's reigning Prima donna, Carlotta (an hilarious Trista Moldovan).  Not only is a masked ghost haunting the building and causing random accidents when his demands aren't met, but he's also a gifted composer who has been secretly giving Christine nocturnal voice lessons in his subterranean lair. As high concept as that previous sentence reads, Phantom hooks us by using this dark, misty setting as a metaphor for the subconscious mind. If we can succumb to the "Music of the Night" (also one of Phantom's strongest songs), we can successfully tap into our ids and create or perform freely as artists. We're also moved by the Phantom's obvious weakness: his need for love despite his self-hatred over his mangled face. Christine sees this duality in the Phantom and is forced to choose between him (her art) and Raoul (Jordan Craig), an aristocratic friend from her childhood who is now courting her.  (The real tragedy of Phantom is that she can't have both.)
Stand-out performance: It would surely be a let-down if the titular Phantom didn't bring the goods, so be assured that Broadway veteran Derrick Davis (The Lion King) is thrilling and charismatic as the doomed apparition. With a live orchestra playing out the score in the pit beneath the stage (the cast and orchestra of this production total 52), Davis's strong tenor is never overwhelmed by the sound and fury of Andrew Lloyd Webber's and David Cullen's orchestrations. 
Also, check out: In what's being billed by its billionaire mega-producer Cameron Mackintosh (Les Miserables, Miss Saigon), as a "spectacular new production," this limited four-week engagement in Chicago features re-imagined staging from Paul Brown (Set Design). The stunning scale and complexity of this staging makes it hard to fathom that this a touring production. Set pieces continually rotate or open up like wardrobes, and in perhaps the most magical bit of stage design, a floating staircase suddenly begins jutting out the side of a massive tower. The steps pop out individually just before the Phantom and Christine descend them – a fitting metaphor for the leap of faith she takes with her musical mentor/romantic interest. 
More of this, please: Kudos to John Rigby (Musical Supervisor) and Mick Potter (Sound Design) for not being afraid to let the music GET REALLY LOUD and overwhelming at times in the Cadillac Palace Theatre (an appropriately opulent setting for Phantom). The overture and the synthesizer and guitar-heavy title track, in particular, is so thundering we can't help but succumb to its power. Since this work is in many ways about giving in completely to the music, not delivering this number to us in maximum volume would have lessened the impact of this message. 
Key surprises: Having never seen Phantom before and only snatches of the filmed adaptation, I was nonetheless familiar with the overall story and knew about the big set pieces (i.e, the underground gondola, the chandelier). What I didn't expect was that in many ways Phantom is a back-stage drama in which Lloyd Webber gives us a few brief scenes of other operas in styles ranging from Mozart to Gilbert & Sullivan. While these scenes aren't fully honed from a satiric sense, they do display some humor and self-awareness about tropes that I didn't realize Lloyd Webber possessed. These scenes are also magnificently produced by director Laurence Connor and his creative team and put over with wit by Phantom's deep ensemble cast.
In summary: The king of all blockbuster musicals (sorry, Hamilton), The Phantom of the Opera continues to astonish in a large-scale, exquisitely-rendered production that that is cutting no corners on its national tour. If you haven't seen this yet, don't delay as it won't be in Chicago long. 
Do this first: A new, nearby convenient dining option is City Social, an airy 250-seat restaurant featuring an extensive draft beer list and upscale tavern food (i.e., charcuterie, gourmet burgers and tacos). Reservations accepted.
Do this after: I wish you luck finding anything nearby and open in the Loop after you get out of your evening performance. You're best off making a left on Randolph and selecting among the dozens of lively late-night eating and drinking options west of Halsted. Perhaps start with a beverage at Lone Wolf and plot your strategy.
Also, treat yourself to this over-the-top music video of  the original "The Phantom of the Opera" song recording that predated the musical and was directed in 1986 by the late, controversial Ken Russell (Tommy, The Devils). Like the original West End and Broadway productions, this stars doe-eyed Sarah Brightman, who originated the role of Christine and was married at the time to Andrew Lloyd Webber. Post-Lloyd Webber and Phantom, Brightman has gone on to popularize a dubious music genre called "Classical crossover."
Running Time: 2 hours, 45 minutes (including one 15-minute intermission)
At Cadillac Palace Theatre, 151 W. Randolph
Composer/Book/Co-Orchestrator: Andrew Lloyd Webber
Lyrics: Charles Hart
Director: Laurence Connor
Producer: Cameron Mackintosh
Thru January 8
Tickets: $50-149
Buy/Request Tickets at  Broadway in Chicago's site or call 800-75-2000. (Note: Check the website or call the box office for holiday performances.)
Photos by:  Matthew Murphy and Alastair Muir
# # #
For more information and reviews on Chicago theatre, visit Theater in Chicago.