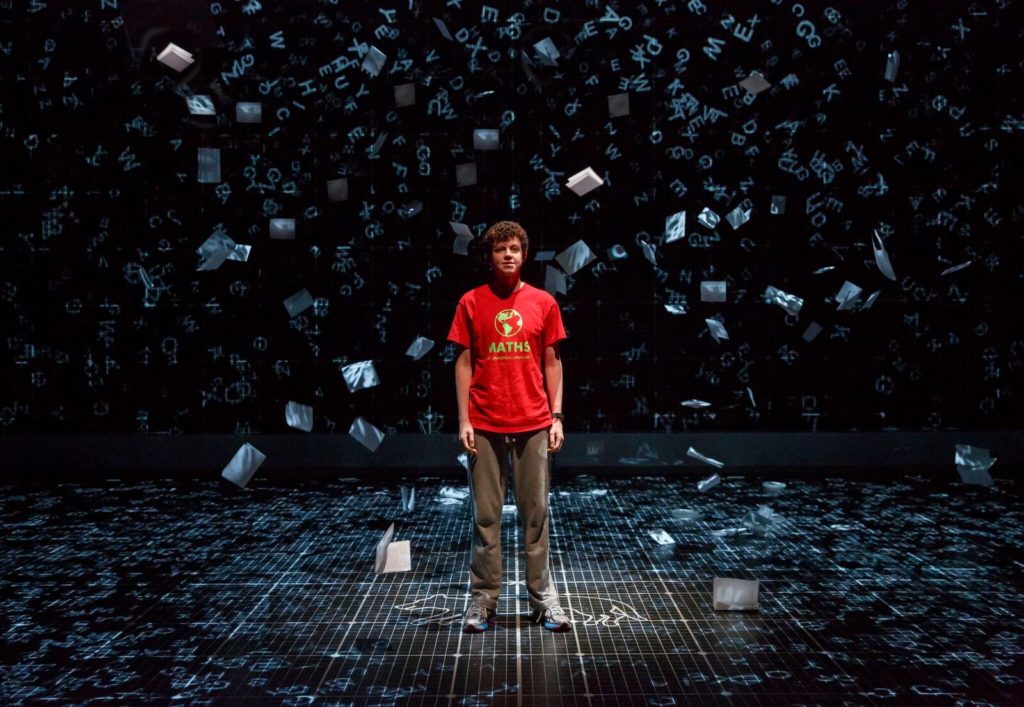 Broadway In Chicago presents the winner of 5 Tony Awards including Best Play, THE CURIOUS INCIDENT OF THE DOG IN THE NIGHT-TIME.
Playwright Simon Stephens adapts Mark Haddon's best-selling novel into a virtual reality experience. The story is about a brilliant fifteen year old challenged with an autistic-like disability. (Christopher's special needs are never labeled with an official diagnosis).  When the neighbor's dog is killed, Christopher pushes himself out of his comfortable isolation to solve the mystery. The story is narrated by Christopher played superbly by Adam Langdon.  Christopher has recorded his experience in a book that his teacher helps turn into a play.  Stephens tightly weaves the-play-within-the-book-within-the-play.  His clever storytelling is so transfixing we are surprised to be reminded we are watching a play.  The infrequent interruptions add to the comedy.  At one intense point, a rigid Langdon corrects who gave him the milkshake.  His insistence breaks the tension for the audience and we all chuckle realizing its the play that's the-play-within-the-book-within-the-play.  I exhale too knowing Langdon must make it out of his harrowing situation to complete the book and star in the play.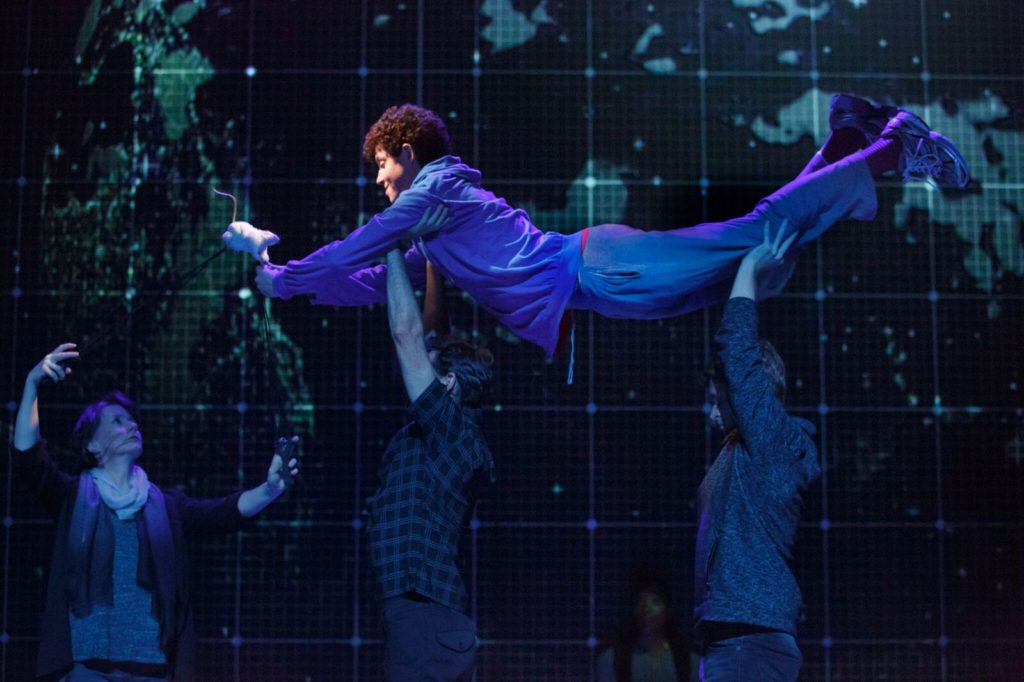 This play is an experience.  It takes us inside the head of a gifted yet disturbed youth. Director Marianne Elliot utilizes a cracker-jack design team: Bunny Christie (scenic and costume), Finn Ross (video), Paule Constable (lighting), Scott Graham and Steven Hoggett for Frantic Assembly (choreography), Adrian Sutton (music), and Ian Dickinson for Autograph (sound). Christie's stage is four sides of a high-tech cube. Ross will clutter the screens with numbers, words, or images to show the extensive information being sorted in Christopher's head.  Constable will light up the floor and walls with lines that Christopher must focus on to navigate through his mental chaos.  Meanwhile, Graham and Hoggett utilize movement to illustrate the frenzy internally and externally for Christopher.  The terrific ensemble create synchronized mayhem.  In some sequences, they even have Langdon body-surfing across the stage or scaling the walls.  The mechanical pandemonium contrasts brilliantly with the true essences of this tale, the humanity.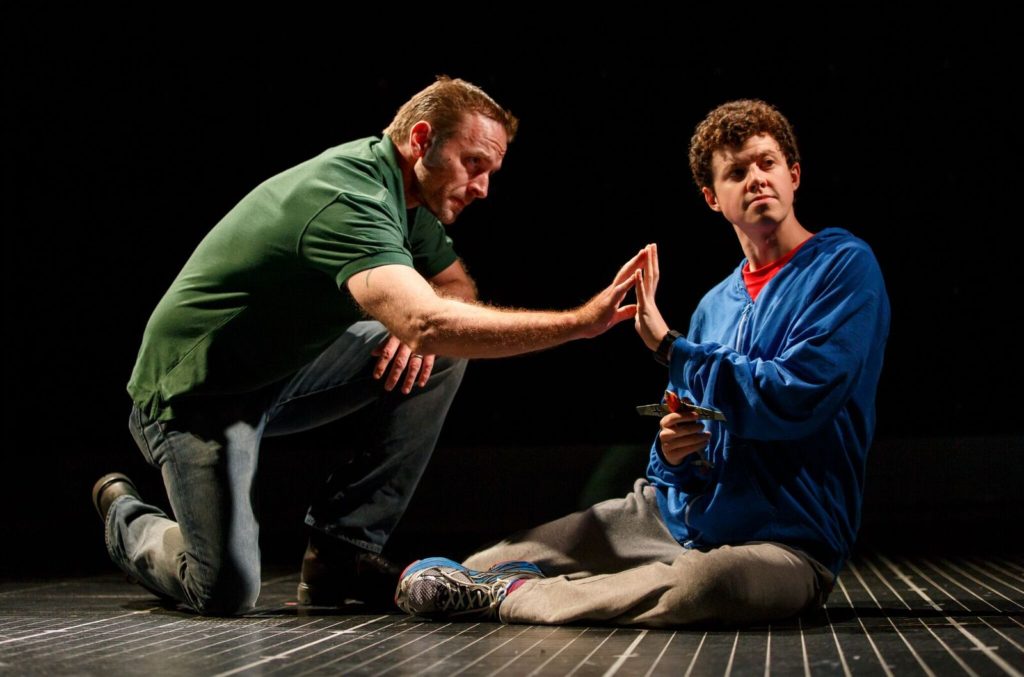 This play is an unconditional love story.  Christopher is different and loving him isn't easy.  He has a literal understanding of concepts. He is unable to receive physical contact.  And when he is becomes overwhelmed, he has epic meltdowns.  Yet, he is loved and cared for throughout the play by family and strangers.  Langdon is endearing with his quirky performance.  The relationship between him and Gene Gillette (his dad) is authentic.  Gillette's love for his son is heartwarming.  He fights for his advancement at school.  He ensures the routine at home.  He works hard.  He loves his son hard. When Gillette makes multiple very human mistakes, Langdon robotically disconnects from him.  Gillette's helplessness is palpable. He can't reach his son. 
In another scene, Felicity Jones Latta (his mom) begs Langdon to let her hug him.  Latta wants the human connection, the assurance that her son is with her.  An unemotional Langdon turns her down.  Although the rejection is a gut-puncher, it reinforces the unconditional aspect of this love story.  The beauty of this tale is how loved Christopher is without the 'normal' affectionate reciprocity. He's not a hugger. He demonstrates his relational attachments in other ways. He shows trust by working to be open to a new idea.  Langdon allows a caring Maria Elena Ramirez (his teacher) to guide him to write a book and later to develop a play.  The mutual respect is apparent.  Ramirez edits the play to not include Langdon solving an arithmetic problem.  She tells him he can do it after the curtain call.  Langdon accepts that decision. And wonderfully following the real life curtain call of THE CURIOUS INCIDENT OF THE DOG IN THE NIGHT-TIME, Langdon comes out to solve a math equation.
I loved this show for multiple reasons.  The theatrical designer showcase gave me a glimpse into the mental challenges of a person with an autistic-like disability.  Fascinating! I saw, heard and felt the chaotic burden from Christopher's and his parents' perspective.  I also found the play incredibly uplifting.  People were kind, patient and loving to someone who was different. The illustration of the best of humans made me weep. Lovely! Especially in this political climate, we need more inspirational art for life to imitate.
Running Time:Two hours and thirty minutes includes an intermission
At Oriental Theatre, 24 W. Randolph
Based on the best-selling novel by Mark Haddon
Adapted by Simon Stephens
Directed by Marianne Elliot
Monday, December 19, 7:30PM
Tuesdays at 7:30 PM
Wednesdays at 7:30 PM (additional 2 PM matinee on Dec. 14 & Dec. 21) Thursdays at 7:30 PM (additional 2 PM matinee on Dec. 22)
Fridays at 7:30 PM
Saturdays at 2 PM and 8 PM (no evening performance on Dec. 24) Sundays at 2 PM (additional 7:30 PM evening performance on Dec. 11)
Buy Tickets at www.BroadwayInChicago.com.
For more information and reviews on Chicago theatre, visit Theater in Chicago.