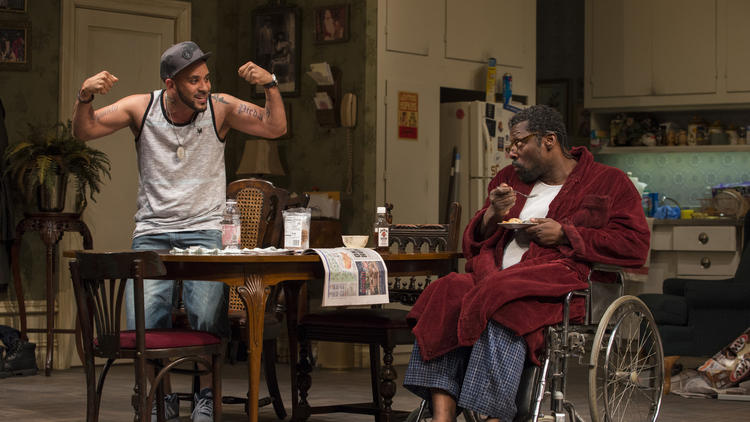 Steppenwolf Theatre presents the Chicago premiere of BETWEEN RIVERSIDE AND CRAZY.
Playwright Stephen Adly Guirgis won the 2015 Pulitzer Prize for this dark dramedy.  Guirgis pens the tale of an ex-cop father (played by the commanding Eamonn Walker) and his ex-con son (played by the understated James Vincent Meredith) co-existing in one of the last great rent stabilized apartments in Manhattan. Their contradictory pairing is the focal one in the household of misfits The exploration of what a son will do in opposition to his father's choices is both the surface and deeper meaning of this play.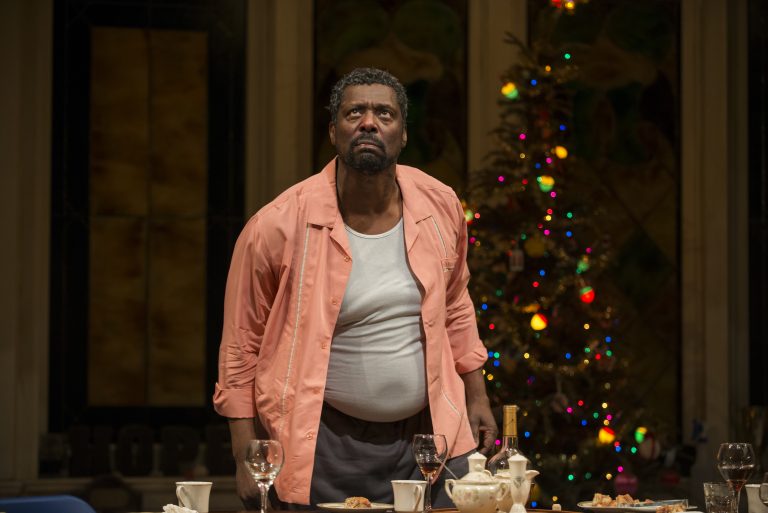 After his wife's death, Walker has opened his home to some lovable but sketchy characters. Guirgis redefines family with this hodge-podge community. The play opens with Walker drinking his breakfast as an earnest Victor Almanzar (Oswaldo) tries to get him to eat almonds. A scantily-clad Elena Marisa Flores (Lulu) wanders in to the kitchen. The colorful interactions have an unexpected softness.  Although Almanzar and Flores both refer to Walker as 'dad,' we learn it's not a biological title but an honorarium for his paternal hospitality. Under the masterful direction of Yasen Peyankov, the talented ensemble pull us into their makeshift home. Even before we know the characters well, we care about them because they care about each other.  Their close-knit community arouses our curiosity.  We want to know more. From Guirgis' recipe, Peyankov feeds us an ongoing diet of sustenance. We witness these characters, individually and collectively, evolve into versions of their true selfs for better or worse, over and over.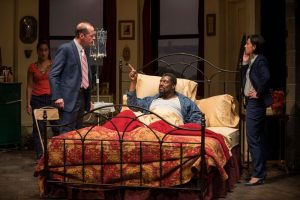 This play continually shifts and turns. Facades are dropped. Secrets are exposed. Fingers are pointed. During a dinner party scene, drinks and conversation flow. Walker playfully reminisces with his former partner (played by Audrey Francis). They joke about a perpetrator with a knife in his head. The sentimental reunion is interrupted when the partner's fiancee (played by Tim Hopper) reveals his real agenda for the get together.  Throughout the show, Hopper plays it like a zealous ladder climber. He talks out of both sides of his mouth. He tries to kiss and kick ass simultaneously with varying success.  Francis plays it closer to the vest. She talks about loyalty to Walker but then she doesn't try hard to contain a volatile Hopper. Meanwhile, the delightful Flores flutters around ensuring Walker has everything he needs. The dynamics intrigue as stories unfold.
Lily Mojekwu (Church Lady) and Walker have one of the most hilariously memorable scenes.  Mojekwu is this sassy clairvoyant. She fans and eats her way through a box of Chip Ahoy cookies. Then, she mysteriously describes Walker's failures in detail and with precision. To release him from his demons, Mojekwu performs a very un-church-lady-like ritual. The scene has some humorous wide-eyed moments.           
BETWEEN RIVERSIDE AND CRAZY is a thought-provoking analysis of life choices and second chances.  Long after the curtain, it continues to dare me to consider where I've been, where I'm going and how crazy remaining stuck can be. I highly recommend going to BETWEEN RIVERSIDE AND CRAZY for life contemplation. 
P.S. Special nod out to Scenic Designer Collette Pollard for building a grandiose yet worn place I'd like to call home.
Running Time:  Two hours and twenty minutes includes an intermission
At Steppenwolf Theatre, 1650 N. Halsted
Written by Stephen Adly Guirgis
Directed by Yasen Peyankov
Tuesdays, Wednesdays,Thursdays, Fridays, Saturdays, Sundays at 7:30pm
Saturdays and Sundays at 3pm
Thru August 21st 
Buy Tickets at www.steppenwolf.org
Photos by Michael Brosilow
For more information and reviews on Chicago theatre, visit Theater in Chicago.