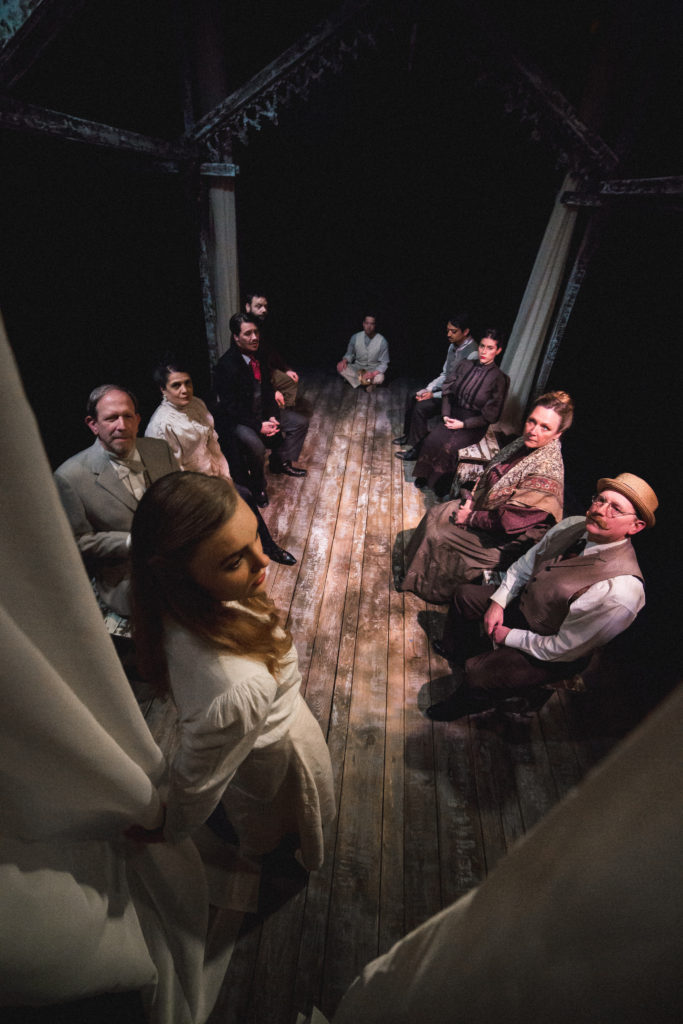 The Artistic Home presents THE SEAGULL.
When Director Cody Estle stages a production at The Artistic Home, he wants us in the room. In his last show here, "Watch on the Rhine", audience members were cleverly weaved along the actual walls of the living room.  The experience was like no other as we were practically dealt into the card game and lifted our feet as a body was hurled in our direction. Estle strives for the intimate connection. He wants us to understand the relationships on a deeper, personal level.
In THE SEAGULL, Estle ambitiously places the audience on voyeuristic perches.  The storefront theatre is split in half, an alley-style stage with 38 seats. The Sorin estate is in the middle.  Scenic Designer Jeffrey D. Kmiec uses a white-chipped wooden framework with long flowing linens to build the house around the audience. The simple structure creates different small spaces while still alluding to the larger estate just through the billowing curtains. Estle wants us to know these people's circumstances and their pain. The closeness works for me with the supporting characters.  I've never connected to the secondary unrequited love stories in THE SEAGULL like this. The hopeless desperation is palpable in the smallest gestures. Barbara Figgins (Polina) snatching flowers. Laura Lapidus (Masha) reprimanding Kaiser Ahmed (Medvandenko) with an icy stare. Brian McNight (Dorn) contemplating a medical ailment with condescending mustache twirling. The nearness forces me to consider more of what is going on on this estate. I see and feel the layers of unhappiness in these people trapped by an obsessive love.  That no one is in a reciprocal relationship disturbs me like it never has before.
For the main storyline, Estle's staging choice becomes challenging.  It works as Kathy Scambiatterra (Arkadina) plays the fading diva with relish.  When Scambiatterra lambasts her son (played by Julian Hester) for her own amusement, the awkwardness makes me squirm. The nearness makes me feel even more uncomfortable listening to her arrogant sharp tongue at the expense of the fragile Hester. As Brookelyn Hebert (Nina) gushes her admiration to Scot West (Trigorin), I'm nervous that I'm complicit in their tryst and we are all about to get a Scambiatterra lashing. Being an intimate visitor at the estate, allows me to share the growing frustration of the endearing Larry Baldacci (Sorin) as he fondly looks back on better days.
Although the close proximity aids these experiences, the nearness doesn't always work to pull me in. Sometimes, it pushes me away. A scene where Scambiatterra straddles West might look searing and sensual from a distance. Where I'm sitting it looks physically awkward and a little odd. Chekhov's long, rich soliloquies also don't have the same impact when it's in-your-face. When Hebert spirals out of control in front of Hester, I'm right in the middle of their exchange.  I keep looking back and forth as if it's a conversation. I see Hebert losing it but Hester's nonresponse feels unnatural. Later, Hester rips paper with a meticulous deliberation that drags. When the drama turns theatrical, being in the room is less engaging. The intimate connection is frayed.  I'm no longer part of their human experience. I'm in the audience watching a performance from a distance. It works against what I believe is Estle's intent.
I appreciate both what THE SEAGULL is trying to accomplish and what it does accomplish.
Running Time:  Two hours and forty minutes includes an intermission
The Artistic Home, 1376 W. Grand
Written by Anton Chekhov
Translated by Christopher Hampton
Directed by Cody Estle
Thursdays at 7:30pm
Fridays and Saturdays at 8pm
Sundays at 3pm
Thru July 3rd
Tickets are currently on sale at www.theartistichome.org
Production photo by Joe Mazza
For more information and reviews on Chicago theatre, visit Theater in Chicago.