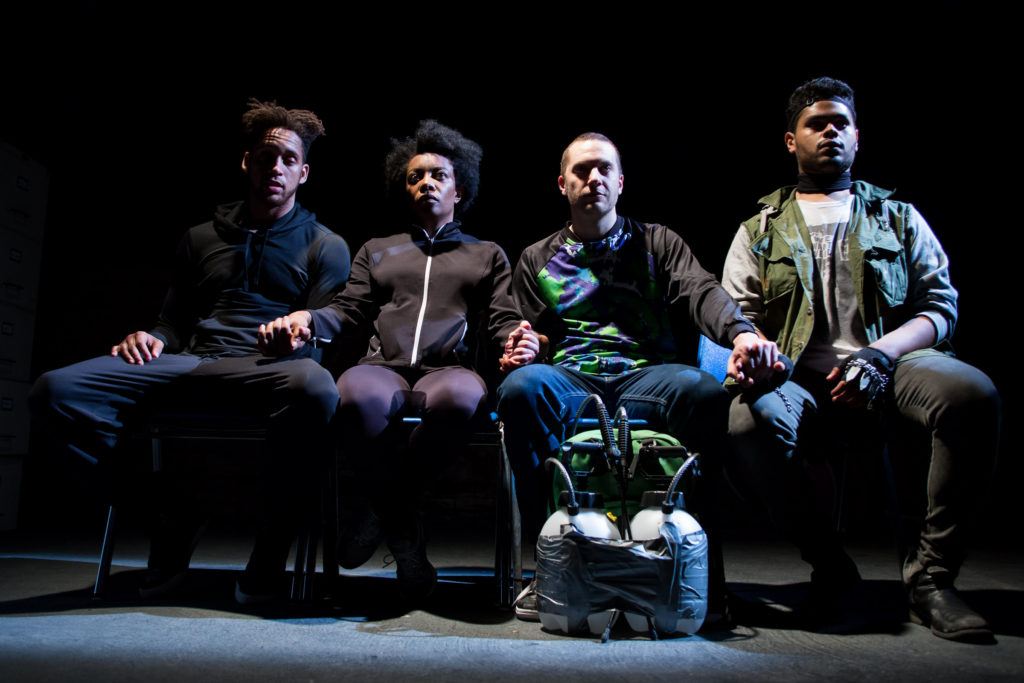 Jackalope Theatre presents the World Premiere of PROWESS.
After his successful debut of SENDER at A Red Orchid this spring, Playwright Ike Holter launches his second World Premiere with this play. Holter stays true to his Chicago roots by again setting his play in his hometown. This time, he tackles the city's violence. Holter focuses on the –unfortunately- familiar increase in shootings in a Chicago summer. He introduces four distinct characters that form a misfit gang. Each has been scarred by crime. They unite together to take down violence.
Holter's smart script mingles drama, action and humor in this comic-book based play. He weaves these damaged souls' backstories into natural conversations.  From the start, Sydney Charles (Zora) is recognized as 'the girl from the Red Line train' by the other characters.  We understand being 'the girl from the Red Line train' isn't a good thing but we don't know why until Charles discloses the incident later. Holter takes his time unraveling each character's complexities. The reveals are a series of vulnerable moments.  Holter's command of dialogue has always impressed me. With Director Marti Lyon at the helm, this play is no different.These honest revelations aren't stilted. They spill out reluctantly. Interactions have an organic feel as conversations overlap, people say the wrong thing and even earnestly apologize for saying the wrong thing.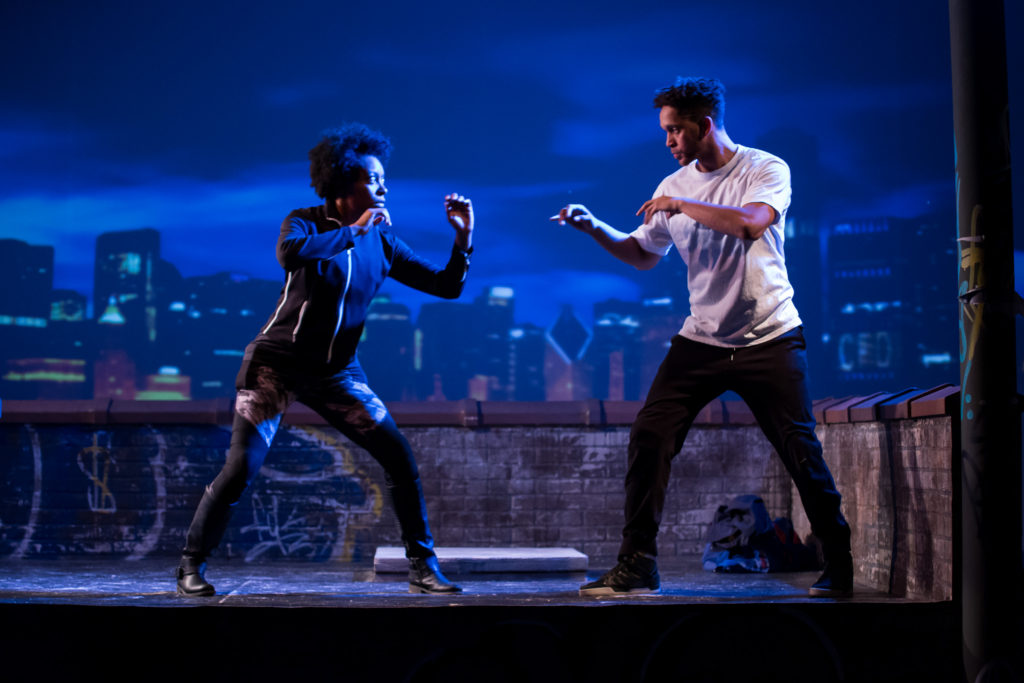 The fierce ensemble, Charles, Julian Parker (Mark), Donovan Diaz (Jax), Andrew Goetten (Andy), bring it. Fight Choreographer Ryan Bourque ensures every show is a warrior bootcamp. And the foursome are truly action heroes in training. They tirelessly give and take a beating. Although Charles and Parker, in particular, showcase incredible endurance, I was in awe of Charles.  I've only seen her kick-ass singing in local musicals.  I've never seen her unleash her bad ass fury.  Parker, on the other hand, had already blown me away with his physicality in Hairy Ape (remounting at Theatre on the Lake this summer).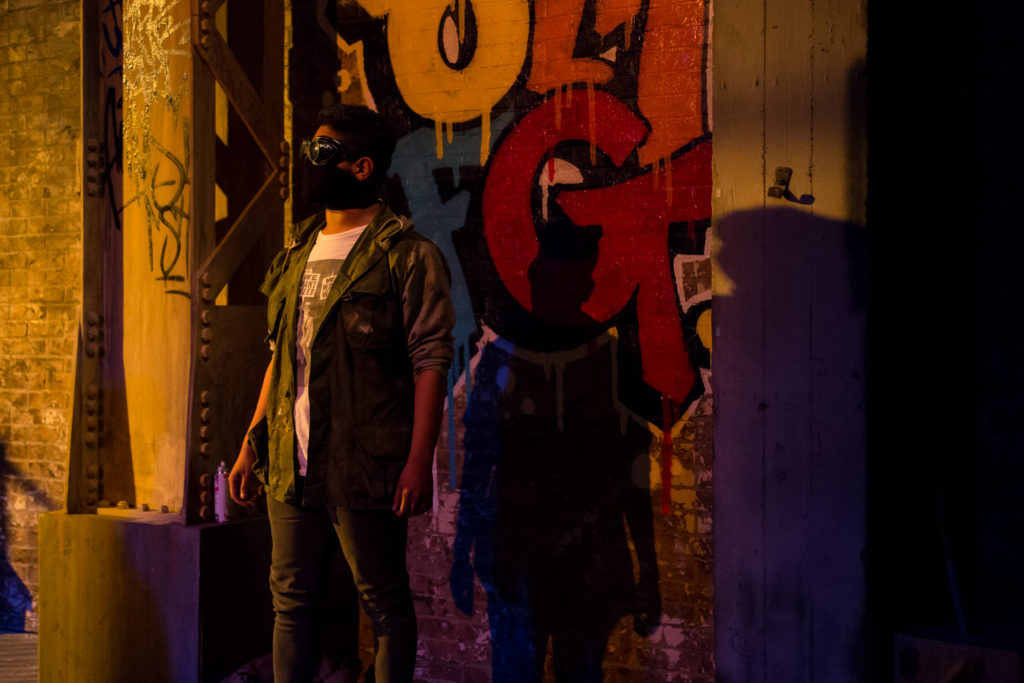 The talented crew are victims, perpetrators and comedians. The sassy, tortured artist Diaz delivers warnings and zings one liners with equal intensity. Goetten plays the charming doofus whose weapon of choice is wasp spray.  When Goetten begs to be included in the gang, Parker angrily insists to him 'no training montage… ever.'
Thankfully, Parker is wrong! Lyons produces stellar training montages. Her design team, Bourque, Michael Stanfill (lighting/projections), Mark Chapman (sound), Anthony Venturini (graffiti) create these dynamic sequences. The ensemble stop their heart-pounding work-out to pose in silhouette in front of a colorful backdrop. At one point, 'Rousabouts' appears as a projection and I feel my heart swell in loyalty to these superheroes.
Initially, I wondered if this play was lacking a villain but then I decided that that was Holter's overarching point. Violence isn't always targeted at a specific person. The victim might not be chosen but merely a victim of happenstance. A random act of violence kills or alters the person's life…forever. Revenge is the burden of the survivor. After this play, I'll read about Chicago's crime this summer with disgust, curiosity and a little empathy.
Although the ending seemed to drag a bit, I really enjoyed PROWESS. Throughout the show, I kept comparing it to "Daredevil" meets "The Incredibles."  It has everything I look for in a thrilling summer blockbuster; adrenaline-rushing moves, soul-searching confessions and a flirty, steamy romance.
Running Time:  Two hours and twenty-five minutes includes an intermission
At Broadway Armory Park, 5917 N. Broadway
Written by Ike Holter
Directed by Marti Lyons
Thursdays, Fridays, Saturdays at 7:30pm
Sundays at 3pm
EXTENDED Thru July 2nd
Buy Tickets at www.jackalopetheatre.org
Production photos by Joel Maisonet
For more information and reviews on Chicago theatre, visit Theater in Chicago.