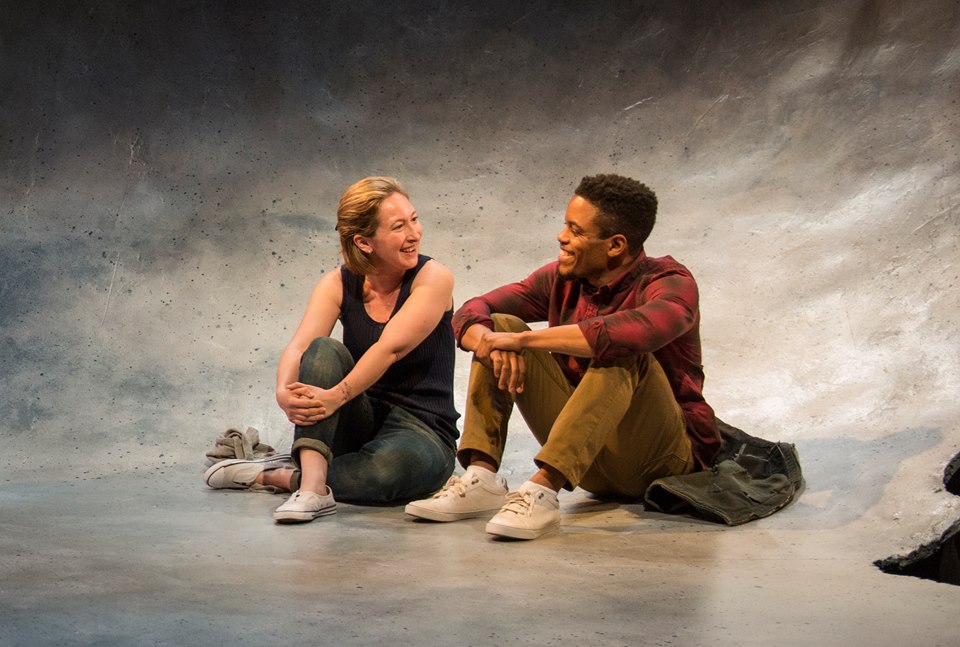 Steppenwolf Theatre presents the Chicago premiere production of CONSTELLATIONS.
Playwright Nick Payne has written a play about the many relational possibilities between a physicist and a beekeeper. Jessie Fisher (Marianne) and Jon Michael Hill (Roland) meet at a party…multiple times.  Payne explores key and inconsequential moments of two people over years.  He examines each moment by playing out various scenarios.  Does the chance encounter lead to a conversation, a hook-up, a marriage, or nothing? 
He addresses each meet-up with multiple options.  He uses snippet scenes to illustrate what might have happened. Payne tells multiple stories in whirlwind sequences.  The initial party scene plays out in several ways. Then, we move on to the next encounter and the many what-if versions.  Payne puts all the puzzle pieces from 5-7 puzzles on a table to give us glimpses of the different outcomes following a first meeting.          
Under the impressive direction of Jonathan Berry, the acting is stellar. Fisher and Hill seamlessly go from awkward to flirty, stranger to intimate, hot to cold through these 50 or more relational excerpts.  This is the ultimate acting exercise as they play out the scenes over and over from different viewpoints. This marathon of different dances, same partner requires emotional stamina.  Fisher and Hill make it seem effortless as they live out the best, the worst, and the insignificant points in relational development.     
Although I appreciate Payne's innovative storytelling, I wanted longer and fewer scenarios.  It's the same trouble I have with short stories. Once I'm interested in a particular interaction, I want it to play out completely. CONSTELLATIONS is a vast sampling of the limitless choices a person makes in a lifetime. The press release describes this expansive concept as 'being alive in the universe'. I like that.
Running Time:  Eighty minutes with no intermission
Steppenwolf Theatre, 1650 N. Halsted
Written by Nick Payne
Directed by Jonathan Berry
Tuesdays, Wednesdays, Thursdays, Fridays at 7:30pm
Saturdays at 3pm and 7:30pm
Sundays at 3pm
Thru July 3rd
Tickets are currently on sale at www.steppenwolf.org
For more information and reviews on Chicago theatre, visit Theater in Chicago.