The Lyric Opera of Chicago presents Rodger & Hammerstein's THE KING AND I.
I grew up on Rodgers & Hammerstein. Even before the advent of VCRs, DVDs, and streaming, I still managed to memorize all the lyrics. My dad played and replayed every R&H soundtrack on his reel to reel player.  And my mom burst into R&H songs at random times during the day.  Anytime the 1956 "King and I" movie was featured on TV, we'd watch it.  I love every single romantic song.  Hearing the music performed live at my very favorite theatre venue was a magnificent, sentimental journey.
Conductor David Chase transports us to another time, another place from the start of the overture. Rodgers' big, luscious orchestrations sweep through the audience as a palpable tease.  I'm hooked.  Set Designer Jean-Marc Puissant adds an interesting aesthetic with movable screens.  Puissant's walls glide back and forth, up and down to draw focus to a specific element by squaring it off.  In the beginning, the screens highlight a huge sail announcing Kate Baldwin (Anna) has arrived.  An understatement to be sure.
Baldwin is perfect in the role of English school teacher. She is engaging with a plucky I Whistle a Happy Tune and a lively Getting to Know You.  Baldwin then goes into a somber Hello Young Lovers. Her dreamy wistfulness is heart-melting. Baldwin has impressive range.  In Shall I Tell You What I Think of You?, she hilariously rants what she would say to the King.  The number becomes fairly physical as she attacks a dressmakers' dummy and grovels on the ground  At one point, she even runs across the room and leaps onto the bed. Baldwin doesn't miss a step or a note in her fantastic frenzy of fury. 
The chemistry is definitely there between Baldwin and Paolo Montalban (King).  Tempers flare. Passions smolder. Dancing commences.  Shall We Dance? is the crowning showstopper.  At first, Baldwin and Montalban playfully practice dance steps. Then, the very sexy Montalban energetically whisks Baldwin into a high-spirited ballroom dance.  It's breathtaking. And they (and the audience) are breathless as they crumple into two separate elegant heaps.  Montalban insists they do it again.  He helps her up and holds her. The moment is swoon-worthy.
The entire ensemble delivers the royal R&H majesty of this show.  Rona Figueroa (Lady Thaing) belts out something wonderful in Something Wonderful. Figuerona is this steel orchid in her unwavering devotion to Montalban. The secondary love story between the Princess Tuptim (played by the stunning Ali Ewoldt) and Lun Thai (played by Sam Simahk) is also noteworthy.  The pair get not one but two of the best love duets ever written.  And they crush it with a steamy combination of tenderness and idealism in We Kiss in the Shadow and I Have Dreamed.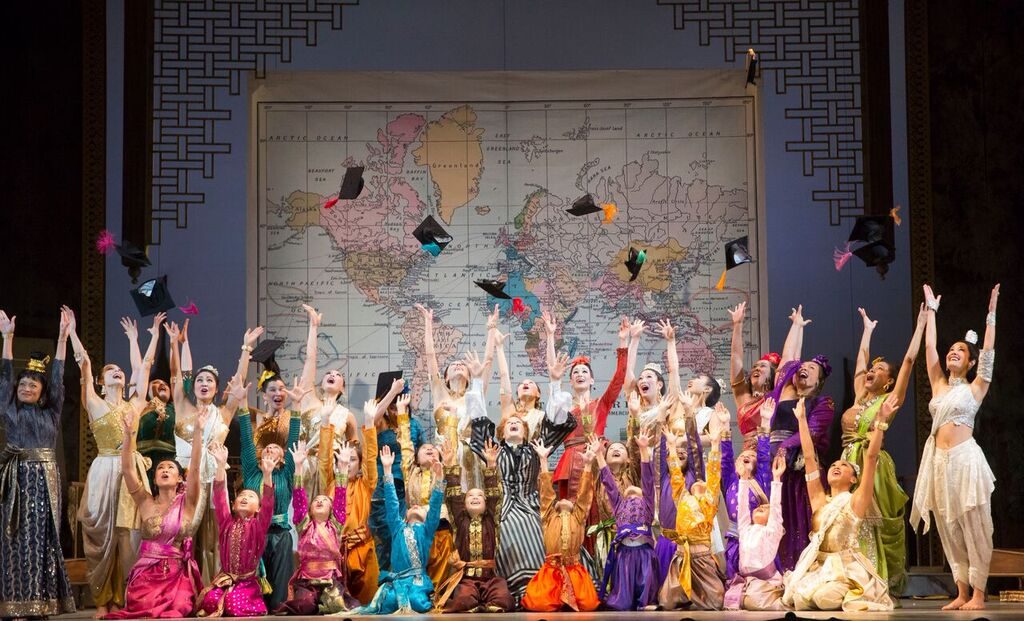 And did I mention the children? From "The March of the Siamese Children", I'm as smitten with these adorable kids as Mrs. Anna.  They march through the aisles at the Lyric making their introduction to their new teacher that much more regal. Each child's costume matches his/her mother's making for a vibrant array of satin jewel tones.  The costumes by Sue Blane is 18th Century British meets Thai exquisite.             
I LOVED the KING AND I.  I saw it on Saturday and the melodies continue to hum through my head.  I highly recommend experiencing the Rodgers & Hammerstein classic within the palatial Lyric Opera.
Or perchance,
When the last little star has left the sky,
Shall we still be together
With are arms around each other
And shall you be my new romance?
On the clear understanding
That this kind of thing can happen,
Shall we dance? Shall we dance? Shall we dance?
You should!
Running Time:  Three hours includes an intermission
At the Lyric Opera, 20 N. Wacker
Based on the novel Anna and the King of Siam by Margaret Landon
Music by Richard Rodgers
Book and lyrics by Oscar Hammerstein II
Directed by Lee Blakeley
Conducted by David Chase
At 1:30pm om May 5th, 7th, 8th, 11th, 12th, 14th, 15th, 18th, 21st, 22nd
At 12:30pm on May 4th
At 7pm on May 7th, 8th, 10th, 12th, 13th, 14th, 17th, 18th, 19th, 20th, 21st   
Buy Tickets at www.lyricopera.org
For more information and reviews on Chicago theatre, visit Theater in Chicago.
Production photo by Stefany Phillips