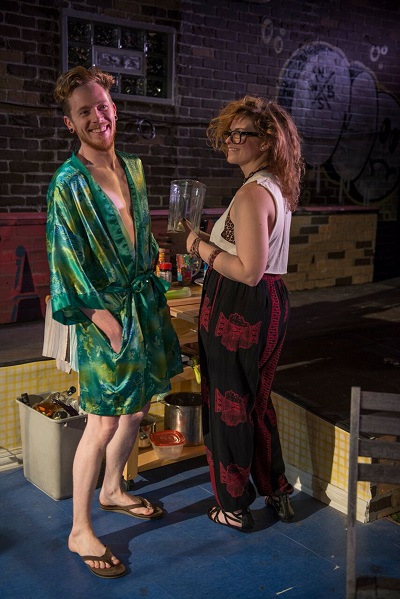 A Red Orchid presents the World Premiere of SENDER.
On the first anniversary of his death, Lynx (played by Steve Haggard) returns to his life. He shows up on his girlfriend's doorstep (played by Mary Williamson). The charismatic Haggard is remorseful. A fierce Williamson is enraged. Although he is ready to make amends for his sudden disappearance, she is not having it.
Under Shade Murray's direction, we easily slip onto this Chicago porch to drink in the drama. Haggard and Williamson's interaction is authentic. He has a nonchalant cheerfulness of 'hey, I'm back!'  And a caustic Williamson nails his ass to the wall. The conversation is legit. Playwright Ike Holter's dialogue perfects instinctual responses. His word choices have an unscripted scripted feel. A one point, Steven Wilson (Jordan) continually rants, 'CD me! CD me! CD me!' This is how people naturally talk. As the crew gets lit on the roof, their babble escalates into big lofty, not always coherent, plans. The buffoonery is funny and Murray knows how to keep it real.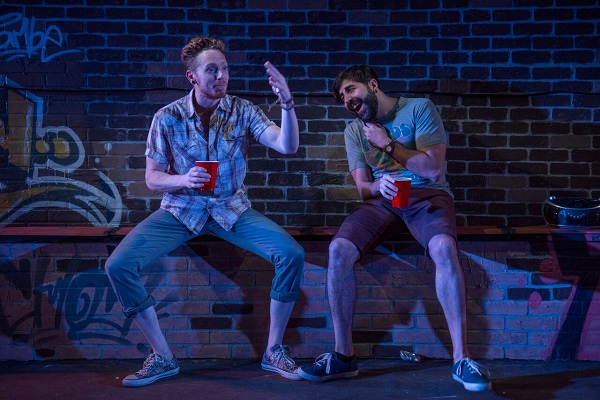 Murray's ensemble, Haggard, Williamson, Wilson and McKenzie Chinn (Cass), is excellent. Haggard inserts himself effectively back into the life he abandoned. Williamson cynically keeps her distance but Wilson eagerly embraces Haggard's resurrection. And Chinn skeptically makes plans to deal with the situation.  They each find depth in their character. Although the drunken antics often steal focus, we get a glimpse of the vulnerability under the boozy haze.  And sometimes because of the liquid courage, we see unexpected tenderness within the hot mess whirlwind.
I really enjoyed SENDER. The dialogue, the direction, the acting is immensely entertaining. I also like the story but found it a little light in substance. I wanted characters to sober up and grapple with their issues.  Still, SENDER is a good time. It's a summer rooftop party  hanging with the hipsters!  It's a lot of fun yet it will become a fading memory.
Running Time:  One hundred minutes with no intermission
At A Red Orchid, 1531 N. Wells
Written by Ike Holter
Directed by Shade Murray
Thursdays, Fridays, Saturdays at 8pm
Sundays at 3pm
ADDITIONAL PERFORMANCES:
Saturday, 5/21 @ 4 pm
Saturday, 5/28 @ 4 pm
Thursday, 6/2 @ 8 pm
Friday, 6/3 @ 8 pm
Saturday, 6/4 @ 4 pm
Saturday, 6/4 @ 8 pm
Buy Tickets at www.aredorchidtheatre.org
For more information and reviews on Chicago theatre, visit Theater in Chicago.