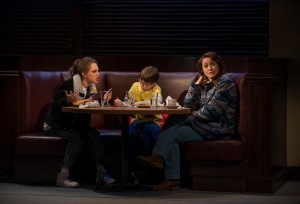 Steppenwolf Theatre presents the World Premiere of MARY PAGE MARLOWE.
Playwright Tracy Letts got into my head in this life dissection. Who is Mary Page Marlowe? We are challenged to figure that out by watching her over the decades. The scenes are snapshots shown out of sequential order. We are first introduced to Mary Page as a mother of two.  She is telling her teenage daughter and eleven year old son about divorcing their father. The conversation has the awkward naturalism of unscripted reality.  An irritated Rebecca Spence (Mary Page) tries to keep it casual as Madeline Weinstein (Wendy) has a meltdown. Weinstein hilariously overreacts to moving from Ohio to Kentucky. Although the only other time we'll see Weinstein is as a mature college student confronting her mother about drinking, she has a presence throughout the show.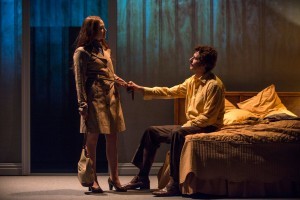 That's the genius of Letts' storytelling!  We see how her parents, her friends, her men, her kids and her therapist influence Mary Page's life. We understand where she is and was through dialogue snippets. Letts dangles nuggets of information and leaves it up to us to resolve.  A 'tragedy' is never fully explained but we know what happened. Letts doesn't dumb it down. He pulls us into the Mary Page Marlowe biography. He also skillfully mingles intense dramatic moments with casual encounters. Blair Brown (Mary Page) teasingly refuses to listen to Alan Wilder's (Andy) remote control explanation.  In the midst of their nightly ritual, he gives her a life altering letter. Brown tears up so do I. In another scene, an almost mechanical Carrie Coon (Mary Page) brushes off Gary Wilmes (Dan). Coon's unemotional encounter gives us a glimpse into her identity crisis in her twenties.  Later, an impassive Laura T. Fisher (Mary Page) delivers disturbing news to Ian Barford (Ray).  Barford angrily accuses her of being unfeeling.  Fisher icily puts him in his place.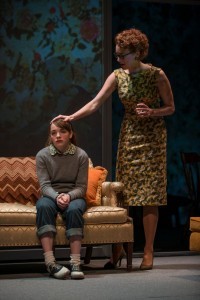 Director Anna D. Shapiro masterfully paces this tight. Six actors play Mary Page from baby to dying woman. A recurring visual is as one scene ends, other Mary Pages are visible behind a screen. The metaphysical imagery is haunting. Is Mary Page reflecting on her past or anticipating the future? A dozen other actors play the other characters in Mary Page's life.  The most memorable being Amanda Drinkall (Roberta) as Mary Page's mother.  Drinkall nonchalantly tells her daughter (played by Caroline Heffernan) that she can't sing and her song is stupid.  The song, "Tammy is in Love" shows a wistful romantic side of the young Mary Page. In this pivotal moment, Drinkall effectively squashes Mary Page's childhood dreams. Drinkall only appears twice but we'll see the damage she caused for the rest of Mary Page's life.
Letts had me the whole time. MARY PAGE MARLOWE is real.  She struggles. She gets lost. She lives a life under the influence. Her parents' apathy. Loveless sex. Booze! Her life is a complicated journey. MARY PAGE MARLOWE is a thought-provoking woman.  And I'd like to get to know her better.  This is a show I want to see again.
Running Time: Ninety-five minutes with no intermission.
At Steppenwolf Theatre, 1650 N. Halsted
Written by Tracy Letts
Directed by Anna D. Shapiro
Tuesdays, Wednesdays, Thursdays, Fridays at 7:30pm
Saturdays at 3pm and 7:30pm
Sundays at 3pm and 7:30pm
At 2pm on May 11th, 18th, 25th
EXTENDED Thru June 5th
Buy Tickets at www.steppenwolf.org
For more information and reviews on Chicago theatre, visit Theater in Chicago.