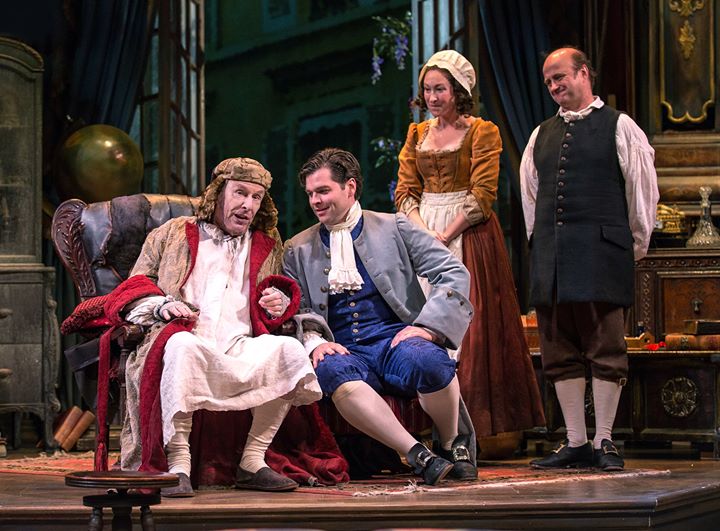 Chicago Shakespeare Theater presents THE HEIR APPARENT.
On its mainstage, Chicago Shakes is keeping it light and frothy.  Playwright David Ives has adapted Jean-Francois Regnard's "Le Legataire."  Although Ives tells the inheritance lampoon in verse, he liberally adds in the sh#t show.  Ives dirties up the lyrical elegance with expletives and poop talk.  Hearing the phrase 'f#cked up' poetically woven in made me laugh right out loud.  Unfortunately, it was my only spontaneous audible chuckle.  Despite being surrounded by many giggling audience members, the comedy didn't tickle my funny bone. I found it to be less witty and more sophomoric.
At the crux of the tale, Eraste (played by a Nate Burger) is being written out of Uncle Geronte's (played by Paxton Whitehead) will.  He enlists the servants (Cliff Sanders and Jessie Fisher) to help him get back his legacy.  Under the nimble direction of John Rando, the trio of Burger, Sanders and the spunky Fisher make this absurdity slapstick.  They energetically dart, prance, hide and Burger even leaps over the balcony to pull off this caper.  They cart around the majestic Whitehead like its "Weekend at Bernie's."  The talented ensemble is working hard for laughs. Patrick Kerr (Scruples) is literally on his knees to make this frolic fun.  Kerr plays a lawyer that is a little person.  The part requires him to walk on his knees.  That's commitment!   
Plenty of the audience rewards the hard-working cast with laughter.  And I was definitely amused by elements of this romp. Unfortunately, I found many jokes tediously repetitive.  Since THE HEIR APPARENT was apparent, I thought the show could have been tighter and shorter.      
Running Time:  Two hours and fifteen minutes with one intermission
Written by David Ives
Adapted from "Le Legataire" by Jean-Francois Regnard
Directed by John Rando
Thru January 17th
Buy Tickets at www.chicagoshakes.com
For more reviews and information on Chicago theatre, visit Theatre in Chicago.