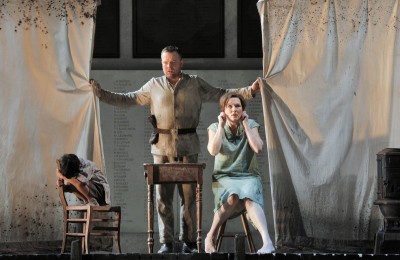 The Lyric Opera of Chicago presents a new production of WOZZECK .
Lyric's latest opera is a unique theatrical experience for multiple reasons.  Historically, Composer Alban Berg debuted this opera in Berlin in 1925.  He had seen the the 1830's play "Wozzeck" in 1914.  He begin writing the opera about a soldier named Wozzeck during World War I.  He premiered it before World War II… in Germany.  It is about a poverty-stricken soldier supporting his girlfriend and their son.  For cash, he becomes a medical experiment for a diabolical doctor.  The premise is a disturbing recollection of Hitler's efforts to build a superior race.  Knowing it predates the WWII atrocities that the world will eventually discover is disturbingly creepy.   
Visually, WOZZECK is like no other opera I've experienced at the Lyric.  Two stage-wide curtains, fashioned like the material dividers in a clinic, transition scene to scene. A hidden person races across the stage to reveal a tavern, a barracks, a lake. It's effective in not only establishing location but the curtain also seems to symbolize something bigger.  The sound of the curtain hooks across the metal line is that familiar, institutional sound that precedes a doctor's entrance.  Using these curtains as the backdrops in scenes suggests we are observing a bigger experiment in humanity.  The mildew-stained curtains reinforces the poverty variable in this surreal laboratory.  And the over-arching hypotheses is people are capable of horrible acts out of vanity, desperation and jealousy.
Director Sir David McVicar keeps this tense.  As the stage is filled with the ensemble reveling, Tomasz Konieczny (Wozzeck) looms on the fringe.  Although people are drinking, laughing and carousing, Konieczny's agitated presence steals focus. He stalks the flirtatious Angela Denoke (Marie).  We feel his pain. All his pain. From the physical torture endured for love to the emotional anguish inflicted by his love, Konieczny captivates. In one of the final scenes, Konieczny is sitting by the water.  Flickers of light illuminate his face darkened with a look of pure evil.  Even now remembering the moment makes me shudder.      
Under the animated baton of Sir Andrew Davis, the music marries the mood perfectly. In the doctor's office, the melodies have this plucky madness to them.  It a combination of sci-fi and thriller.  Davis keeps it edgy as Konieczny spirals into derangement. Despite being a victim, Konieczny commands the stage with his powerhouse singing. Denoke is also a standout in her spectrum of emotional singing. She sings playfully to the adorable Zachary Uzarraga (Marie's son) and later she is coquettish with Stefan Vinke (Drum Major). At one point, she is overwrought in religious guilt and the next moment, she is vehemently defending her actions.  In contrast to Konieczny singular fixation on her, Denoke is passionately looking to anything or anyone for momentary pleasure in her depressing circumstances.  Uzarraga, one of her joys, has a way of lighting up the stage with the innocence of youth…right through curtain.
WOZZECK is a tight one hundred minute examination of humanity.  Operas always bring a certain amount of raging tragedy.  I'm ready for that.  It's opera after all.  This one, however, has an unforgettable menacing tone.  The administering of pain isn't emotional.  It's calculated.  And that makes this opera even more unsettling and unforgettable.         
Running Time: One hundred minutes with no intermission
At Lyric Opera, 20 N. Wacker
Composed by Alban Berg
Libretto by the composer based on Georg Buchner's play "Woyzeck"
Three acts performed in German
Projected English titles by Colin Ure
Conducted by Sir Andrew Davis
Directed by Sir David McVicar
At 7:30m on November 7th, 12th, 16th, 21st
For tickets, visit www.lyricopera.org
For more reviews and information on Chicago theatre, visit Theatre in Chicago.