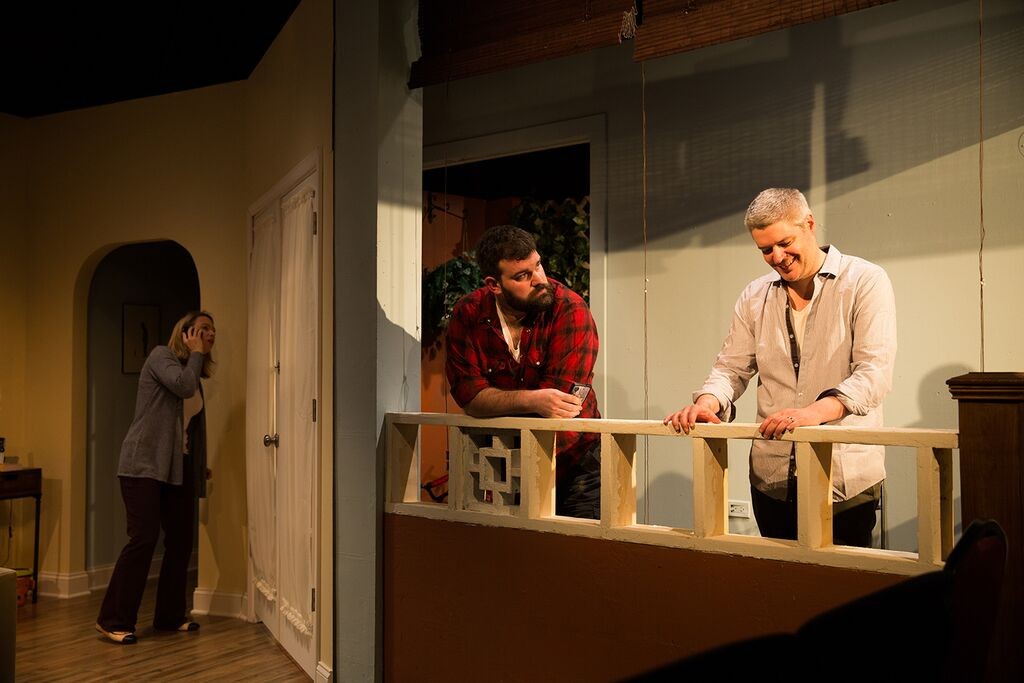 Steep Theatre Company presents the world premiere of THE CHEATS.
The play starts with an empty living room.  Set Designer Chelsea Warren has constructed a home with multiple rooms.  Doorways lead on one side to the media room and on the other side to the kitchen.  Neither of these rooms are visible.  Another door leads to a terrace which becomes visible when the shades are pulled up.  Warren's clever set-up is key to the play.  Meaningless and profound exchanges will happen whether we see them or not.  As the play begins, we hear the murmur of a television and the animated ramblings of Kendra Thulin's (Anne) one-sided conversation.  When Peter Moore (John) walks in from the terrace, he asks Thulin who she is talking to.  At this point, I had assumed she was on the phone.  And Thulin had assumed Moore was in the living room listening to her narrative.
Hamish Linklater had his playwriting debut last year with THE VANDAL.  I was immediately intrigued by Linklater's natural yet intricate storytelling capabilities.  And now he's back at Steep to premiere his newest tale. For THE CHEATS, he gives us a 'normal' married couple, Thulin and Moore.  They have two kids and a lot of time on their hands.  Thulin spends her time absorbed in her own television commentary while Moore chooses to smoke on the terrace and spy on the neighbors. 
When they are both in the same room, Thulin and Moore converse with the polite civility of people in a relationship rut.  They talk but they don't really talk. They know each other but they really don't know each other. Moore casually mentions the neighbors may have just observed him observing them.  And then, he goes on to disclose he sent a note to them a few months back based on what he saw while snooping.  As Thulin is reeling over Moore's peeping tom secrets, there's a knock at the door.  It's the neighbor!  What does he want? What does he know?
Linklater already has me tethered to this dramedy when he introduces Jonathan (played by an outstanding Brad Akin).  As Thulin and Moore back-peddle into fake hospitality, Akin is awkwardly unmoved.  He literally refuses to sit.  And he also misses the subtle social cues of neighbors saying one thing and meaning another.  Under Joanie Schultz's masterful direction, Akin's 'uncivilized' behavior escalates the tension and the humor.  THE CHEATS is thoroughly engaging primarily because Akins is so unpredictable in his actions and in his conversations.  In one moment, he is muffling tears.  In the next, he is this menacing lug.  Akin uses his larger frame to establish a threatening presence.  This contrasts perfectly with some of his vulnerable reveals.  There is this terrific tetter-tottering between being scared of him and wanting to be his friend.  Moore and Thulin feel it.  And I did too! 
This show is all about being genuine in connecting with others. Linklater pens a story that has rich depth to its simplicity. I absolutely loved THE CHEATS! When the house went dark, I was stunned that it was already over.  It zipped past! I found myself wanting to hang out more with the wacky Akins, his wife (played by Julia Siple) and their dog Bear.       
Running Time: Eighty-five minutes with no intermission
At Steep Theatre, 1115 W. Berwyn
Written by Hamish Linklater
Directed by Joanie Schultz
Thursday, Fridays and Saturdays* at 8pm
Sundays at 3pm on October 18th and November 1st
*October 24th show will be at 3pm
Thru November 7th
Tickets at www.steeptheatre.com   
Photo by Brandon Wardell.
For more reviews and information on Chicago theatre, visit Theatre in Chicago.