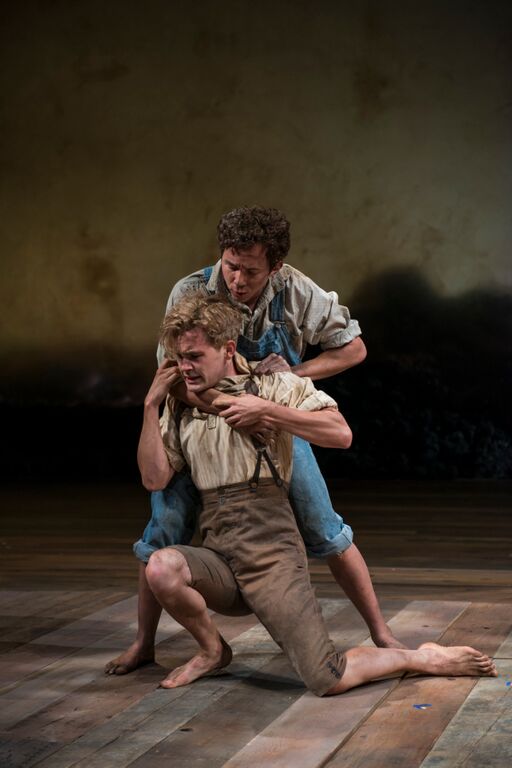 Steppenwolf Theatre presents the World Premiere adaptation of EAST OF EDEN.  
Steppenwolf uses all the right stuff to turn John Steinbeck's sprawling novel into an engaging play.  Adapter Frank Galati whittles down the complicated family drama and pulls out the essential nuggets. His lean script keeps the action moving but never sacrifices essential story elements.  In the masterful hands of Director Terry Kinney,   the pace is tight with seamless transitions.  Scenic Designer Walt Spangler aids the fluidity with his movable and versatile scenery.  The Trask home spins around to take us inside. A whorehouse pops up from below the stage.  Spangler establishes location quickly and effectively.  And to reinforce the characters' longing for a different life, live cello (Kyra Saltman) and harp music (Ben Melsky) play from a side box.       
And then there is the cast under Kinney's storytelling orchestration.  The show starts out with a credulous Tim Hopper (Adam) and the big-talking Francis Guinan (Samuel).  Hopper wants to buy a ranch.  Guinan is eager to make the deal. Guinan has the twinkling charm of a big kahuna in a small town. When Guinan goes to dinner at Hopper's, his big bag of wind is punctured by the icy prickle of Kate Arrington (Kathy).  Guinan shudders as Arrington's cold stare makes dinner uncomfortable. She immediately has the attention and growing dislike of the audience.
Arrington plays heartless bitch with a disconcerting hollowness.  In the first act, she does several insensitive things and a few shocking ones. Throughout the show, she has this villainous presence without any real emotion.  Her ongoing dismissal of the love obsessed Hopper makes me want to slap her. 
Hopper is at the nucleus of this show.  His evolving relationships with his wife, his realtor, his valet and his sons is the story. Hopper connects us to his pain whether he's maddeningly banging on a door or being eviscerated before our eyes.  He falls down.  Het gets up.  Although he repeatedly regroups for his boys, Hopper never regains his initial cocky spark. He is only partially present.  We feel the heavy burden of sadness in his every step. 
His sons, Casey Thomas Brown (Aron) and Aaron Himelstein (Caleb) make their entrance as rambunctious hooligans.  They've been out hunting rabbits and they hilariously want to gift their prize to the polished Brittany Uomoleale (Abra).  Brown delivers a heartfelt performance as a lost boy.  He is the 'good' twin, the dreamer. When he and Uomoleale play house, Brown is overcome with emotion as the maternal Uomoleale holds him. 
Himelstein plays the more complicated twin with palpable angst.  The fearless Himelstein struggles with the truth about his mother and his own nature.  At a couple points, Himelstein starts spinning out of control only to be reined in by the steadfast Stephen Park (Lee).  Park plays surrogate mother as he challenges Himelstein to not define himself as the 'bad' twin. Himelstein's encounters with Park, Arrington and Hopper are emotional roller coasters.  In the final scene, his yearning has the audience blinking back tears.                          
This EAST OF EDEN is a page turner.  The nearly three hour story is riveting.  Even with two intermissions, I never left my seat.  I was always ready for the Trask family drama to continue.      
Running Time: Two hours and fifty minutes with two intermissions
At Steppenwolf Theatre, 1650 N. Halsted
Written by John Steinbeck
Adapted by Frank Galati
Directed by Terry Kinney
Sound design and original music by Rob Milburn and Michael Bodeen
Tuesdays, Wednesdays, Thursday, Fridays, Saturdays, Sundays at 7:30pm
Saturdays and Sundays at 3pm
Additional performances at 2pm on October 28th and November 4th and 11th
Thru November 15th   
Tickets at www.steppenwolf.org
For more reviews and information on Chicago theatre, visit Theatre in Chicago.