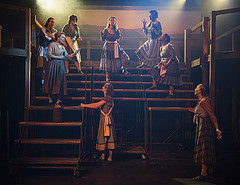 The House Theatre of Chicago presents THE REVEL.
I didn't like this play. 
THE REVEL starts out folksy.  The guitar strumming Andy Lutz (Deacon) addresses the audience directly. He apologizes for his vocal stylings and playfully gets us to join in his singing.  Lutz is amicable enough.  I'd join him for a drink at a bar.  I wouldn't quit my job, turn my back on my family and drink moonshine all day with him.  And that's a fundamental problem in a play based on people being swept away by his connection to Divinity.  And it's not Lutz's fault.  It's Damon Kiely's script.
Instead of a play about the good and bad parts of religious fervor, this feels like a prayer meeting in a cult.  The membership recruitment is a hold-my-hands-drink-the-moonshine initiation.  And that conversion is flimsy as the cynical newcomer quickly joins the other sisters singing and dancing.  The absolute best parts of the show are the talented female chorus.  They harmonize, play instruments and stomp in a spirited rhythm.  In church, these ladies would make me a joyful believer.  On stage, I can't make the leap from their newfound revelry to an almost zombie-like response to intruders.  And it's not their fault.  It Kiely's script.    
Although the religious narrative is heavy-handed, Kiely's story is thin.  Chris Matthews (Peter) is the owner of the town's main source of income, the sewing factory.  He has to hit a quota or he'll lose the factory to the banks.  All of his workers are on the mountain reveling.  A crazed Matthews has the deacon locked up to try to coax his employees back to work.  I buy that.  And then, he dresses like a woman to infiltrate the cult where his mama doesn't even recognize him.  What?  No, that I don't buy.  Matthews looks comical as a hairy guy in his dress and headband.  And a humorous shtick doesn't work for where the scene needs to go.   And my reaction to the Greek tragedy ending is less shocking to the core and more a head scratching 'huh?'.     
I can't get behind the play THE REVEL.  I could get behind the girl group THE REVEL.  I want to strip away all the narrative and let these ladies perform in concert.  That would be some uplifting entertaining.  Something to revel in.              
Running Time: Ninety minutes with no intermission
At Chopin Theatre, 1543 W. Division
An adaption of Euripides' The Bacchae
Adapted by Damon Kiely
Music by Jess McIntosh
Lyrics by Damon Kiely and Jess McIntosh
Directed and choreographed by Leslie Buxbaum Danzig
Thursdays, Fridays and Saturdays at 7:30pm
Sundays at 7pm
Thru October 25th   
Buy Tickets at www.thehousetheatre.com
For more reviews and information on Chicago theatre, visit Theatre in Chicago.