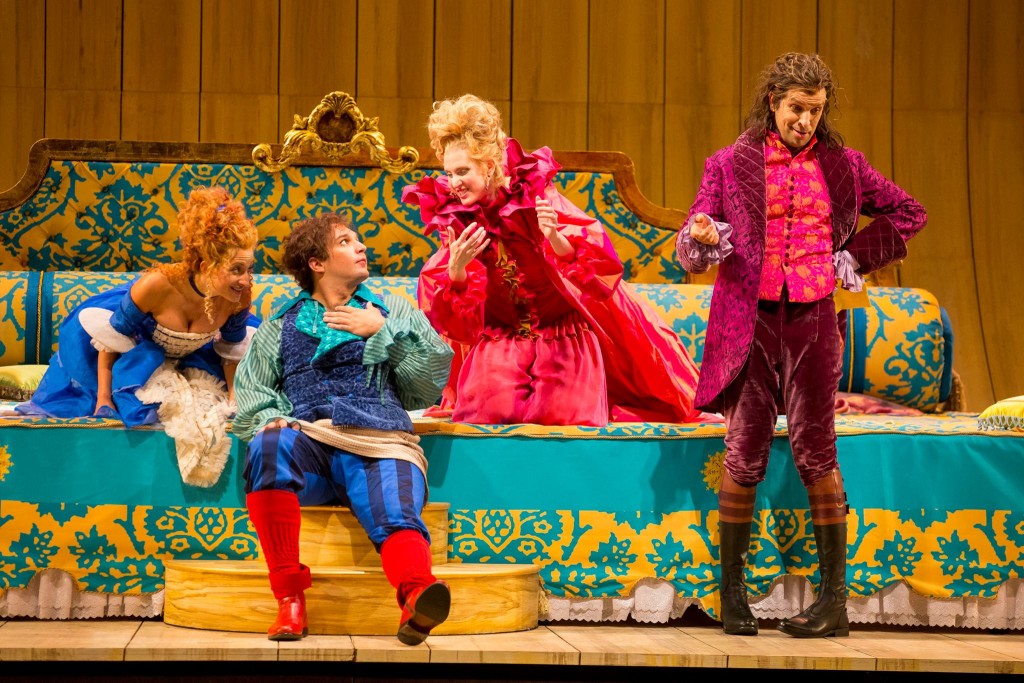 The Lyric Opera of Chicago presents THE MARRIAGE OF FIGARO.
In the Director's Note, Barbara Gaines reflects on seeing THE MARRIAGE OF FIGARO as a young girl.  Although she loved the joyful music, Gaines found the production dark, distant with limited interaction by the singers.  When Gaines took on this year's Lyric season opener, her goal was to visually match Mozart's exuberant composition.  She wanted to create an upbeat sensory-charged spectacle.  Her wish was 'that everyone leaves the Civic Opera House tonight on Cloud Nine.'  After the opening night, I'd say goal accomplished, Ms. Gaines!  I floated home with a blissful high that started with the overture.
As Henrik Nanasi conducts the high-spirited familiar overture, I'm facing a curtain featuring a cherub ready to shoot lovers with an arrow.  A disturbance behind me breaks my concentration.  I annoyingly thought it was late arrivers.  I delightedly realized it was Luca Pisaroni (Count) in lustful pursuit of a peasant girl.  The folly went up the aisle, on to the stage and behind the curtain.  And just a few beats behind that, the concerned Amanda Majeski (Countess) follows the same path but instead of ducking under  the curtain, she pulls it down with a majestic flourish exposing her philandering husband.  As that sexually-frustrated trio leave the stage, Adam Plachetka (Figaro) and Christiane Karg (Suzanne) guiltily pop out from under a sheet covered couch.  This playful romp commences in style.     
The new production aids Gaines in her desire to give oomph to the live performance of Mozart's masterpiece.  Set Designer James Noone creates an intimate backdrop for frolicking.  He uses three partial walls constructed of a sleek wooden veneer.  Those walls carve out each space; Figaro's room, the Countess' bedroom, the ballroom, the gardens.  The simplicity of this exterior structure showcases not only the versatile rooms' interiors but also the vivid costumery by Susan Mickey.  In the Countess' room, a massive bed is the focal point.  The principals will lounge, walk, flirt, dance on this whimsical bed.  Mickey matches Noone's fanciful look by dressing Majeski in hot pink bloomers and a flowing gown of ruffles. 
Later in the ballroom, half a dozen chandeliers will beautifully illuminate the wedding party.  Mickey dresses the ensemble in matching exquisite finery.  Throughout the show, Mickey has the couples wearing similar colors.  At the wedding, Majeski and Pisaroni wear white with hints of silver. Plachetka and Karg wear white with subtle blue accents.  And the chorus is clad in purple with matching auburn hair and rouged cheeks.  The look is simultaneously stately and lively.  The design team really make THE MARRIAGE OF FIGARO into a festive party.
And at this party, the merrymaking is infectious.  Pisaroni heightens the humor as the jealous Count.  Pisaroni uses sharp slapstick timing as he tries to catch people lying to him.  The main target of his suspicion is the nimble Rachel Frenkel (Cherubino).  Frenkel plays the lusty boy with an equal mix of innocence and lechery.  The seductive scene between her and Majeski is both funny and steamy.  At different times, Frenkel amusingly jumps out of a cupboard and out of a window.  Although Majeski is focused on getting her husband back, she is easily distracted by Frenkel's fleeting attention.  Frenkel hilariously goes after Majeski, Karg or any woman in the vicinity. 
Throughout the show, Karg and Majeski give off this Lucy and Ethel vibe.  The spitfire Karg continually schemes how she and Majeski can get Pisaroni to return to fidelity.  They make a dynamic duo in their love conspiracies against their husbands.  And on the outskirts of everything is the groom of the hour, the jovial Plachetka. He has this zestful presence in every scene he is in. Even at curtain call, Platchetka presides over the show like a proud and welcoming host. 
And aside from how it looks and it acts, THE MARRIAGE OF FIGARO is an opera first.  And this production sounds sublime.  The principals are perfection.  Each aria and duet is sung with passion.  It's hard to pick favorites but I'll try.  Brindley Sherratt (Bartolo) plotting his revenge in the powerhouse La vendetta.  Frenkel vulnerably singing her secret desires in Voi che sapete. Majeski reflecting wistfully on love lost in Porgi amor.  And in Act IV, Karg and Platchetka mischievously singing to each other in disguise.  Their relationship is only questioned by each other.  The audience sees, hears, feels the true love bond between the two.      
I absolutely loved this MARRIAGE.  It kicks off the new season with gleeful panache. Under Gaines' leadership, THE MARRIAGE OF FIGARO is truly a wondrous and joyful marriage. 
This is my third opportunity to see "The Marriage of Figaro" at the Lyric.  I saw the 2003-2004 production and the March 2010 production       
Running Time: Three hours and thirty minutes includes an intermission
At Lyric Opera of Chicago, 20 N. Wacker
Opera buffa in four acts in Italian
Composed by Wolfgang Amadeus Mozart
Based on Pierre-Augustin Beaumarchais' play "La folle journee, ou Le mariage de Figaro"
Edited for the New Mozart Edition by Ludwig Finscher
Conducted by Henrik Nanasi
Directed by Barbara Gaines
At 7:30pm on September 30th, October 3rd, 6th, 9th, 15th, 24th
At 2pm on October 18th, 21st
Thru October 24th   
Buy Tickets at www.lyricopera.org
Production photo by Todd Rosenberg.
For more reviews and information on Chicago theatre, visit Theatre in Chicago.