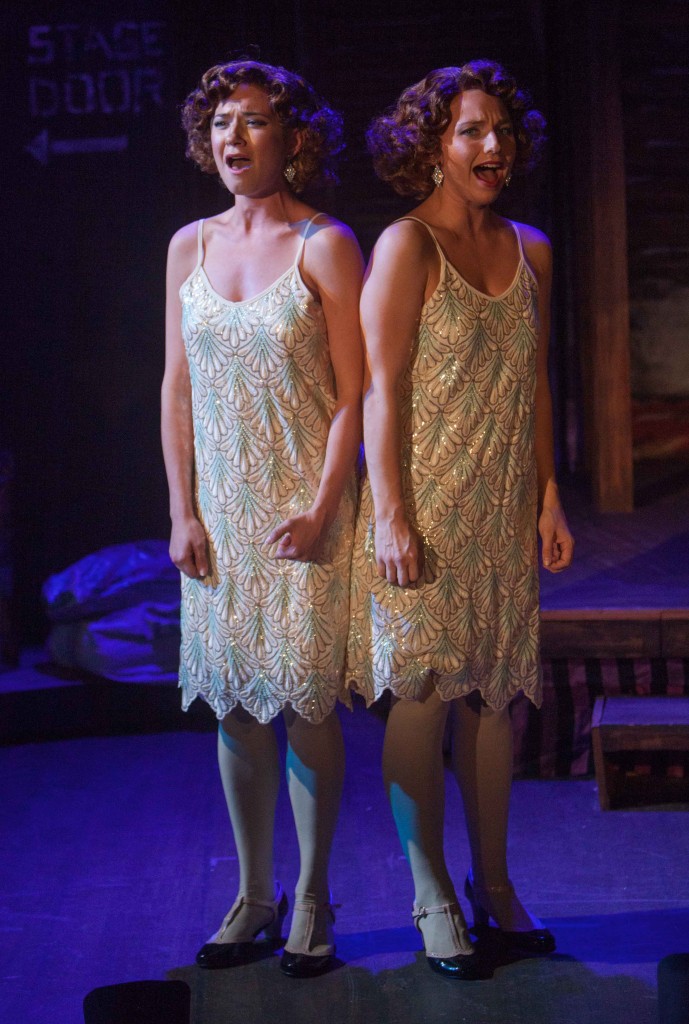 Porchlight Theatre presents the Chicago Premiere of the newly revised SIDE SHOW.
This is a love story about sisters.  The musical is based on the real lives of Daisy and Violet Hilton.  The sisters were twins conjoined at the hips.  Abandoned by their mother, they were sold into the circus life.  Audiences paid money to see them as an exhibit in a freak show.  And at first, I found myself contemplating the general logistics for these ladies. How do they…?  My curiosity was percolating on the novelty of it all.  Yet, at some point, I stopped gawking at the circus act.  And started seeing the ladies' struggles to find lasting love Like everyone else.  Colleen Fee (Daisy) and Britt-Marie Sivertsen (Violet) tether us to their girlish dreams.  They are marveling not because they are circus freaks but because they are vulnerable romantics. 
Even though Fee and Sivertsen are mesmerizingly natural in their every in-sync movement, they also are distinctly their own personalities.  We see Fee's eyes sparkle with excitement as Sivertsen's forehead crinkles in concern. Fee flirts with moxie as Sivertsen almost becomes invisible in the background. Still, when the situation gets stressful, they instinctively and without looking clasp hands in powerful unity.  And when they poignantly sing I will never leave you, my eyes mist up over the dark beauty of that reality. Director Michael Weber skillfully ensures the focus during his circus meets vaudeville show is always on the humanity not on the oddity.
SIDE SHOW starts with an animated Come look at the freaks.  The talented ensemble is decked out in circus pageantry.  The colorful pandemonium bookends the show. At the beginning, it tickles our intellect.  At the end, it mars our soul.  In between, it thoroughly entertains. 
Evan Tyrone Martin (Jake) serves as the girls' protector.  Martin dominates the stage in his songs, The devil you know and You should be loved.  His powerhouse singing fills the theatre with passion.  Martin's expressive face connects us to the irony of his situation.  He is more unaccepted as a black man in society than the conjoined twins. This is best illustrated in a heart-wrenching moment between Martin and Sivertsen.  Along with Martin, a dapper Matthew Keffer (Terry) and a sensitive Devin DeSantis (Buddy) help the sisters better their situation.  Keffer coaxes them into showbiz.  And DeSantis works with them on their routine.  Although the smooth-talking Keffer's motives are continually questionable, DeSantis charms with an ongoing concern for their happiness.       
On the surface, SIDE SHOW entertains as two shows in one.  It has both the high-spirited acts of a circus and the zesty stepping (choreographer Andrew Waters) of vaudeville.  Below the freaks and shticks, SIDE SHOW beats strongly as two hearts in one.  This SIDE SHOW is unforgettable as a production and a love story.     
Running Time: Two hours and thirty minutes includes an intermission
At Stage 773, 1225 W. Belmont
Book and lyrics by Bill Russell
Music by Henry Krieger
Vocal and dance arrangements by David Chase
Orchestrations by Harold Wheeler
Choreographed by Andrew Waters
Directed by Michael Weber
Music direction by Aaron Benham
Thursdays at 7:30pm (no evening performance on October 8th)
Fridays at 8pm
Saturdays at 4pm and 8pm
Sundays at 2pm
Additional performance on October 8th at 1pm
Thru October 25th   
Buy Subscriptions at www.porchlightmusictheatre.org
Buy Single Tickets at Stage 773 box office at 773.327.5252
Production photo by  Anthony Robert LaPenna
For more reviews and information on Chicago theatre, visit Theatre in Chicago.