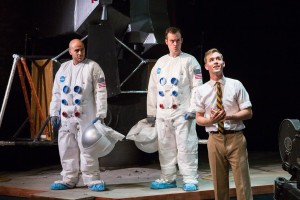 Jackalope Theatre Company presents the World Premiere of LUNACY! (A Cryptohistorical Comedy).
lunacy |ˈlo͞onəsē|
noun (pl. lunacies)
the state of being a lunatic; insanity
• extreme folly or eccentricity        
The title says it all.  Jackalope's world premiere is pure lunacy!  Playwright Andrew Burden Swanson imagines the moon landing conspiracy as a 1969 reality.  Since President Kennedy predicted that USA would step on the moon before the end of the 60s, the CIA is orchestrating a Plan B in a studio in England. 
Swanson kicks off his madcap folly with the arrival of a young NASA physicist (played by Will Kiley).  A naive Kiley is unaware of the covert nature of his assignment.  He awkwardly fumbles through introductions.  The American operative team have an over-the-top, mission-driven formality.  Representing the British studio, the efficient and prim Darcia Nalepa (Janna) and her eager sidekick Sasha Smith (Brooke) try to quickly usher the Americans onto the set.  The set-up is comedic. The Americans are embarrassingly obtuse and rash.  The Brits are both clever and mortified.  It's an us vs them revolutionary war repeat. Among the silly slapstick, Jessie D. Prez (Steadladder) and Pat Whalen (Slate) stand out as actors  playing agents playing actors.  They are hilarious with the stiff deadpan of a G-man.  Whalen kicks it up another notch wearing sunglasses for the duration.  And Prez cracks me up using ambrosia salad as his artistic inspiration.      
The humor is here.  It's buried under a lot of storylines.  My attention is pulled in multiple directions as the chaos gets piled on.  The colorful Michael Hamilton (Harry) is running around with an aluminum foil cap.  The quirky Kaiser Ahmed (Derek) continuously pops up unexpectedly to nail a zinger.  The stalwart Robert Koon (Ted) reminisces about Harriet? His dead wife? Harry's mom?  I just don't know! It's all jumbled together like a Robert Altman ensemble-driven flick.  Swanson creates all these characters with or without real purpose.  Some like Malcolm Callan (Kubrick) bring a sense of order and integrity to the filming within the play.  And then coincidentally, Callan brings gravity to the actual play's disarray.  Other characters add movement to the pandemonium but no real substance.
Director Gus Menary paces this with high energy buffoonery.  His cast works hard for laughs.  And opening night, they are rewarded with hearty chortling.  Although I was definitely amused by the cleverness of the play's concept, my chuckling was initially sporadic and then occasional.  LUNACY starts feeling like an SNL skit that goes on too long.  Jokes repeat.  Shticks dull.  By the time the impressive J.P. Pierson (Tresscott) appears with a fresh new set of problems, I'm already over the moon…landing.         
Running Time:  Two hours and ten minutes includes one intermission
At Broadway Armory, 5917 N. Broadway
Written by Andrew Burden Swanson
Directed by Gus Menary
Thursdays, Fridays, Saturdays at 7:30pm
Sundays at 3pm
Thru June 20th
Buy Tickets at www.jackalopetheatre.org
Photo Credit: Joel Maisonet
For more reviews and information on Chicago theatre, visit Theatre in Chicago.