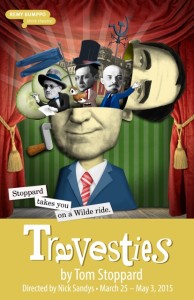 Remy Bumppo presents TRAVESTIES.
In 1976, Playwright Tom Stoppard received the Tony for Best New Play for TRAVESTIES.  Stoppard's comical tome is his loving tribute to Oscar Wilde.  Stoppard imagines Zurich in 1917 where legends-in-the-making; James Joyce, Vladmir Lenin and Tristan Tzara are in pursuit of their passions.  Joyce is researching for his book "Ulysses." Lenin is preparing for a Russian revolution.  Tzara is writing avant-garde poetry for the Dada movement.  Their scholarly-political-artistry worlds collide as an aging British civil servant, Henry Carr, reflects on his meet-ups with the gents that coincided with his own performance in "The Importance of Being Earnest."
The show starts in a library.  We don't know whose who from 'economics to foreign literature' until Jeff Cummings (Carr) does the introductions.  And Cummings' introduction is one long, long, long soliloquy.  Cummings tackles Stoppard's super-charged monologue with impressive finesse.  Initially, the humor goes unrecognized by the audience.  It's like the beginning of a Shakespeare play where we have to wade into the prose to remember the stylistic delivery.  Once familiarity returns, comprehension follow.  We observe tireless Cummings pontificate with non-stop fervor. Once we get used to his rhetorical abilities, we began to hear the snarkiness.  Cummings starts one story shifts to another with an abrupt 'a sketch.'  He is mingling all his memories into a hilarious madcap mumbo-jumbo. 
The unapologetic pompous Cummings debates his manservant Scott Olson (Bennett) on the ridiculousness of socialism.  To showcase Cummings' memory lapses,  the exchanges are the same scene done over with heightened humor.  As they spar the breakdown of social classes, one scene shows Olson ignoring Cummings to partake in tea time.  One of the most hysterical flashback scenes is with Cummings and Meg Warner (Cecily).  Warner is a prim and proper librarian excusing Cummings' inappropriate behavior by announcing the reference section is closing for lunch.  The final scene in that series of memories has Warner stripping down to her corset.         
Director Nick Sandys paces this oratory overload with slick comedic timing.  His talented ensemble work hard to deliver the plethora of witty wordplay.  And standing out in the cast for his seemingly effortless elocution is the charismatic Greg Matthew Anderson (Tzara).  Although Anderson goes word to word on cerebral debates with Cummings, they deliver humor very differently. Whereas Cummings articulates with an over-the-top buffoonery, a deadpan Anderson often halts his rapid-fire verbiage with comedy gold timing.  Cummings lampoons spitting out his tea.  Anderson spoofs by elegantly sipping his tea.  In one sequence, Anderson is able to argue a point by shifting from dialect to dialect within moments.  The entire show is an ode to dynamic banter.  The conversations are overflowing with droll content.
One of my favorite scintillating repartees is delivered by Warner and Kelsey Brennan (Gwendolen).  Warner and Brennan meet as refined ladies. Their polite conversation turned cat fight is conducted in a limerick style set to music.  The smart shtick with plenty of "Cecily, oh Cecily" and "Gwendolen, oh Gwendolen" continues to play in my head long after curtain.                   
TRAVESTIES is a brilliant, cerebral comedy.  The jokes are rapid-fire throughout the show.  It would be impossible to get all the humor in one sitting.  It's more a hearty intellectual stew to be deliciously savored over and over.   And Remy Bumppo is serving  up biting potions of tastiness.  The show is a palate pleaser!       
Running Time:  Two hours and fifty minutes includes a ten minute intermission
At Greenhouse Theatre Center, 2257 N. Lincoln
Written by Tom Stoppard
Directed by Nick Sandys
Wednesdays (April 8th and 29th) at 7:30pm
Thursdays, Fridays, Saturdays at 7:30pm
Sundays at 2:30pm
Additional Matinees on April 16th and 25th at 2:30pm
Thru May 3rd
Buy Tickets at www.remybumppo.org
For other reviews and more information on Chicago theatre, visit www.theatreinchicago.com