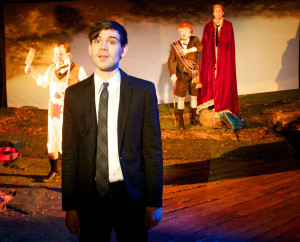 Mary Arrchie Theatre presents OUR BAD MAGNET.
Playwright Douglas Maxwell pens almost two separate plays.  One is anchored in the oddity of a young boy nicknamed Giggles (played with passion and nimbleness by Lane Flores).  He has been neglected by a father who loved his ventriloquist dummy more than his son.  The premise has plenty of room for exploration.  And under the direction of Carlo Lorenzo Garcia, Flores delivers a noteworthy performance.  In one moment, he seems fragile and hesitant in his interactions with the boys from school.  In the next scene, he terrifyingly goes after a puppet.  At the encouragement of his pals, Flores whimsically spins the tale of a king's lust for gold.  And the boys playfully illustrate the parable.  Later, Flores hauntingly tells another story of "The Bad Magnet."  This time, he acts out his own tale.  And it's heart-wrenching.
This play within the play intrigues with the darkness of the disturbed.  This young boy spins yarns with adult understanding.  Although I want to know more about a boy named Gordon aka Giggles, the larger play is about the relational angst of his friends (played by Dan Behrendt, Layne Manzer, and John Ross Wilson).   We see the guys at 9 years old, as teenagers and then as adults.  They peak in likability as kids when they are acting out Flores' story.  Their make-believe is endearing as Flores scripts their activity.
Left to their own devices, Manzer and Wilson showcase opportunistic streaks.  Although they have some funny moments, their characters are primarily shallow.  And even their enchanting Scottish brogues can't save them from being a disagreeable lot.   I want to care about them but I don't.  Behrendt and Flores have an emotional heart to heart where the kindly Behrendt encourages Flores to express his feelings.  Flores follows Behrendt's advice to unexpected levels.  The sweet brotherly bond doesn't last long.  Behrendt grows into a sullen man looming in the forefront.
Although Flores' presence anchors the show, Maxwell's script focuses on the three friends.  Instead of putting efforts into figuring out this broken boy, our attention is targeted at the adult angst of his classmates.  Behrendt and Manzer continually argue over whether Giggles' stories are original works.  Their futile convictions are voiced at length.  And yet their bigger skirmish has nothing to do with that debate.  It's about cheating sex.  That age-old quandary overshadows Maxwell's more interesting play about a disturbed boy named Giggles.
I'm torn because I really enjoyed one of these two plays.  I was hoping at the end both plays would come together for me.  Although there is a colorful ending that nods back to the parable about the king, I left slightly perplexed and wanting a more magnetic conclusion.
Running Time:  Two hours includes a ten minute intermission
At Angel Island, 735 W. Sheridan
Written by Douglas Maxwell
Directed by Carlo Lorenzo Garcia
Thursdays, Fridays, Saturdays at 8pm
Sundays at 7pm
Thru April 26th
Buy Tickets at www.maryarrchie.com
Photo by Ashley Rose
For more reviews and information on Chicago theatre, visit Theatre in Chicago.