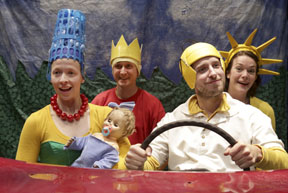 Theater Wit presents the Midwest Debut of MR. BURNS, A POST-ELECTRIC PLAY.
Although I've always enjoyed The Simpsons, I've only seen a few dozen episodes over their 15 +year run.  I appreciate the show's clever writing. And I'm impressed by its staying power as a comedy icon.  So, I guess I shouldn't be surprised it survives an apocalypse.          
Playwright Ann Washburn pens a three act play.  The three settings are in the near future, seven years later and seventy-five years after that.  In the first act, a group of apocalyptic victims are sitting around a campfire.  They are frightened and amuse themselves by talking about the Simpsons' episode based on the movie "Cape Fear."  In the next act, this group is now trying to cobble together a play from snippets of that episode, commercials and popular songs. The third act is a full-blown musical extravaganza of what Simpson's folklore morphs into over time.
This show is imaginative.  Because of its Simpsons' foundation, I thought it would be hysterical.  It's not.  Sure, there are humorous parts and Simpsons' aficionados will get a bigger kick out of the subtle witticisms.  MR. BURNS is more thought-provoking about apocalyptic aftermath and theatrical origins.  Shockingly, it's not Shakespeare that continues to be timeless into the 22nd century.  It's Groening!
Washburn's storytelling is innovative.  Her futuristic tale is engaging.  Each act left me intrigued and slightly bemused.  Under the masterful direction of Jeremy Wechsler, this talented cast goes from frightened victims to ragamuffin survivors to bodacious performers.  Their personality conversions coupled with the design team's production transformations creates a full blown spectacle.  By the third act, the costumery (Mara Blumenfeld and Mieka Vanderploeg) and scenery (Joe Schermoly) create this dazzling landfill pageantry.  The attention to recycling detail creates a visual sensory overload.  
MR.BURNS is definitely one-of-a-kind!  Although I thought it was a little lengthy especially with two intermissions, I appreciated this visionary salute to The Simpsons. This show oozes ingenuity!
Running Time:  Two hours and forty minutes includes two intermissions
At Theater Wit, 1229 W. Belmont
Written by Anne Washburn
Directed by Jeremy Wechsler
Score by Michael Friedman
Lyrics by Anne Washburn
Thursdays, Fridays, Saturdays at 7:30pm
Sundays at 2pm
EXTENDED Thru March 22nd
Buy Tickets at www.theaterwit.org
For more information and reviews on Chicago theatre, visit Theatre in Chicago.