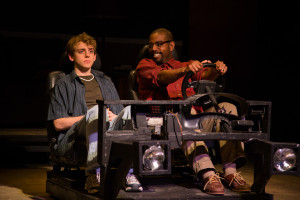 Jackalope Theatre presents FOUR.
Talking about nothing on the phone.  Awkward silences during a car ride.  Sneaking fries when your date leaves the table.  Playwright Christopher Shinn takes us on two first dates. It's Fourth of July.  And four individuals want to declare their independence.  Paige Collins (Abigayle) takes a night off from caring for her sick mother. Robert Howard (Joe) leaves his family for a random hook-up. Michael Kurowski (June) explores his sexual identity.  And Danny Martinez (Dexter) decides to make his clients wait for their weed.  Each of the four want to make a human connection. They want to lose themselves in passion. They want fireworks.
Shinn writes these encounters with a realness that borders on painful. It's not the slick scripted rom-com. The dialogue is much more honest.  An animated Collins playfully chats about everything on the phone, from eating cheese to narrating the TV show she is watching. Martinez responds to her telephone flirtation by continually asking her out on a date.  She shuts down his pursuit with an ongoing 'I've got work to do' excuse.  Then, her mother's shut-in status makes her accept the invitation. They go out. In person, Martinez begs her to talk to him, Collins can't find the words.
Kurowski makes his first appearance while talking on a pay phone.  He has the limited conversation of a teenager talking to a parent. The one-side conversation doesn't sound at all sexual until he responds with an abrupt, "ummm jeans and a t-shirt." We realize he is missing the nuisances of verbal foreplay.  Then, we meet his date.  Howard is a married black man. They met online. Shinn's script gives us subtle hints that their online chatting must have held a level of intimacy to connect this disheveled teen and his unlikely date.  Yet, in person, the smooth-talking Howard can't charm Kurowski into dialogue.
Director Nate Silver doesn't rush it. He makes sure we experience every uncomfortable moment of these dates. Although the tempo is squirming-in-your-seat slow, it serves the story.  Silver creates virtual first dates. The parallel conversations are almost happening in real time.  The first date mistakes are connectable.  I react to the familiar with nervous giggles and heart-sinking anxiety.  At one point, Martinez makes a sweet gesture and Collins' reaction is unforgettable.
FOUR is the dark side of dating.  It's not the petal-plucking-does-he-love-me-does-she-love-me-not giddy kind.  It's the put-down-the-Ben-and-Jerry-take-a-risk kind.  FOUR is not for the Hallmark addicted.  It's for people looking for love in all the wrong places.
Running Time:  One hundred minutes with no intermission
At Broadway Armory, 5917 N. Broadway
Written by Christopher Shinn
Directed by Nate Silver
Thursdays, Fridays, Saturdays at 7:30pm
Sundays at 3pm
Thru March 28th
Buy Tickets at www.jackalopetheatre.org
Production photo by Joel Maisonet
For more reviews and information on Chicago theatre, visit Theatre in Chicago.