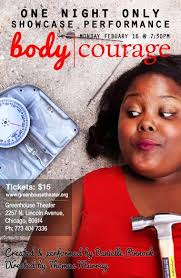 For one night only, Danielle Pinnock presented her one woman show BODY/COURAGE.
Pinnock's personality showcase is a powerful tribute to body image.  After interviewing 400 people, Pinnock has assembled a twelve character-driven montage. Pinnock actualizes each interview by becoming the character and delivering verbatim their answers. Each monologue has the authenticity of nervous laughter, awkward pauses and thoughts imperfectly linked together.  The subject study is evocative.  Both the idea of finding out how people perceive their looks and the people Pinnock selects to have their stories told by her.
Pinnock kicks off her show arriving on the stage in a brightly colored bathing suit.  She is Jenelle McKee, a California pageant contestant.  The start is immediately attention grabbing.  Jenelle is a caucasian twentysomething who describes herself as 'skinny healthy.'  Pinnock is voluptuous and black. The transformation is marveling as Pinnock confidently flits around the stage.  At first, we are startled that anyone not model thin would voluntarily go on stage in just a bathing suit.  Later, we giggle as the effervescent Pinnock gives tips on how to keep a bathing suit from riding up.  And eventually, we see Jenelle as she sees herself…beautiful! 
Under the masterful direction of Thomas Murray, Pinnock finds the humor and the humanity in each of her characters.  Each monologue is introduced with a projection featuring a descriptor, name, occupation, race, age. 
For example:
Picasso Breast
Cheryl Williams
Breast Cancer Survivor and Professor at Temple University in Philadelphia, Caucasian, late 50s
We find out during the monologue that the descriptor is a phrase the person has given herself/himself. Pinnock plays Cheryl with a resilient yet hesitant demeanor.  Pinnock speaks in low tones about the effects of radiation on her breast, hair and sex drive.  As she looks around afraid to be overheard while still sharing intimate information, Pinnock perfectly couples shame with bold moments of personal disclosure. 
Doctor Martin Luther King Kong Junior
LaRoyce Hawkins
Primetime television actor on "Chicago PD," African American, mid to late 20s
In the most hilarious segment, Pinnock plays a cocky guy describing his sexual conquests.  The piece starts out full-on ballsy with Pinnock as the swaggering stud. And then leans into vulnerability as Pinnock reveals his surprise at an awkward encounter. 
Pinnock is deft at playing male or female, black or white, American or British, young or old.  Her ability to become each character is captivating.    
BODY/COURAGE is the metamorphosis of Pinnock's "The Body Image Project" that previously played Off-Broadway at the Soho Playhouse and venues in Chicago including the 2014 Chicago Fringe Festival.  "The Body Image Project" was the winner of the Best Actress award at the NYC Strawberry Theatre Festival.  In a talk back following the show, Pinnock announced plans to continue to refine the show.  She may add in two more characters as well as weaving in her own personal story of body image.  I highly recommend the show in its current state. Pinnock is an outstanding storyteller.  And I highly anticipate Pinnock's next version especially with the addition of her own story.                     
Running Time:  Seventy-five minutes with no intermission
Conceived, written and performed by Danielle Pinnock
Directed by Thomas Murray
Follow the journey at www.bodycourage.com