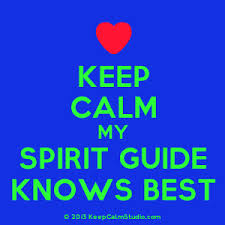 Abby and I went to see a medium yesterday. 
I had gotten the idea from one of my office team members.  She had gone with her mother.  Her mom gave her a session for her birthday.  She loved it.  I decided it was something I'd like to do for my birthday.  My niece Abby wanted to go too.  I tried to book in December for my birthday. And the spiritual guide was booked for two months.  So, we scheduled February 18th. A date Abby 'randomly' selected which had also been the date the woman gave me as her first available day.
We went to the woman's home which was outside of Chicago in a suburb called Lake in the Hills.  It conjured up all kinds of images in my head, a mystical cottage in the mountains.  It actually was a "Pleasantville" style subdivision.  When we entered the house, I was overpowered by the smell of incense.  It was almost suffocating to me.  Later on our way home, I found out Abby had smelled perfume and cigarettes. 
The room for the reading was a fairly ordinary and pleasant space. It wasn't dark with candles.  No crystal balls. It was daylight in a makeshift office. The walls were decorated with both Christian and Buddhist symbols.  There was a couch but Abby and I opted to sit at a table with Nikki, our guide.  We also decided to do our session together.  For one, we would help each other remember what we heard.  But more importantly, neither one of us had a clue what to do, what to ask or even what drew us here.   
Nikki explained that she wasn't a psychic.  She was a spiritual guide who could talk to people who had passed.  We could actively pursue connections or passively see what happened.  Nikki asked if we did invite someone into the room to also pray to God about it because she did not want any unwelcome guests in her home.  Nikki explained if a spirit wanted to connect with us that she required that they prove their connection to us.  If they couldn't with three opportunities, she wouldn't converse with them.  Nikki held a rosary the entire time.
As rookies to the whole process, Abby and I let the session unfold without much implementation on our part.  We waited to see what would happen.
Grandma Cornell was the first one in the room followed by Grandpa Cornell, my mom's parents.  Through a few questions, we determined who they were.  Grandma wanted to talk about all of my sisters. And was very chatty and very loving according to Nikki.  My grandpa is this silent strength that stays near me always.  He serves as my Life Negotiator.  When something goes wrong like a flat tire, he works with God to get me on the road again.  I love that!  Grandma is my health focus.
When Nikki talked to my spirit, she described me perfectly.  She said my spiritual dance is a long one.  I am intuitive and connect with people empathetically.  I am a truthspeaker but balance what I say to people with sensitivity to what are they are emotionally experiencing.  I like to help people with logical life plans.  Sometimes, I get too involved in other people's life plans.  I believe I'm being noble but in fact I'm enabling them.  She said I also struggle with actualizing my own life plan.  So true!  In other words, I love to tell people how to live their life but I don't always live my own. 
I didn't ask many questions but I asked a couple. 
I wanted to know about career, specifically my writing career.  Nikki described my writing as being focused for the last three years on a journey of self improvement.  She said  currently my job and my writing were on parallel plains but one would overcome the other.  She said my spirit was enthusiastic about my return to journalism from my college days.  My master's degree is in journalism.  She said I would write some type of self improvement book and then teach others how to live it.  She saw this happening maybe by December.  I love that!
I also asked if I was living my life right.  I wanted to know if my grandparents thought I was on the right path.  Well, they never really said but my spirit spoke up right away with a, "hell yeah!"  Nikki said my spirit indicated I had been working very hard and was in a very good place.  I heartily agree!  And I love being validated by my self.  🙂     
The whole experience was uplifting.  It was an expression of the powerful connectivity about life and death and love and family.  We're not alone.  After our hour session, Abby and I chatted all the way back to Chicago and all evening about the experience.  It was amazing. And we want to go back in a year for a check-in.
I won't share Abby's experience.  But I did get her permission to describe the funniest moment in our session.  At one point, Nikki became distracted mid-conversation and said to Abby, "Both your dads are asking me to ask you about your career."  Abby is currently unemployed.   
And also, Cindy, if you're reading this, Grandma Cornell insisted I warn you that you're predisposed to diabetes and to be very focused on your health especially in the next few years.