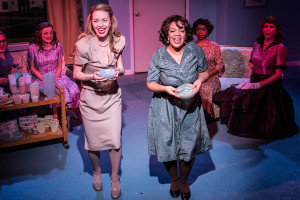 Reviewed by Tom Lawler
The New Colony presents the world premiere of PLASTIC REVOLUTION.
Brownie Wise, AKA the "Queen of Tupperware," is widely credited as the pioneer of the "party plan" sales technique. A novel idea in the early 1950s, housewives were encouraged to host home parties for friends and associates to sell goods to them – and ideally convert some of them for their downstream sales networks as well.
Having the vision to see the power of letting women hold and bend these colorful plastic containers in their hands while letting their guards down in a party, Wise was already outselling all Tupperware stores in 1950. By 1954, as Vice President of Tupperware Home Parties, she had built a national direct sales juggernaut and become enough of a household name to be the first woman to make the cover of Business Week magazine. In a post-World World II era in which women were being shuttled back from the workforce to the home, Wise popularized an option for women to both stay at home and earn significant income.
It's a fascinating life story, and one that largely goes untold in The New Colony's Plastic Revolution, an update to the company's 2009 production, Tupperware: An American Fable. What we have instead is a work of fiction that uses the Brownie Wise Tupperware home party phenomenon as a setting for a widow's growth and ultimate acceptance by her conservative neighbors in suburban 1950s Florida.
Not that Plastic Revolution is without its charms. At the top of the list would be the warm, layered performance of its lead, Sasha Smith, as Delores, a recent widow suddenly looking for direction and income in the foreign cul-de-sacs of Kissimmee, Florida. In her early interactions with Brownie Wise (a gung-ho yet cryptic Cassie Thompson) and her snobby neighbors, Smith lets us see Delores' fears and vulnerabilities as she tries to navigate life in her period of grief.
Later, as Brownie introduces Delores to the magic of Tupperware in a buoyant musical number featuring a heavenly tap dancing Tupperware executive (Joshua Bartlett), we can read the excitement in her eyes as she gets swept up in the "Queen for a Day" pageant. Even better, Sasha Smith comes to life as a performer who can really sing! In a cast of fine singers, Smith is a powerful, confident singer without peer. 
Director Evan Linder, Choreographer Steve Love and Musical Director Charlotte Rivard-Hoster collaborate for fine work here with a series of slickly produced musical numbers (the attractive cast uses sleek headset microphones) full of witty choreography, retro fun and offbeat surprises.
The more problematic areas of Plastic Revolution involve the book and the characterization of the secondary characters. As led by the ringleader of the neighborhood garden club, Lilah (Danny Taylor), Delores' female neighbors are suspicious of the strange woman (Brownie Wise) they've seen visiting Delores' home recently. Lilah declares in song that the garden club must "protect  our homes" from interlopers and suspicious strange women. As we get to know these women a bit more, it's unclear what they are so fiercely protecting.
The fact that Lilah is played by a man injects some Hell in a Handbag zip and campiness to Plastic Revolution, though it isn't in harmony with the rest of the production. The musical pokes fun at the stifling suburban lives these women live making them desperate for not only the fun of a Tupperware party – but for the convenience and improved quality of life it promises. It's one thing to chuckle when we see a '50s housewife fawn over holding these "plastic revolutions" in their hands as if it's the latest in modern gadgetry. Watching one of these homemakers slave over the ironing board, however, while pleading for "two more hours" of her own time elicits not knowing laughs but sympathy. That bowl, as colorful as it is, isn't going to drastically reduce her housework burden.
Delores' other neighbors are drawn broadly: ditzy Gladys (Lizzie Schwarzrock), prissy Kitty (Daeshawna Cook) and excitable Gertie (Elise Mayfield). Despite the protestations of their ringleader, all three easily buy into the Tupperware fantasy as a way to escape their humdrum existences. The only suspense is seeing if traditional Lilah will join her friends in ultimately embracing the affection of Tupperware and all of the modernity and financial independence it represents. 
I'll try not to spoil the ending here, but ultimately, Brownie Wise, Delores and all of her neighbors do ultimately find a way to fit together as snugly as a Tupperware set itself.
For Brownie Wise, her ending wasn't quite as upbeat. In 1958, amid slowing sales and conflicts with the founder of Tupperware, Earl Tupper, Brownie Wise was forced out of the company with no stock and just one year's severance pay. Subsequent attempts to launch her own businesses were unsuccessful, and she died quietly in 1992.
Running Time: 100 minutes with a 10-minute intermission
At The Den Theatre, 1333 N. Milwaukee Ave
Book: Will Cavedo and Andrew Hobgood
Composer: Julie Nichols
Lyrics: Andrew Hobgood
Musical Director: Charlotte Rivard-Hoster
Choreographer: Steve Love
Directed by Evan Linder
Thursdays-Saturdays at 7:30pm; Sundays at 3:00pm
Through February 22
Buy tickets at http://www.thenewcolony.org.
Photo by: Ryan Bourque
For more reviews and information on Chicago theatre, visit Theatre in Chicago.