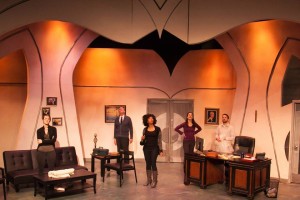 Stage Left Theatre, in association with Theater Wit, presents the world premiere of KEYS OF THE KINGDOM.
A celebrity pastor from an evangelical mega church commissions an atheist lesbian artist to paint his ceiling.  He believes she has been chosen by God.  And he gives her the creative freedom to paint anything.  He trusts her brush will be guided by Divine Intervention.  Everyone else is skeptical about his choice.
Playwright Penny Penniston explores same-sex marriage, addiction, abortion and other hot buttons through a traditional religious lens.  The ongoing religious debate is primarily between the artist (played by Kate Black-Spence) and assistant to the pastor (played by Brian Plocharczyk).  Their tension is layered.  It has a scholarly element as they argue philosophical differences as well as a petulant grade school dimension.  He refuses to move his desk.  She opens up his mail.  Then, their angst unexpectedly and oddly stops. 
Penniston's premise is interesting.  In particular, I enjoyed the character and performance by the charismatic Don Bender (pastor).  Bender calls himself on vanity issues of a celebrity pastor which makes him very likable.  His convictions are authentically rooted in faith.  Bender doesn't spend a lot of time justifying his actions. He states his belief and moves on. The others have dialogues mired in religious-speak.  It gets preachy like Sunday school for adults.  And when Penniston surprisingly shifts a character's belief system, the exchanges feel even more contrived.  The story's resolution doesn't happen organically.  It happens mystically. There is a big ole leap of the faith as the audience watches all the puzzle pieces miraculously fit together.                         
KEYS TO THE KINGDOM has the essences for a strong play.  It just needs to rely less on overusing the phrase 'chosen by God' as the crux for every action. Penniston does introduce an unforgettable religious perspective on the well-known Peter's betrayal of Jesus.  That notion continues to gnaw at me.   Also, nod out to Set Designer Andrew Hildner for the special extra touches. Hildner doesn't stop at a 'pastor's meeting area.' He gives the room the contemporary flourish of a well-funded church.  And Lighting Designer John Kohn III impressively lights it up in religious mystery.  
Running Time:  Two hours includes an intermission
At Theater Wit, 1229 W. Belmont
Written by Penny Penniston
Directed by Greg Werstler
Thursdays, Fridays, Saturdays at 8pm
Sundays at 3pm
Thru Febuary 15th
Buy Tickets at www.theaterwit.org
For other reviews and information on Chicago theatre, visit Theatre in Chicago.