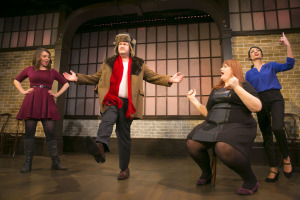 Reviewed by Tom Lawler
The Second City e.t.c. presents its 103rd Revue, PANIC ON CLOUD 9.
According to my sources at Urban Dictionary, Cloud 9/Cloud Nine can now refer to a state of being high on marijuana. To put a finer point on it, we're talking about a sensation of feeling faded, twisted or mucha gustava. According to these same sources, this bliss can be followed quickly by extreme paranoia, so this title may offer some hints to the wildly fluctuating tones that director Ryan Bernier and his cast (half of them making their Mainstage debuts) bring to Second City's latest revue. This is a Mainstage show unlike  any I've seen over my last 20 years going to Pipers Alley shows, and I'm not just talking about the trippy opening theme song and credits sequence (projected over the white shirts of this very game cast).
No, I'm talking about a piece that opened the second half of the show featuring a bracing display of dramatic acting from Emily Walker and Mainstage newcomer Paul Jurewicz. That's right, dramatic acting. Jurewicz plays a self-described "vegetable" after a car accident and Walker's suffering partner visits him in his hospital room. As we take in the reality of the scene unfolding in front of us, we have to ask: How are they going to make this funny?
The answer: They don't. The structure and tone of this piece get tricky, as we flash back to their first date and Jurewicz remembers the unfortunate choice he made when selecting a movie at the ticket counter (Schindler's List) and how they couldn't stop laughing regardless of how inappropriate it was. Despite these sardonic touches, the audience doesn't have the same dilemma. There are just a few chuckles, but we are completely in the grip of these two talented actors and this very human drama. As the scene comes to its tender close, our only natural response is hushed silence, followed by applause. This is followed by questions: As compelling as this work is on its own, is it out of place in a Second City revue? Oh, and can I get another Founders?
After taking some notable risks and departures while helming previous productions on the Second City e.t.c. stage (A Clown Car Named Desire, We're All In This Room Together), Bernier is obviously showing no fear in departing from the typical form in his Mainstage directing debut as well. Sometimes these risks pay off: A twisty sketch with John Hartman as a deaf bully meeting with his grade school counselor (Daniel Strauss, a welcome new addition to the Mainstage cast), is a must-see and all the richer because of the intensity between its two actors sizing each other up before meeting in the middle – especially the pale, drawn Hartman who shows a range in this revue between a smooth-taking sociopath to a cowering superhero.
Likewise, an original song early in the revue between soon-to-be father Strauss and his unborn daughter (Cheslea Devantez) shows not just a sophisticated take on musical theater, but as the story develops between a father's fears for his unborn child to the daughter's growing realization that her father will invariably embarrass and disappoint her, you think: Damn! Shit getting too real!
Maybe that's what this revue is about – we have no choice but to laugh at the encroaching bleakness around us. I'm thinking of the strongest sketch of the night: A Russian bachlorette party that's an ideal showcase for the writing and acting of this Mainstage's dominant female cast. Walker and Devantez are joined by another Mainstage newcomer, Christine Tawfik, a singular stage presence who fortunately brings all kinds of  Rachel Dratch weirdness to this revue.  Drinking themselves into oblivion and trying not to linger on how life will change for their friend, Devantez helpfully suggests that perhaps her friend's new husband "will have secret family and ignore you."
Another showcase for Devantez and Walker has them playing two copywriters satirizing the typical Madison Avenue approaches for female health and beauty products. Devantez, in particular, goes all out in dramatizing a woman's menstruation cycles and how far that is from what's advertised on TV. Smart, funny writing meets ferocious, physical comedy. If the waves of knowing laughter this sketch elicited on open night are any indication, it's destined to have a long life on Wells St. beyond this revue.
Cloud 9 could still use some trimming before it becomes truly heavenly: I'm thinking of a production-heavy Batman parody (Costumes! Projections! Music and sound FX!) that takes a whole lot of time to get to its payoff. I'm also remembering a sly and weird two-person campfire sketch between Hartman and Jurewicz – two remarkably confident and centered performers. Watching these two cowboys slowly spin a moonlight yarn about how it would be to live life as a "fancy female" was a delight. Once we recognize the pattern, watching them leisurely throw out two more similar offbeat stories yielded diminished returns. In this case, they could consider breaking this "rule of three." 
All in all, in Second City's latest, they are showing a remarkable willingness to try anything for a laugh (Was I the only not expecting Jurewicz's rapturous Dickie Goodman cut-in record tribute?) – or in some cases, to not try for a laugh at all. And for a Second City Mainstage show, that's bold as hell.
Running Time: 2 hours with intermission
At Second City e.t.c. Theater, 1608 N. Wells St. 2nd Floor
Written and performed by: Chelsea Devantez, John Hartman, Paul Jurewicz, Daniel Strauss, Christine Tawfik, Emily Walker
Directed by Ryan Bernier
Musical Director: Jacob Shuda
Tuesday-Thursday: 8pm
Fridays and Saturdays at 8pm and 11pm
Sundays at 7pm
Buy Tickets at http://www.secondcity.com or call 312-337-3992.
Photo by Todd Rosenberg
For more information and reviews on Chicago theatre, visit Theatre in Chicago.