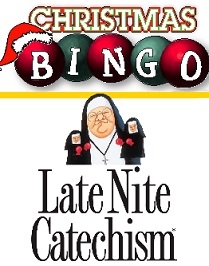 Reviewed by Jennifer Benoit-Bryan
Royal George Theater presents CHRISTMAS BINGO: IT'S A HO-HO-HOLY NIGHT!
Christmas bingo is a fun romp through Christmas history using the lens of religious humor.  Note that this is not the show to bring a particularly devout friend or relative to unless they find poking fun at some of the quirks of religion humorous.  The show is participative in nature, with audience members playing actual bingo to win cute, kitschy prizes, and being pulled up on stage throughout the show to participate in various roles. 
The premise of the show is that a retired nun, Mrs. Mary Margaret O'Brien, is now running the archdiocese's bingo fundraising department.  Audiences who went to Catholic schools seemed to really resonate with the jokes and performance as Mrs. O'Brien parodies a nun in a classroom setting.  For those without that context, the performance was less humorous and some of the jokes missed the mark. 
Beware, Mrs. O'Brien will not hesitate to call out misbehaving audience members, awarding the unruly with a sign stating that "I've disappointed the baby Jesus".  However, she also dispenses many fun prizes such as Christmas records, tiny Bibles, and ornaments. There are some surprising and interesting tidbits of Christmas history thrown in with the religious humor such as the backstory on the condemnation of The Miracle on 34th Street by the Catholic Church.
Running Time:  Two hours includes an intermission
At Royal George Theater, 1641 N Halsted St.
Directed by Vicki Quade
Buy Tickets at www.ticketmaster.com