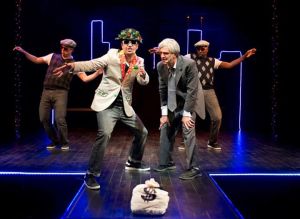 Chicago Shakespeare Theater and Richard Jordan Productions LTD present the World Premiere of A Q BROTHERS' CHRISTMAS CAROL.
The lively crew of GQ, JQ, Jackson Doran and Postell Pringle twist the familiar Dickens tale into a unique holiday spectacle.  Jacob Marley is Jamaican.  The ghosts are three different types of rappers.  Tiny Tim is an adorable hypochondriac.  It's clever.  It's fun.  It's hilarious.  Under the direction of the innovative Q Brothers, the traditional classic is remixed with hip hop style.  The action is a fast-paced swirl as the ensemble morphs into various characters.  While DJ Super Nova cranks the noise, Choreographer Anacron brings the funk.  Anacron orchestrates some unforgettable high kick moves.  This show is a holiday gift like no other.
GQ plays the crotchety Scrooge. Despite being bent over as the old curmudgeon, GQ delivers a continuous rapid-fired dialogue.  His signature 'you can chris-my-ass-miss' is hysterically interjected as the modern update to 'bah humbug.'  The other guys play a variety of distinct roles.  In one scene, Doran and Pringle playfully sound out the syllables in a charade game.  Next, they are the Cratchits. Pringle, in particular, hilariously stands outs playing both Bob and Martha simultaneously.  As the feeble Tiny Tim, JQ wobbles out on stage to announce a litany of ailments.  In the next scene, he is busting a move with his hip-hop crew.  The transitions are seamless in this non-stop, super-charged, modern-day, Dickens' extravaganza.                     
I experienced this clever Q Brothers' workshop production last December.  At that time, I thought the slick, high-energy, wise-cracking show was excellent.  I feared any editing might tamper with perfection.  So, I walked into this World Premiere with great expectations and a fear of change.  And I am happy to report the second helping of this holiday-classic-funked-up hit the spot.  What's better than excellent?
Running Time:  75 minutes with no intermission
Chicago Shakespeare Theater at Navy Pier, 800 E. Grand
Based on the story by Charles Dickens
Written and performed by GQ, JQ, Jackson Doran and Postell Pringle
Music by JQ
Directed by GQ and JQ
Developed with Rick Boynton
Tuesdays, Wednesday, Thursdays, Fridays at 7:30pm
Saturdays at 6pm and 8:30pm
Sundays at 3pm and 6pm
Thru December 31st
Buy Tickets at www.chicagoshakes.com
Production photo by Michael Brosilow
For more information and reviews on Chicago theatre, visit Theatre in Chicago.