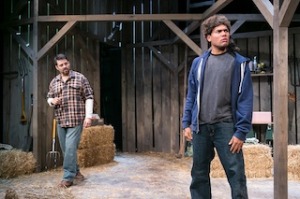 Teatro Vista presents TAMER OF HORSES. 
Unfortunately, I did not like this show.  Although the acting was fine, and Joshua Torrez (Hector) especially was a stand out as a sullen, street kid, it was the story I found implausible.   
Playwright William Mastrosimone penned a tale of a troubled youth being saved by a classics literature teacher.  The youth is discovered in the barn of a married couple.  He pulls a knife on them and they invite him to be their guest.  It doesn't happen that quickly but it does happen that unrealistically.  Sari Sanchez (Georgiane) coaxes an information-for-pie exchange with Torrez.  The initial negotiation seems an organic attempt to help.  It's Torrez's ongoing interest in pie and Sanchez dangling it as a reward for 'gentlemen only' that seems improbable.  What teen, much less thug, is going to be bribed by pie to suddenly become well-mannered?   
Mastrosimone's storyline is a male "Pygmalion."  Instead of a flower girl, it's a gang member's transformation. And this time Henry Higgins is a former teacher played by Juan Francisco Villa.  When Torrez tells a gritty tale of life on the street, Villa uses the moment to introduce The Iliad.  And unnaturally, Torrez is intrigued.  The sudden interest in literature is unrealistic.  Villa bribes Torrez into helping sand furniture with promises of additional passages from the classic.  What kid, even a studious one, would be duped into a work-for-lecture arrangement? The dialogue sounds like a bad "After School" special.  And Director Ron OJ Parson adds to the awkwardness with sluggish pacing.  Parson has Torrez stomp out and Villa put on safety glasses, a mask and start sanding.  Then, Torrez returns and Villa takes off safety glasses, a mask and stops sanding.  This happens a few times.  I want to yell out 'don't bother getting started he's coming back.' 
TAMER OF HORSES tried to tackle 'youth violence, the value of education and the importance of one's potential.'  I appreciate the importance of that mission.  I just feel the story was a far-fetched attempt.                 
Running Time:  Two hours without an intermission
At Victory Gardens, 2433 N. Lincoln
Written by William Mastrosimone
Directed by Ron OJ Parson
Thursdays, Fridays, Saturdays at 7:30pm
Sundays at 3pm
Thru December 14th
Buy Tickets at www.teatrovista.org
Production photo by Maisonet Photography.
For more reviews and reviews on Chicago theatre, visit Theatre in Chicago.