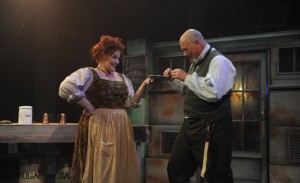 Porchlight Music Theatre presents SWEENEY TODD:  THE DEMON BARBER OF FLEET STREET.  To open its season of Sondheim, Porchlight chose to showcase the darker side of the award-winning composer first.   
In Victorian England, Benjamin returns home after serving 15 years for a bogus crime. During his absence, his wife and daughter have also been victimized by corrupt authority.  He is primed to take his revenge.  He resumes his barber career under an alias. As Sweeney Todd, he is able to get close to his unsuspecting persecutors.  And when he does, it's more than a close shave.  He teams up with Mrs. Lovett to repurpose his barber shop customers for her restaurant customers.  Her homemade filling is the recipe to success.  SWEENEY TODD grinds horror, comedy and music for a flavorful, meaty pie.    
Stephen Sondheim (music and lyrics) and Hugh Wheeler (book) have a twisted sense of humor.  Despite the sinister plot, the goth-style musical is funny providing plenty of laughs.  Some of the best zingers are delivered by the feisty Rebecca Finnegan (Lovett).  As far as opportunistic, morally apprehensible, she-devils go, Finnegan is charming!  The best part of this show is the chemistry between her and David Girolmo (Todd).  Finnegan conspires with light-hearted affection to the darkly obsessed Girolmo.  The seething Girolmo continually sharpens his blade with steely focus.  Sweeney Todd has nothing left to lose.  And Girolmo gives off the dangerous nonchalance of the damned.  As Finnegan makes canoodling plans in their duet "By the Sea," Girolmo remains driven to his single-minded mission.
Finnegan does find love in the adoration of the endearing Miles Blim (Tobias Ragg).  Despite a faulty microphone, Blim pledges his devotion in a sweeter than sweet version of "Not while I'm around."  His sincerity melts Finnegan's cynicism.  We see her stop brushing him off and start believing him. The beautiful song seems so out of place in this musical but it becomes this hopeful, redemptive moment.  Even knowing about the reign of terror brought on by Finnegan,  I want her and Blim to make a fresh start and leave London's underworld.
Not to be completely about the gore, Sondheim and Wheeler inject some hope into the musical,  Anthony Hope to be exact.  The dashing Brian Acker (Anthony Hope) brings the heroism.  He falls for the damsel-in-distress Stephanie Stockstill (Johanna).  Their duet "Kiss Me" is an amusing romp. As Acker flirts with her, the fast-talking Stockstill  nervously conjures up doomsday scenarios.  This secondary love storyline weaves into the killer one in a neat, tidy way.  Even though Sondheim and Wheeler are the perverse alternative to a Rodgers and Hammerstein musical, they still give us an old-fashioned boy meets girl lovefest.                            
Director Michael Weber stages the play on two levels.  At pivotal points, he places his chorus on the wrap-around balcony overlooking the action on the floor.  The talented crew harmonize in a haunting manner.  Scenic Designer Jeffrey Kmiec also conveniently stacks the barber shop above the pie store. The rooms are connected by a staircase that breaks off later to become Stockstill's caged domain.  Kmiec builds a minimal but functional set. He effectively utilizes the space.  The entryway to the theatre conveniently becomes the baking oven when Designer Jess Goings lights it up red.                      
This isn't your mama's musical.  It's your creepy cousin that enjoys his show tunes with a side of carnage.  This musical is bloody funny! Just in time for Halloween, SWEENEY TODD is scary good! 
Running Time:  Two hours and thirty minutes includes an intermission
At Stage 773, 1225 W. Belmont
Music and lyrics by Stephen Sondheim
Book by Hugh Wheeler
Directed by Michael Weber
Musical direction by Doug Peck
Thursdays at 7:30pm (not on November 6th)
Fridays at 8pm
Saturdays at 4pm and 8pm
Sundays at 2pm
Additional 1pm performance on November 6th
EXTENDED Thru November 16th
Buy Tickets at www.porchlightmusictheatre.org
For more reviews and information on Chicago theatre, visit Theatre in Chicago.