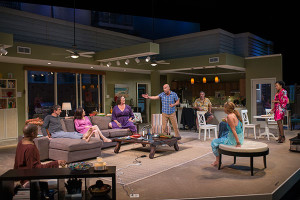 Steppenwolf Theatre presents the World Premiere of THE QUALMS.
Playwright Bruce Norris exposes the secret life of swingers.  He rips off the lid on sexual taboos and lets the condoms reign.  Norris sets the scene with Teri (played by Kate Arrington) and  Gary (played by Keith Kupferer) hosting their quarterly sex party. They have invited newcomers Chris (played by Greg Stuhr) and Kristy (played by Diane Davis) to experience the fun.  A zealot Kupferer is pontificating about basic human urges.  The wonderfully dizzy Arrington tries to derail his tirade with frequent odd musings.  It's hilarious.  The tightly wound Stuhr gets more uptight the closer he gets to foreplay.      
Norris has created eight distinct characters and put them under the same roof for sex.  Under Pam MacKinnon skillful direction, we are dropped into the members only kinky clubhouse.  The conversations overlap. Flirtations turn to fondling.  There is no getting in the mood.  The revelers arrive completely aroused.  The vivacious Kirsten Fitzgerald (Deb) bursts into the house with a suitcase of party favors.  This established group has a normalcy of routine.  Stuhr upsets the balance by bringing judgment into their erogenous zone.
Norris's dialogue crackles with humor, drama and truth.  The acerbic David Pasquesi (Roger) and Stuhr get tangled in immediate and mutual disdain.  Whereas Stuhr has diarrhea of the mouth in his litany of offensive comments, Pasquesi is targeted in his attacks.  At one point, he just laughs at Stuhr's smugness.  It contrasts perfectly with Stuhr's inability to let it go.  
The entire cast is terrific.  Everyone is ready to do whatever it takes for climatic satisfaction.  Norris gives his characters personality.  And MacKinnon gives her actors the room to establish themselves from first appearance. The statuesque Paul Oakley Stovall (Ken) walks in and through people. A haughty Karen Aldridge utters an hysterical, "Roger will get my drink."  Meanwhile, the awkward Stuhr tries to fit in by repeatedly pushing his cabernet.  
The show is dynamic for its originality and thought-provoking content.  On the surface, consensual adults are ready for their semi-regular orgy.  Norris inserts a cerebral debate within their flesh-on-flesh hedonism.  Sex and politics and sexual politics turn titillating intercourse into rousing discourse. The audience is easily seduced by this salacious ensemble.                    
Steppenwolf is throwing a swingers' party.  And everybody is invited to get their freak on.  WARNING:  This play is not for the prudish.  Not only is the word f*ck slung around liberally, the act of f*cking is described from every possible pleasure point.  THE QUALMS is debauchery at its finest.        
Running Time:  Ninety minutes with no intermission
At Steppenwolf Theatre, 1650 N. Halsted
Written by Bruce Norris
Directed by Pam MacKinnon
Tuesday, Wednesday, Thursday, Friday, Saturday, Sunday at 7:30pm
Saturdays and Sundays at 3pm
August 13th, 20th, 27th at 2pm
Thru August 31at
Buy Tickets at www.steppenwolf.org 
Production photo courtesy of Michael Brosilow.
For more reviews and information on Chicago's theatre scene, visit Theatre in Chicago.