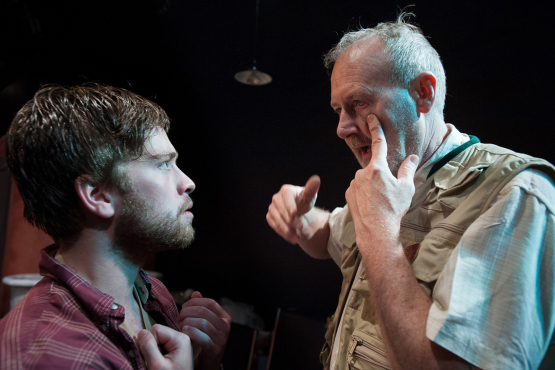 The Artistic Home presents the Midwest Premiere of THE LATE HENRY MOSS.
Two brothers fight over the meager remains of their recently departed father.  Their argument leads into a series of flashback scenes exploring the life and death of Henry Moss.  Henry has been found dead in his crummy home in nowhere, Mexico.  His sons try to piece together his final days, hours, minutes to understand the cause of death.    
This isn't a sentimental tribute for father of the year. Playwright Sam Shepard's patriarch is a loud, mean drunk. Frank Nall (Henry) plays it perfectly.  Nall's large frame dominates the stage as he bullies his way through life. Nall swaggers and threatens as the booze-soaked force. Shepard effectively splits Henry's two domineering characteristics between his two sons:  David Vogel (Earl) is the drunk. Tim Musachio (Ray) is the bully.  Channeling his father's strongest attribute, Musachio's brutal interrogation of the neighbor, taxi driver and Vogel initiates the memory sequences.  
Under the direction of Kaiser Zaki Ahmed, this mystery unfolds with true grit.  Beyond the actual death conundrum, the examination of father and sons reveals a disturbing, living legacy.  Watching Vogel and Musachio follow in their dad's footsteps is disheartening especially since they are so vocal in their disdain for him.  I'm not sure if it was Shepard's script notes or Ahmed's directorial choice but Vogel and Musachio primarily step to the sidelines to observe flashbacks.  It was a speed bump for me especially with Musachio.  Since he stirred up the flashback, some of the intensity withers when he steps so easily out of his conjured chaos.        
Within this volatile, testosterone-driven, Moss man cave, the supporting ensemble brought  a lighter touch.  The giggling Arvin Jalandoon (Esteban) and chuckling Yadira Correa (Conchalla) generate playfulness.  Their laughter affects the drama different. Whereas Jalandoon has this animated nervousness, Correa exudes sultry confidence.  The clear standout of the evening is Julian Hester (taxi driver).  Hester is this fantastic combination of fearless and intimated.  In one moment, he is telling tall tales.  And in the next, he is cowering under his oppressor.  Hester's contrasting facial expressions are also transfixing.  When confronted, he had this vacant, dim-witted look.  Later, he leered at Correa with criminal intent.
Shepard's play of an estranged father is thought-provoking.  And Ahmed skillfully uses the talented ensemble to deconstruct THE LATE HENRY MOSS by combining a little mysticism with heavy-duty realism.   
Running Time:  Two hours and twenty minutes includes an intermission
At The Artistic Home, 1376 W. Grand 
Written by Sam Shepard
Directed by Kaiser Zaki Ahmed
Thursdays at 7:30pm
Fridays and Saturdays at 8pm
Sundays at 5pm
Thru August 3rd
Buy Tickets at  www.theartistichome.org 
Production photo by Tim Knight.
For more information and reviews for Chicago theatre, visit Theatre in Chicago.