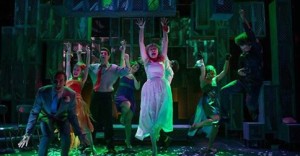 Bailiwick Chicago presents the Chicago premiere of CARRIE:  THE MUSICAL.
I have to be honest.  "Carrie:  The Musical"?? I thought it was going to be a spoof on the Sissy Spacek film.  It's not.  It's the staged horror flick. And it's set to music.   Right?  The horror genre doesn't quite translate into a musical.  *SPOILER ALERT* The scary aspect of a prom queen going ballistic is missing.  The bloody occult scene is disturbing. But when there is a chance that everyone will break into a song, the fright factor dissipates.  A singing psychotic killer may not be terrifying and yet it still is unsettling.  This show is angst with a melody.  Even though this wasn't my anticipated gagfest,  Bailiwick's CARRIE:  THE MUSICAL is a well done production.         
In the lead, Callie Johnson (Carrie) continually transforms on stage.  Johnson is heart-wrenching as the high school misfit.  Her demeanor blossoms from bible fanatic geek to shy pretty young thing.  And then, when we are basking in her coming of age acceptance, she shifts again into crazed loon.  I found myself hopeful that Johnson was going to get her happily ever after.  She radiates this wide eyed innocence that pulled me into her tragic existence.
Some of the most poignant moments are duets between Johnson and Katherine L. Condit (mom) and Johnson and Kate Garassino (gym teacher).  Both pairings are sung to harmonious perfection.  Whereas Condit is this nightmare of a mother, Garassino is the ideal P.E. teacher.  Condit hauntingly spews her religious doctrine.  At one point, Condit drags Johnson by the hair across the stage.  The moment is unforgettable.  Meanwhile, a spunky Garassino is the anti-bullying champion.  She shuts the mean girls down with a no-nonsense lecture.  And she lifts Johnson up with a motivational pep talk in "Unsuspecting Hearts."  
The entire ensemble is talented in this make-shift "High School Musical."  They are the cool kids because Director Michael Driscoll casts this perfectly.  Samantha Dubina (Chris) is a haughty bitch.  Rochelle Therrien (Sue) is an adorable hero.  Henry McGinniss (Tommy) is a total doll.  They look, sing and act the part of teenagers in love and hate.  There is this underlying 'afterschool special' vibe right up until the slaughter.  Although the bloodbath is expected, I truly found myself hopeful that Johnson and McGinniss might avoid the whole nasty murder scene.    
Still, CARRIE:  THE MUSICAL is true to Stephen King's original story.  It'll pull you in to the high school drama.  It'll make you remember your own teenage angst and hopes.  And just when you start to believe 'it does get better,' it'll dump pig's blood on you.   
Running Time:  Two hours and ten minutes includes an intermission
At Victory Gardens, 2433 N. Lincoln
Based on the novel by Stephen King
Book by Lawrence D. Cohen
Lyrics by Dean Pitchford
Music by Michael Gore
Directed by Michael Driscoll
Music direction by Aaron Benham
Thursdays, Fridays and Saturdays at 8pm
Sundays at 6pm
Thru July 12th 
Buy Tickets at www.victorygardens.org