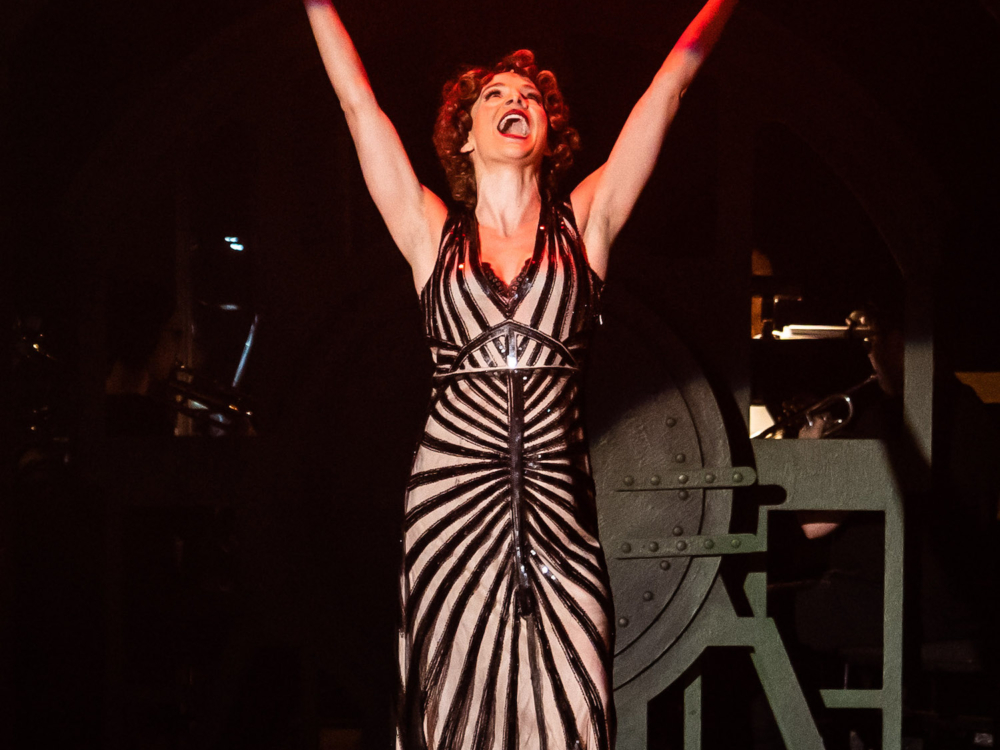 Porchlight Music Theatre presents the Tony Award-winning musical CABARET.
Berlin,1929: The Kit Kat Klub is lit! The girls are beautiful. The boys are beautiful. And everyone is Willkommen! Cliff, an American novelist, stumbles into the ongoing party at the cabaret. The nightclub is free-loving, high-spirited intoxication! There are no rules, no consequences and no boundaries. Cliff is enamored with all of it including Sally Bowles, the Kit Kat headliner. She is the flirtatious epitome of the cabaret lifestyle. Obliviously obtuse to the rising political power of the Nazis,  Sally and Berlin continue to drink, dance and get their debauchery on!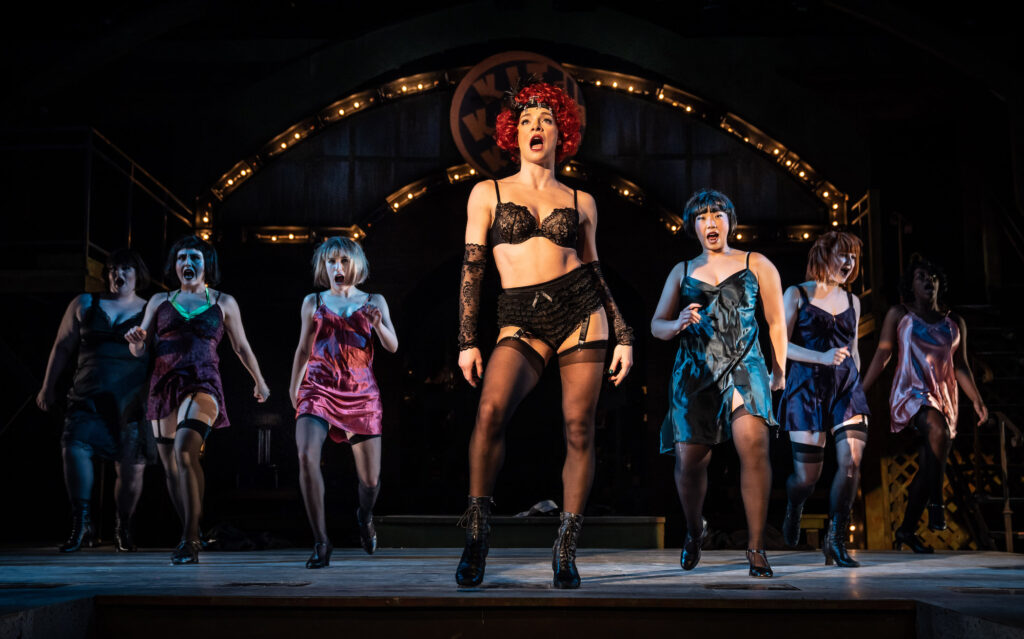 The creative team (Joe Masteroff -book, Fred Ebb -lyrics, John Lander -music) created their award-winning musical based on the play I am a Camera by John Van Druten and the novel Goodbye to Berlin by Christopher Isherwood. The show debuted in 1966. It balanced the onstage pizzazz with the gritty reality of life offstage. Its success led to the 1972 Academy Award-winning film starring the legendary Liza Minelli.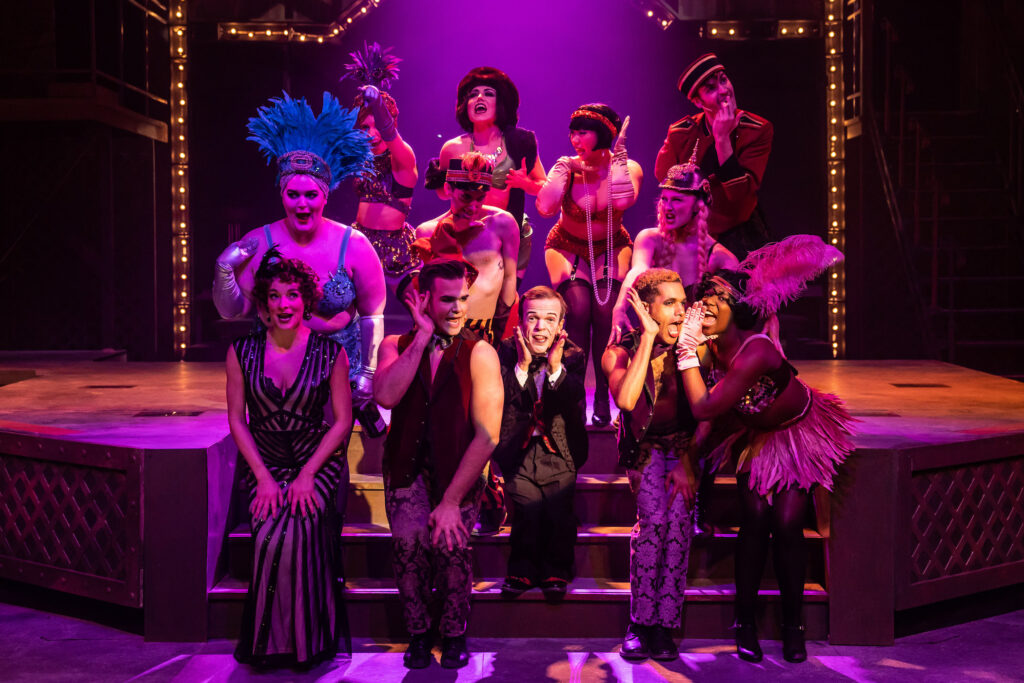 This Porchlight production lives up to all the past award-winning acclaim. In a word, it's Ausgezeichnet… Excellent! Under the masterful direction of Michael Weber and Brenda Didier (associate director and choreographer), the show is paced to perfection. Scenic Designer Angela Weber Miller makes the nightclub stage the focal point. To the sides,  flanking doors and spiral staircases provide the space for real life to unfold. The doors, in particular, are effectively spun around to change location for a seamless transition. The 5-piece band is nestled just behind center stage for optimal sound (Music Director Linda Madonia).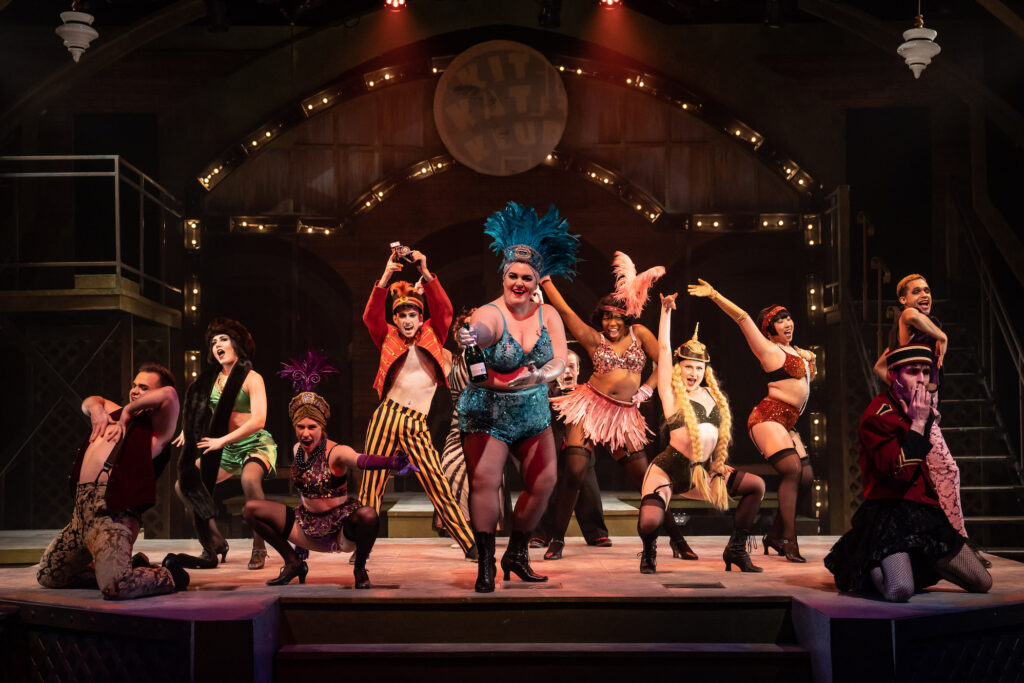 The ensemble is superb! In the lead, the incredible Erica Stephan (Sally) is mesmerizing. She goes from a cheeky "Don't tell mama" to a delightfully-posh "Perfectly marvelous" to a fierce, heartfelt "Maybe this time." When she delivers the iconic "Cabaret", a glassy-eyed Stephan starts out trembling and ends in powerful defiance. Her entire performance on and off the stage is stunning.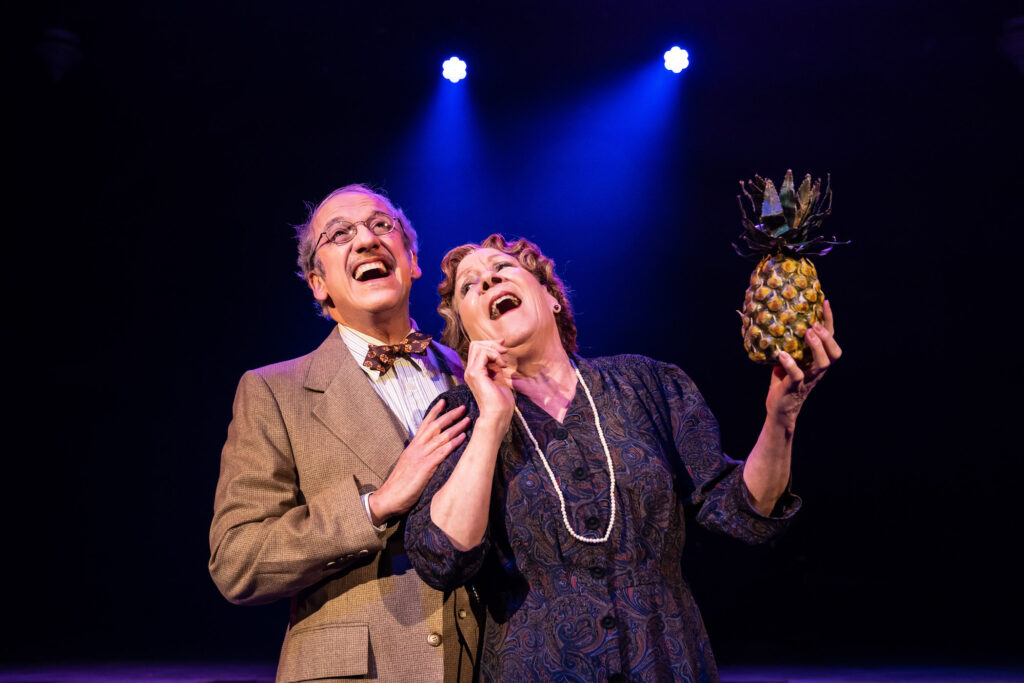 Everyone in this cast is amazing! In particular, a hilarious Josh Walker radiates bawdy panache. Although he is primarily the salacious emcee, he belts out an unexpectedly touching "I don't care much" while wearing Sally's dress. Another standout is Neala Barron (Fritz). Barron plays it with full-on moxie as she 'entertains' her sailorS. In addition, her singing often adds depth to the ensemble's numbers. At the end of act one, Barron's powerhouse voice leads a bone-chilling "Tomorrow belongs to me." And the understated Mary Robin Roth (Schneider) brings surprising diva flourish to her solos. Roth's singing is rafter soaring and eyebrow raising.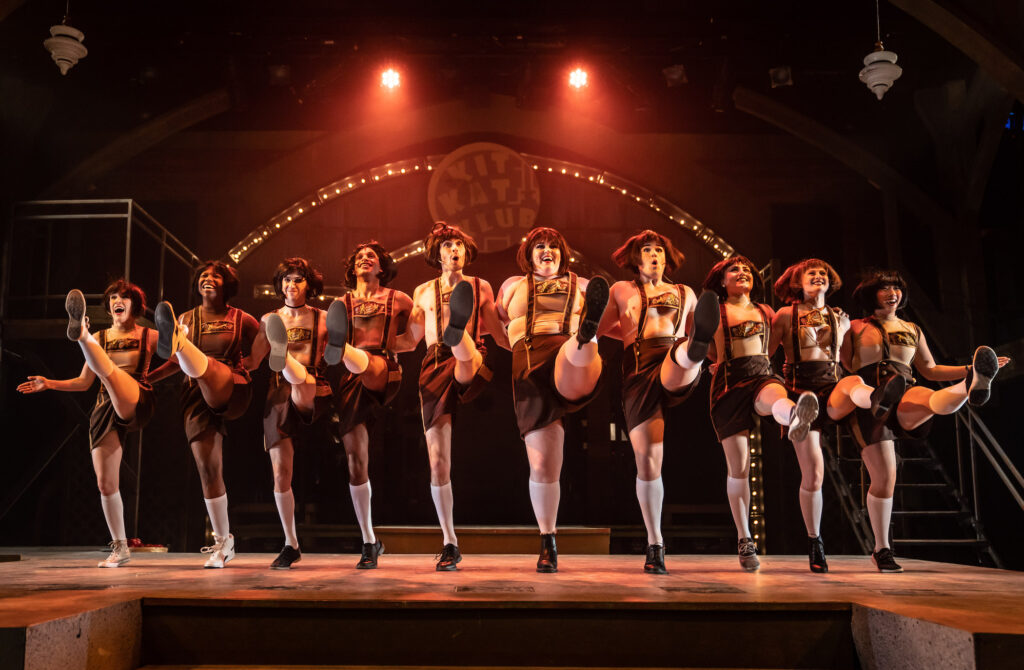 This production is also a visual extravaganza. The costumes, designed by Bill Morey, are a spectacular explosion of color and texture. Silk, feathers, velvet, pearls, sequin, nylon, garters and even some lederhosen! For most of the musical numbers, the scantily clad ladies proudly and unapologetically shake their money makers. Morey has dressed them up for fun and pleasure.   
Porchlight's CABARET is truly a unique and memorable experience! 
Life is a cabaret, old chum
It's only a cabaret, old chum 
And I love THIS CABARET…
SIDENOTE: My seat mate, Scubi, wanted me to put in this review that she thought the production was flawless!           
Running Time: Two hours and thirty minutes includes an intermission
At Ruth Page Center for the Arts, 1016 N. Dearborn
Based on the play I am a Camera by John Van Druten and the novel Goodbye to Berlin by Christopher Isherwood
Book by Joe Masteroff
Lyrics by Fred Ebb
Music by John Kander  
Directed by Michael Weber
Associate directed and choreographed by Brenda Didier
Music directed by Linda Madonia 
Performances are:
Thursdays at 7:30 p.m.
Fridays at 8 p.m.
Saturdays at 3:30 and 8 p.m.
Sundays at 2 p.m.
EXTENDED Thru March 5th
For more information or tickets
Photos by Liz Lauren
For more Chicago theatre information and reviews, please visit Theatre in Chicago