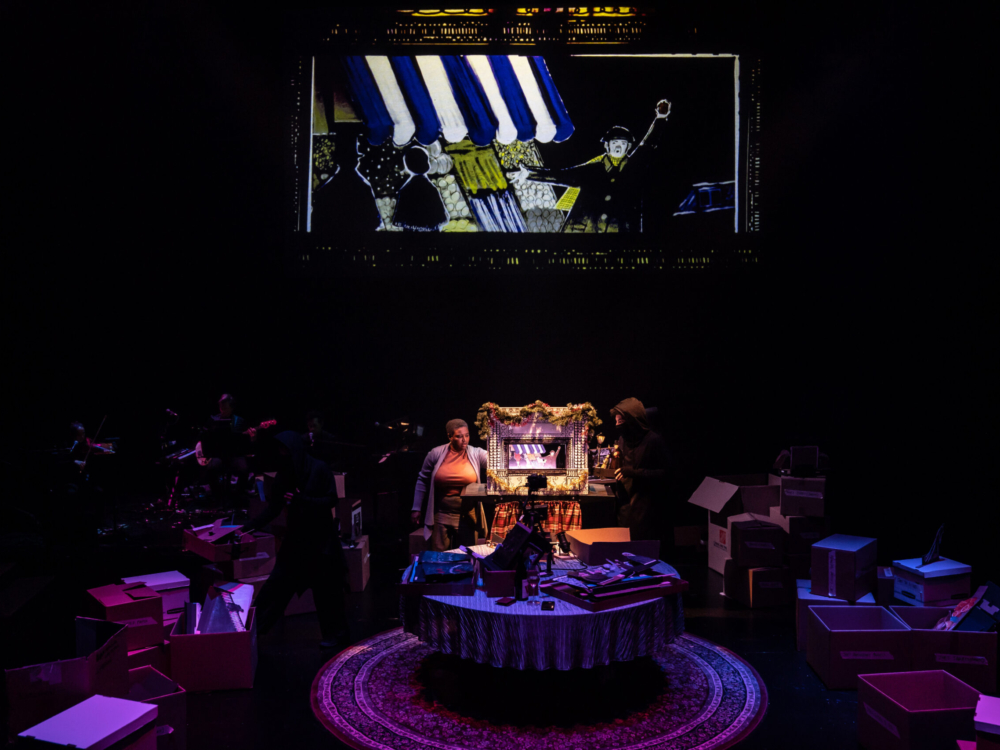 In search of a unique gift? Writers has the ticket!
Writers Theatre presents the World Premiere live production of MANUAL CINEMA'S CHRISTMAS CAROL. 
Manual Cinema reimagines Charles Dickens' holiday classic as a story within the story. Aunt Trudy (played by a dynamic LaKecia Harris) is grieving the loss of her husband Joe. In the past, Joe has entertained his large family with a "Christmas Carol" puppet show. Trudy feels forced by the family to continue this annual tradition. Peppered with plenty of snarky exasperation, Trudy puts on the show to her in-laws via Zoom.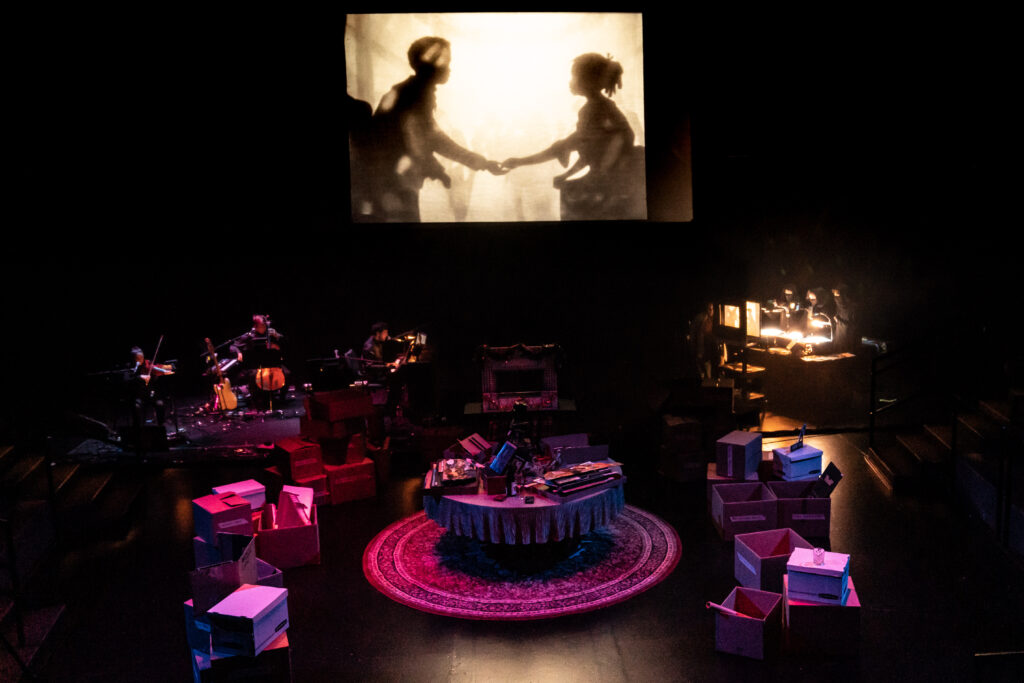 Manual Cinema cleverly weaves two tales of redemption into their theatrical spectacle. The show was first developed and performed during 2020 as an online streaming production. This holiday season, Manual Cinema maintains the intimacy of a family Zoom call while broadening the storytelling to include an oversized screen, three person orchestra and a live audience.   
The stage is cluttered with heaping boxes of decorations. The focal point is a small shadowbox. Harris narrates Scrooge's saga. Although she is constantly interrupted by her own hilarious aggravation, the tale is told in a tight and very personal way. The past and present intermingle in a 19th verses 21st century Dickens' mash-up. By the end of the experience, I'm unexpectedly tearing up from Harris' joyful transformation. It's pure enchantment!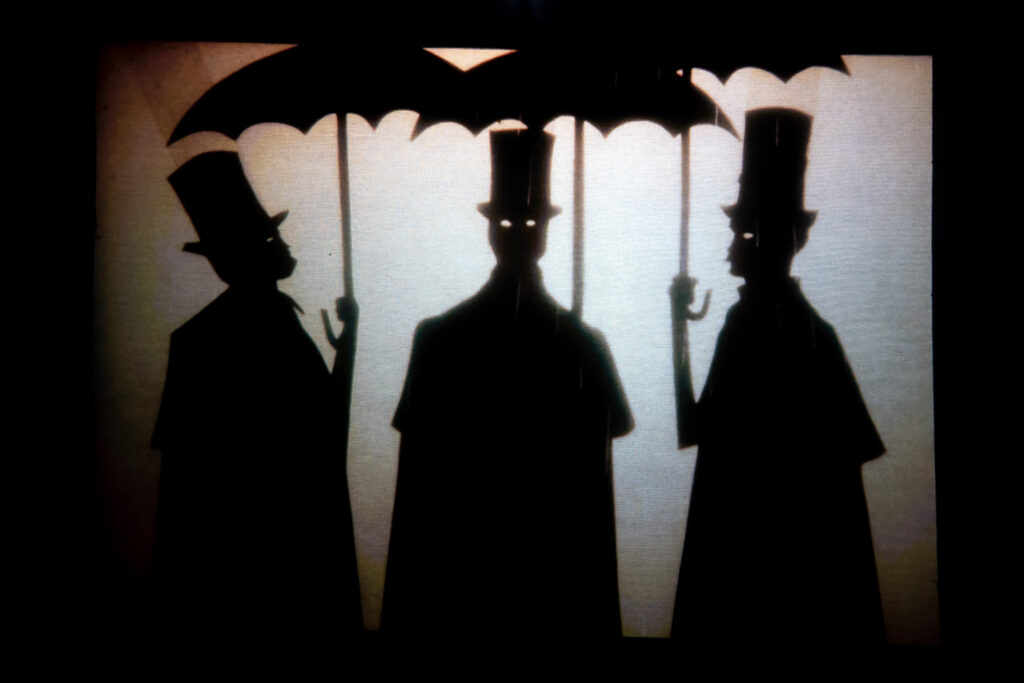 Manual Cinema creates these big movie emotions with cutouts and silhouettes.Their storytelling is both simplistic and deeply heartfelt. The puppeteers (Lizi Breit, Julia Miller, Jeffrey Paschal) and musicians (Ben Kaufman, Emily Meyer, Kyle Vegter) add the visual and audio magic. They support the storytelling with clever imagery, beautiful songs and the occasional sarcastic jab.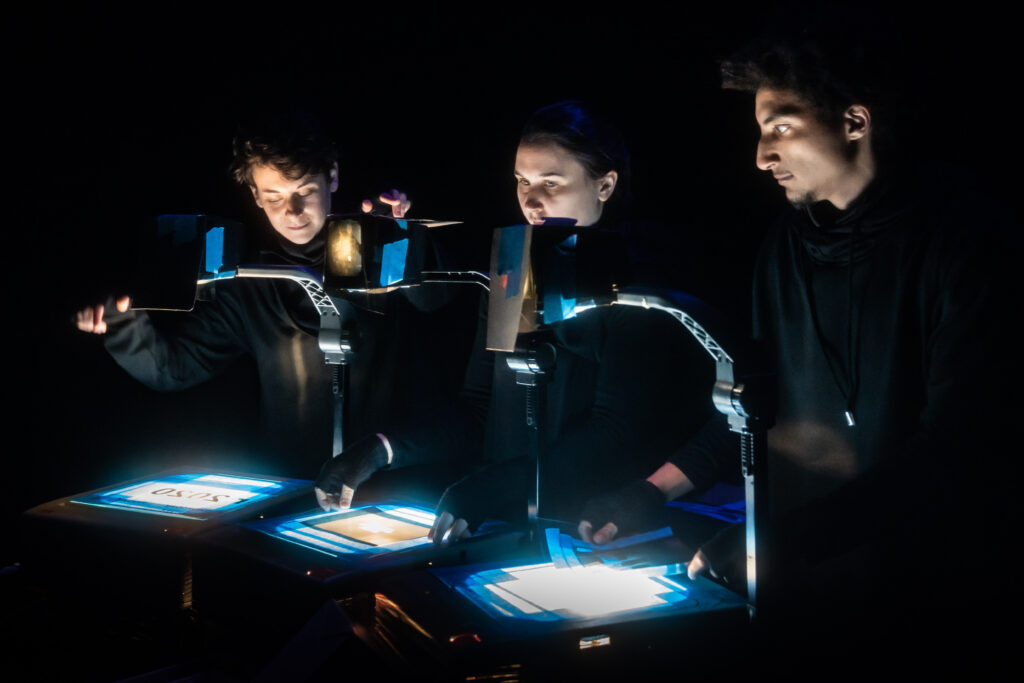 MANUAL CINEMA'S CHRISTMAS CAROL takes the timeless masterpiece and anchors it to now! The contemporary twist springs from the very real sting of pandemic virtual connection and isolation. I highly recommend this show… especially now! It'll help emancipate the little Aunt Trudy that lives in all of us so we can meet the holidays with a grateful heart.   
Running Time: Seventy minutes with no intermission.
Writers Theatre, 325 Tudor Court, Glencoe. 
Adapted from the novel by Charles Dickens
Devised by Manual Cinema
Additional writing by Nate Marshall 
Tuesdays, Wednesdays,Thursdays, Fridays at 7:30pm
Saturdays at 3pm and 7:30pm
Sundays at 2pm and 6pm  
Thru December 24th
For more information or tickets
Photography by Liz Lauren 
For more Chicago theatre information and reviews, please visit Theatre in Chicago