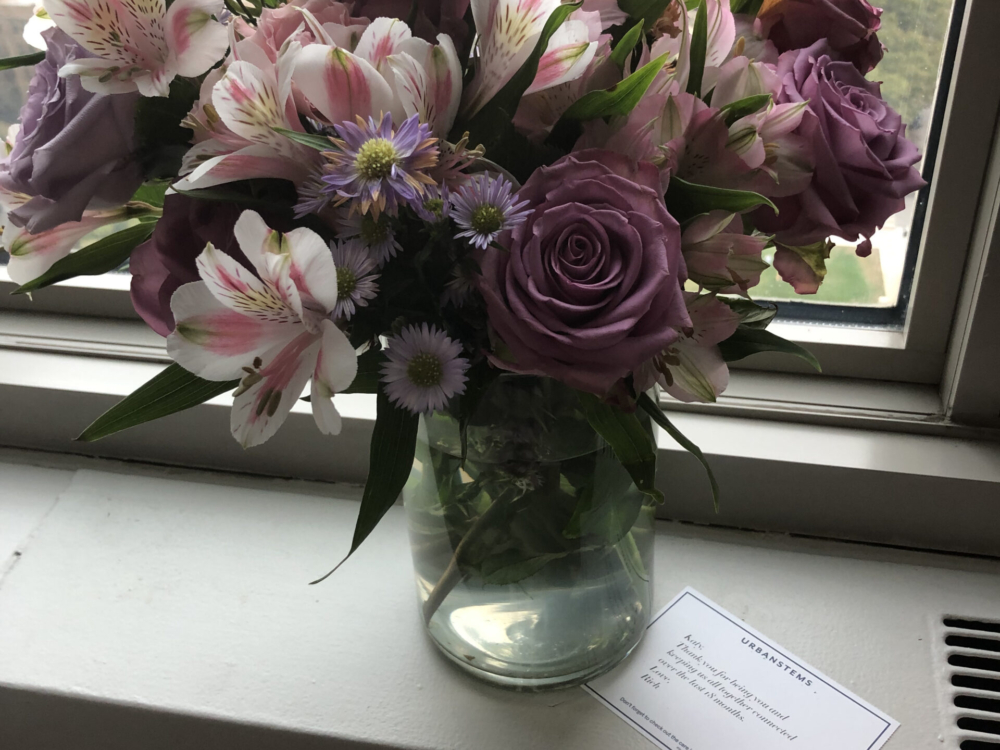 November 1, 2021
It's a two month check-in! September was a whirlwind month of unexpected tragedies. Three of my close friends lost loved ones… a mother, a husband and a father-in-law. Although the three funerals brought unexpected touching reunions of Michigan, high school and Fort Wayne friends for me, the passage of life for my grieving friends was heart-breaking. In addition, three more friends were dealing with varying degrees of cancer. Since September brought palpable sadness, I decided to wait until the end of October to reflect on my pandemic life.
Chicago and Illinois continue mask mandates. And Chicago theatre continues to open and requires masks, vaccination cards and verifying ID. The added scrutiny is causing delays in shows starting. Despite the pre-show messaging and theatre signage, many guests get to the front of the line and then stumble to find the documentation. At Chicago Theatre, a long line formed outside the theatre. We waited thirty minutes in a slow-moving line because of the inadequate staff training and safety protocols. Fortunately, the weather was nice and my friend Scubi is hilarious and forceful with line jumpers! 
This November 1st verses last year is so much more hopeful and happy! I'm so grateful for a vaccine that allows our family to gather around the holiday tables this year. I'm equally grateful that my immediate family is all vaccinated except for two children, one of whom will be able to be vaccinated this month under the new CDC guidelines. This modern day miracle is brought to us by science!!! Following the 2020 Fall and winter isolation, I have loved spending time with friends and family after a prolonged separation. 
I had dinner with Bill (4), parents (3), Jenny & the parents (2), Jenny/parents/Christy&Bob/Matthew, Scubi/Ellen/Gretchen, Bilger, Karen & Natalie, Sue C-F/Rita/Judy, BilgerEl, Collin(2), Rick, Bilger & James, Scubi & the James' sisters (Sue & Chris), and Karen. I had lunch with Mary, Collin/Dodger/Patrick, Bill, Collin, Maureen and Natalie.  I had doughnuts with Rita & Judy. Most of these meals were outside. And on a particularly lovely October evening, I was walking home from the bookstore and stopped to have dinner with myself on a restaurant patio with good lighting, good wine and a new, good book.
I saw and reviewed four plays: American Mariachi (Goodman Theatre) with Josh, A Recipe for Disaster (Windy City Playhouse) with Bill, As You Like It (Chicago Shakespeare Theater) with Natalie, and What the Constitution Means to Me (Broadway in Chicago) with Karen. Scubi and I enjoyed Randy Rainbow in his hysterical Pink Glasses Tour. James and I laughed thru the quirky Wes Anderson's movie The French Dispatch. And I went with James and Bilger on Chicago's Ugly Building Tour hosted by Tours with Mike. I've lived in Chicago for nearly thirty years and hadn't noticed some of these buildings Mike pointed out. The tour is historical with a perfect side of snark! Loved It!
I was invited to four parties. One was a BBQ on Labor Day weekend at Scubi's and the other three were this past weekend. Three of the four were outdoors. For the one indoors, on a particularly miserable raining Friday night, I inquired of the host if his guests would be all vaccinated. He let me know his one unvaccinated guest would arrive later in the evening. Since I am trying to keep my immunocompromised friends safe, I went to the party yet Irish ghosted when another guest whispered in my ear 'Cruella is the anti-vaxer!' 
My Aunt Laura also gifted me the most beautiful Halloween cookies and I took them to treat guests at Louis' and Frank & Mary's weekend parties. Her talent as a baker and artist was the envy of all.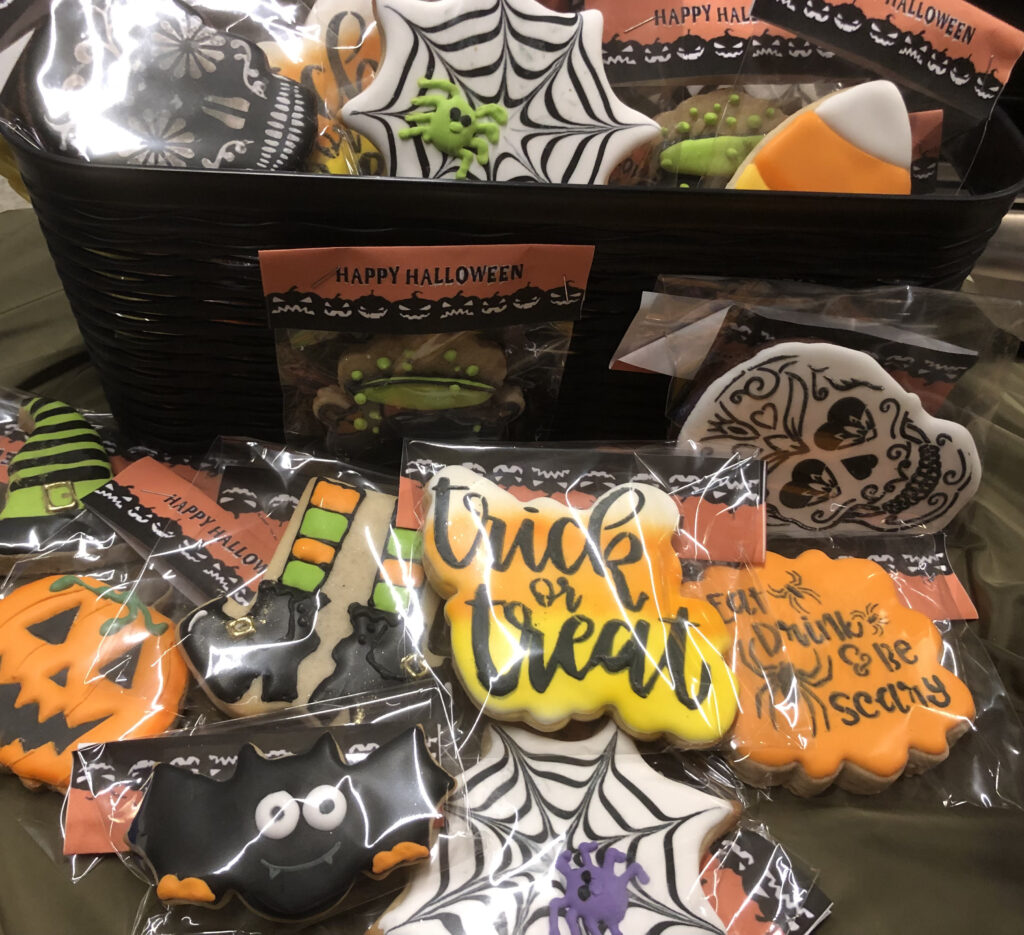 And the month ended with my favorite Halloween activity.  Last night, I celebrated at Magnolia Manor handing out candy to 731 trick or treaters. This tradition that BilgerEl host annually was sorely missed last year. It was wonderful to have it return! I absolutely love being there with friends laughing, drinking wine and seeing all the kids in costumes. So much fun for everyone!
I spent time at Jenny's lake house for the Labor Day holiday and a dog sitting weekend. I was in hotels in Holland and Mishawaka and spent a night in Elkhart for funerals.  I streamed some fun entertainment with Cinderella (Prime), On the Verge (Netflix), Ted Lasso (Apple+), The Morning Show (Apple+),  and Only Murders in the Buildings (Hulu).
And I've also…
Work! Our conference team put on a robust 4 day virtual, educational conference. All the planning and hard work paid off, it was a success. Mainly due to the mask mandate, I haven't been back in the office. This worked to my benefit when on a particularly rough work day, I received these flowers at my home from my friend Richard. 

 

Working Out! Josh and I continue to workout on the roof despite some chilly weather. We only had one rainy day where we had to opt for my place. I took three yoga classes at the studio. The mask makes breathing exercises particularly challenging. Still, I really enjoy the in-person instruction. I'm also on a 10K quest. Since May, my stepping has been inconsistent. I'm currently 39 days in of 10K daily.

 

And I hit level 5587 on Candy Crush.

   
I'm continuing to adhere to my new practice adoption based on James Cleary's Atomic Habits. My morning ritual is to first read for 30 minutes to an hour. In September and October, I read 5 1/2 books.   
*Untamed by Glennon Doyle: I previously read Doyle's Love Warrior. She is an inspirational author. Although I found a lot of wise nuggets in her recent memoir, I'm not crazy about all her opinions. As a single person who continuously works on becoming the best version of myself, I find fault with her belief that she needed her current partner to become her best version of self. It's that old chestnut that a woman needs a man (or woman) in her life to be complete. I don't agree!  
*Hamnet by Margaret O'Farrell: I loved this book!! It's the story of Shakespeare's son, Hamnet, who died during the black plague. It's told from the POV of Hamnet and then his wife Agnes. Shakespeare is never even mentioned by name. He's referred to as 'father' and 'husband.' It was a fascinating fictional backstory about the play development for "Hamlet." 
*Vanderbilt by Anderson Cooper: I listened to this one. Full disclosure, Cooper's voice can lull me into sleep which wasn't great when I was driving. Otherwise, his honest and not always in-the-best-light tribute to his Vanderbilt heritage was very interesting. The earned wealth of his great great great grandpa 'The Commodore' was squandered by his descendants including Cooper's mother, Gloria Vanderbilt. The riches and the waste makes for some incredible storytelling.  
*True Believers by Rebecca Makkai: I loved this book too! It's set in 1985 Chicago and 2015 Paris. The back and forth shows the impact of the AIDS crisis on the survivors. Makkai's characters are so well-developed, they feel like friends. Chance encounters turn into lifetime friendships. All the tragedies and triumphs become personal. And I was tethered to the book to know how my friends turned out. Although I didn't arrive in Chicago until 1994, I felt very familiar with Makkai's 80s city landmarks.
*State of Terror by Hillary Rodham Clinton and Louise Penny: I saw HRC and Penny on CBS Sunday Morning. They seemed so authentically connected as friends I wanted to read their first novel. I was expecting a two old gals solving a mystery. I guessed wrong! It was a political thriller set in the early days of the Presidential administration following a disastrous 4-year term by a narcissist. The main character was the Secretary of State and her high school bestie. It was alarming and riveting! I hope the twosome write another one.     
*The Barbizon by Pauline Bren: I'm about halfway thru this one. It is based on the all-women residential hotel built in 1927. The Barbizon was the setting for young women in NYC if they wanted careers as secretaries, models, and actresses. Grace Kelly, Shirley Jones, Liza Minelli, the unsinkable Molly Brown were all residents. I'm always engaged in stories of women struggling to have independence in a male-dominated world. These stories are particularly inspirational because they didn't have the choices, I do. I'm grateful to be a woman in 2021! Sure, it's a hundred years later and the US is still male-dominated. Yet, there has been progress… incredibly slow progress!         
It is November 1st! It was a beautiful sunny Fall day here in Chicago. Tomorrow evening, I'm getting both my Booster and my flu shot. I'm preparing for a cozy recovery evening as modern medicine gives me the inner armor to remain healthy protecting myself and others. Please do your part to stop the spread… get vaccinated, get boosted, get masked and get your Thanksgiving celebration on… cautiously!