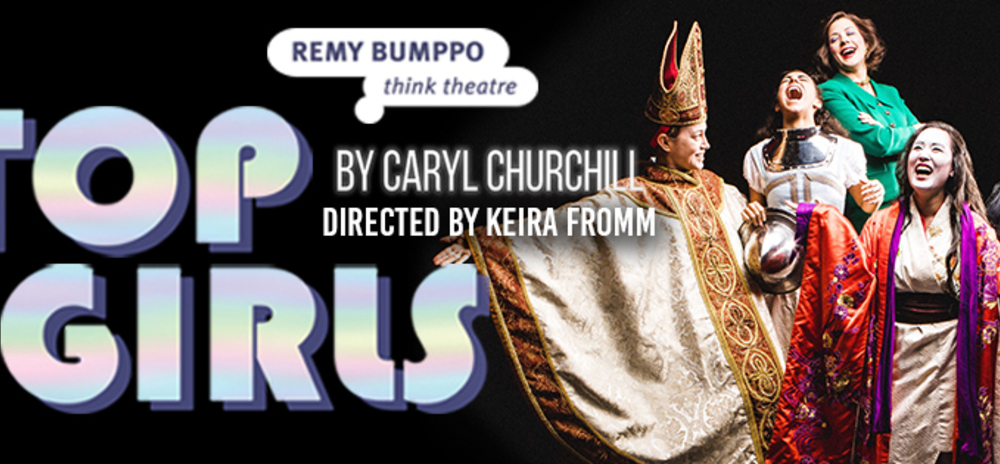 Remy Bumppo Theatre presents TOP GIRLS.
Playwright Caryl Churchill pens a quirky yet thought-provoking tale of girl power. Churchill tells her story in three acts. In the first act, Marlene (played by Linda Gillum) celebrates her recent promotion at a dinner party. The fantasy feast brings together women throughout history. They are drinking in each other's struggles and achievements in a man's world. Churchill puts together an obscure guest list based on literary figures.
Although Churchill's less familiar character choices add a profound punch to her message, they work against Director Keira Fromm's attempts to facilitate natural dinner conversation. Fromm tries to layer the dialogue. It gets awkward as the audience is working to understand who these women are and their stories. Although there is a cheat sheet in the program describing these historical figures, I didn't find it until the intermission. A monitor projecting dialogue was an unexpected aid in deciphering the supper chitchat.
The next two acts are set in the 1980s. (Nod out to co-Costume Designers Raquel Adorno and Meeka Postman for transitioning from ancient warrior-geisha attire to a fabulous fashion tribute to "Working Girls".) As she leans hard into managing an employment agency, the cool and calculating Gillum must deal with both office politics and family dysfunction. These challenges are rooted in her gender and the choices she made and is still making. Churchill tells the story in backward chronological order. Seeing it in hindsight adds to its provocative nature. Aurora Real de Asua utters the two final words of the play. Both are 'frightening'. The word choice still is haunting me.
The noteworthy Real de Asua is one of the actors playing duel roles. In the first act, she plays it fierce as Dull Gret, a warrior leading a group to hell. In the contemporary acts, Real de Asua is disconcerting as a young person struggling with her identity. She impressively teeters between alarmingly edgy and heartbreakingly fragile. The imbalance makes it unclear if her friend or her mother should run to her or away from her. Another outstanding transformative performance is delivered by Rebecca Spence. At the fantasy dinner, Spence commands the table with her tales as Pope Joan. Later, in contrast, she is the indignant wife pleading her husband's case based on his gender entitlement. And finally, she is the long-suffering sister/daughter/mother left behind. The plummet from victor to victim is a gender nightmare and reality.
Designer Courtney O'Neill's versatile sets aid the storytelling's regression from fancy dinner party to modern computerized office to humble shabby kitchen. The transformation is slick. This play is all about the choices women make influenced by a male dominated society. Whether its 14th century, 20th century or 21st century, TOP GIRLS is an interesting examination of gender bias across the ages.               
Running Time: Two hours and forty minutes includes two  intermissions
Theater Wit, 1229 W. Belmont
Written by Caryl Churchill
Directed by Keira Fromm
Wednesdays, Thursdays, Fridays, Saturdays at 7:30pm
Saturdays and Sundays at 2:30pm
Thru February 22nd
For more Chicago theatre information and reviews, please visit Theatre in Chicago